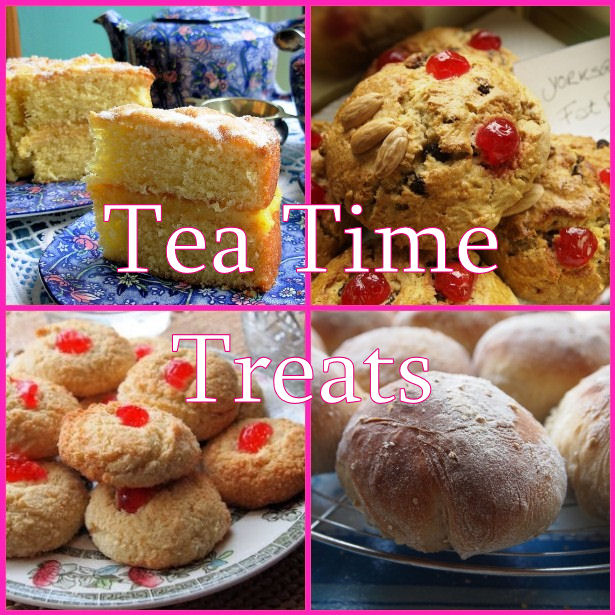 Tea Time Treats – January Round-Up with Sweet Pastries & Breads 
What a fabulous turnout we had again for our third Tea Time Treats Challenge – we had TWENTY NINE 
 entries

and all of them tea time beauties to rival any commercial or artisan bakery. The theme was Sweet Pastries and Breads and there were some really original recipes and ideas that were submitted, and many of them went straight into my bookmarked folder too, for future baking and delectation!  Anyway, you don't want to listen to me blathering on, so without further ado, come and join Kate and me at the January Tea Time Treat's Table………
The January Tea Time Table Round-UP
Suelle from Mainly Baking was first to arrive at the table with one of my favourite sweet pastries, Cinnamon Rolls. Suelle made these using  a Dan Lepard recipe from the Guardian cookery column he contributes to, and I must say that I loved the idea of the flavour combinations of lemon and cardamom….and for someone who professes not to be that good at sweet yeast baking, I thought the buns that Suelle made looked perfect.  Thanks for entering the Tea Time Treats challenge Suelle, and we hope to see you next month!
My good Twitter friend Jacqueline from Cakeboulearrived next, and with an exciting contribution – an absolutely divine plate of Palmiers with Berries and Macaron Ice-cream….now, we are talking elegant and tasty tea time treats here, and which uses Danish pastry dough by Paul Hollywood, no wonder they were good, thanks so much for such a beautiful entry.
I was hoping to see Sticky Buns and I was not disappointed when  some arrived  from a lovely new blog I have discovered Aga Girls.   These sticky buns are packed with nuts and essential stickiness and they look absolutely delicious!  Thanks SO MUCH  for your  delectable entry.
 I am always excited when I know Laura from How to Cook Good Food has entered the Tea Time Treats challenge…..she always brings some wonderful goodies to the table, and this month was not exception, we were all treated to some delicious  Apricot & Almond Rugelach pastries. These are traditional Jewish sweet treats made from sour cream/cream cheeses dough and contain a filling of either nuts, spices, chocolate or dried fruits, and they look amazing!
A BIG welcome to Lisa from Allergy Free Vintage Cookery next, it's so lovely to see so many new faces at the table, and especially when Lisa brings along some of her Raspberry Banana Tea Bread. Take a look at Lisa's blog, it is wonderful and full of allergy free recipes too.
Hello to Emma Jane from Marisposa Cakes next, and look what she has brought…..Mixed nut, chocolate and jam loaf, our FIRST chocolate offering and stuffed full of nuts and seeds too.  I could do with a slice of that right now and I bet the addition of the jam keeps it really moist too.
Who can resist a teacake? NOT me, so when my lovely friend Choclette from Chocolate Log Blog came along with these Top Tea Cakes with Cranberries, I was over the tea cake moon!  This tea cake recipe is another Dan Lepard creation from Short and Sweet, and when Choclette reaslise they had CHOCOLATE in them, she scurried off to the kitchen to make them! They certainly look like TOP tea cakes to me……delicious!
It's a BIG hello to my good friend Janice next, from Farmersgirl Kitchen…..and, as always, Janice came bearing edible gifts – she made a fabulous looking Banana and Raisin Loaf for her Tea Time Treats entry, just the thing to go with an afternoon cuppa…..pop the kettle on please Janice!  Thanks for your lovely entry…..
Solange from Pebble Soup submitted these gorgeous looking mini baguettes next….and, these are little miracles! Solange always has problems with her baguettes, usually, but NOT with these, and she was so pleased with them that she decided to bring them along to our Tea Time Treats table for January! Merci Solange!
 This next entry from Karen of Mum is Last, of Fish is the Dish fame and a fellow Fish Fanatic, was on my "dream list" of sweet pastries, and I was SO hoping that someone would make a batch for January – THANKS Karen for making Iced Fingers! YES!  And, Karen stuffed hers full of cream and jam too…..she and I are obviously on the same wavelength!  (Karen's children called them "fingers from a giant"…..LOL! A large iced bun is fine with me.)
My good friend, the dashing Dom from Belleau Kitchen was the next entry…..and what an entry it is too…..fabulous little mini raspberry and rhubarb crumble tarts, what a GREAT combination of flavours. Dom's post that accompanied these tarts is magical, do try to read it…..he is full of the joys of spring and I think that shows in these little creations! Thanks Dom for another Ab-Fab entry!
I am next! That's Karen from Lavender and Lovage! LOL! I made some little Custard and Mincemeat Tarts with Almonds – to try to use up the post-Christmas mincemeat….These custard pies are a real cheat…..they use ready-made puff pastry, ready-made custard, mincemeat ~ I DID use my own home-made boozy fat-free mincemeat however, ground almonds and flaked almonds……easy store-cupboard ingredients and therefore easy to whip up in a sugared trice.
I was VERY excited to see the next entry; I have a deep love for traditional British food and especially those that are regional. I know about Kentish Huffkins and have eaten them once, but haven't seen any for a while, so when Kentish Keg-Meg sent some over for her entry, I was over the moon.  The Huffkin is a traditional roll from Kent.They can be oval or round in shape and have a distinctive hole in the top, made by the baker's thumb. It's other feature is that it has a soft crust crust…..to see how they are made pop over to one of my favourite blogs,  Kentish Keg-Meg.
Hooray! At last some sausage rolls! Yes, I know these are't sweet, but I like to live dangerously and when Gill from Tales of Pigling Bland approached me and asked me if these could be included, I said yes, as I like the break the rules now and then! And, Gill made her own puff pastry too……so these are a GREAT entry I think!
OH yes, a LEMON MERINGUE PIE! And, all thanks to Lucy from Vanilla Frost, a LOVELY blog and another Tea Time Treats newbie too……LOVELY to see you here.  Lucy's pie is a Delia Smith recipe, and as I have also used this recipe on many occasions with success, I know that it will be doubly delicious.
This next entry is from Kiki whose blog Kitchen of Kiki has some WONDERFUL recipes!  This is Kiki's second entry into a Tea Time Treats challenge and she brought some LOVELY Banana bread with raisins and walnuts this time. Kiki says what she loves ove about the banana bread, is the combination of warm spices, raisin and walnuts, I so agree there! Thanks Kiki!
It was wonderful to see Urvashi, the Botanical Baker enter into the tea time treats fun this month, and with such a gorgeous recipe too,  Orange and Chocolate Brioche.  Urvashi thinks that Brioche makes a nice change to bread rolls or muffins in the morning, and if she was going to serve these to me, I agree 100%!
The next delectable entry is from my friend Ruth from Makey-Cakey.  Ruth submitted the divine sounding Palmiers and Walnut Chocolate Deep Fill "Pecan" Pie. I mean Palmiers AND Pecan Pie! OH yes! Two tea time treats in one post and BOTH of them delicious too.  And, if you want to see her "Palmful of Palmiers" pop over to her blog!
MORE Iced Buns! And again, these treats are by Paul Hollywood and the recipe was featured on the BBC's Great British Bake Off. The baker of these amazing buns is the lovely Angela from Garden, Tea, Cakes and Me. Angela blogged briefly about the Iced Buns during National Baking Week last year, but she thought they were so amazing that they deserved to be resurrected for the Tea Time Treats Challenge this month, I agree!
We are on a roll again, a Cinnamon Roll, bring them on I say! These little beauties were brought to the table by Lucy from Lucy in the Sky. Lucy has blogged about these gorgeous bakes twice before, Here and Here.  She says if you haven't made them yet, she strongly recommends you give them a go. Thanks Lucy!
The next entry is lovely, it come from Galina over at Chez Maximka and the photos that accompany this Russian Semolina carrot cake (Mannik) are JUST adorable…..go and check them out! Galina says…"There are many variations of the cake. It can be plain or banana-flavoured. Today I have chosen to bake a carrot-flavoured semolina cake. This is a lovely way of adding vegetables to your child's diet, and this cake tastes great"….I am glad she chose a carrot one, as I LOVE carrots in cakes/breads!
It is SO nice to see more meringues, and Kate from Turquoise Lemons made some GORGEOUS little Orange Meringue Tarts for the challenge this month…..and the secret of these tarts is that the pastry is orange flavoured too – wonderful!  Kate says that these are loosely based on a recipe for Blood Orange Meringue Tarts in The Australian Women's Weekly Complete Book of Cupcakes and Baking. They look DIVINE Kate!
I encouraged C from Cake, Crumbs and Cooking to submit her Cheslsea Buns; she was BITTERLY disappointed with them, but after so much effort, I thought it was a shame not to share them. Please do visit her entry to see what she says about her "Fail" on the Chelsea Buns – the photos are great though!  Thanks for making these for the challenge.
I know this next entry VERY well, as I made the exact same recipe last year! This LOVELY Hannah's Banana Bread has been submitted by my friend Ros from The More Than Occasional Baker blog. This recipe is from the wonderful Leon – Baking and Puddings Book 3. I have to say that yours looks FABULOUS Ros, and I love the way the bananas sink into this lovely bread after baking!  Thanks for your entry.
My lovely new friend Mari from Marisworld was next and with our FIRST apple entry too…..her beautiful Apple Puff Parcels are also called Mele in Camicia and are Italian, which roughly translated is "apples in shirts"…..they look and sound amazing and I DO love apple pastries, especially when they have cinnamon added, as these do. Mari suggests these are eaten warm and I would love to try one warm with a dollop of cream!
Next was a FABULOUS double entry from another new chum, Simran from Lazy Cooks Kitchen, and here first offering was a fabulous batch of lazy cooks triple chocolate cookies. NOT sweet pastries as such, but as I said before, I like to bend the rules now and then and it's lovely to see people joining in the Tea Time Treats fun! Her second treat was:
lazy cooks chocolate peppermint cupcakes. These looked wonderful too! Thanks Simran for enterting Tea Time Treats, Kate and I hope to see you for the next challenge!
Another iced bun entry, and that is JUST fine by me as I LOVE them! These delectable little fingers, are from Penny of  Penelope's Pantry. Penny loves the power of yeast and found these a breeze to make, as easy as I would find eating them no doubt!  Penny also used some delicious home-made jam to fill these. Thanks so much for your iced entry!
I LOVED the photos that accompanied this next entry! Who doesn't like little fingers holding Chocolate and Banana Marbled Loaf Cake.  This lovely entry is from my tweet friend Fleur, from Homemade by Fleur.  THANKS so much for making this delectable Tea Time Treat, it looks and sounds delicious and I would love a slice with a cuppa!
And finally, the last entry is from my partner in tea time treats crime, the lovely, the fabulous, the GREAT Kate from What Kate Baked! Kate baked one my VERY favourite sweet yeast breads, Not hot, not cross, just buns! Her delightful recipe is adapted from a recipe by Nigel Slater and Felicity Cloake and is packed full of lovely dried fruit and peel. Kate says…."Yet these gloomy, dark afternoons are just crying out for a sweet toasted bun: juicy sultanas and raisins jostling for space, warming spices and slathered in melting butter. So I made them without the traditional cross. Which means I can eat them all year round. Hurrah!"……hurrah indeed Kate!
THANKS so much for all of your WONDERFUL Tea Time Treats, you have all pushed the sweet pastries and breads boat out this month, and I have LOVED drooling though the entries! ONE small point, I feel sure that there may be some more entries that I have missed……if you have NOT e-mailed me your entry  it will NOT be listed here, as I haven't got time to try to find it! HOWEVER, if you see that your treat has not been included here, NEVER FEAR! Just email me at:
 teatimetreatschallenge@yahoo.co.uk

and I will add it to this post! LOOK out for Kate's challenge over at What Kate Baked for February. Thanks again, Karen.