English Scones With Mixed Summer Berries and Strawberries Cream
 A BIG Tea Time Treats Giveaway
from Seasonal Berries to support
Strawberry Tea 2012
(Breast Cancer Care)
I am delighted to be working with Seasonal Berries and British Summer Fruits who are supporting Breast Cancer Care for their Strawberry Tea 2012. I am the Berry Blogger for the 2012 summer berry season, and am excited to be able to offer some BERRY BEAUTIFUL PRIZES which have kindly been donated by Seasonal Berries, as part of their support for the Strawberry Tea event. 
BRITAIN'S BERRY GROWERS SUPPORTING BREAST CANCER CARE'S STRAWBERRY TEA 2012
Seasonal Berries is delighted to be supporting Strawberry Tea 2012.


Strawberry Tea is the summer fundraising vehicle of Breast Cancer Care, and monies raised allow the organisation to provide free expert information and professional support to anyone affected by this life threatening disease.

The Strawberry Tea season runs from 1 June to 31 August, which coincides perfectly with the height of the British Strawberry season. To sign up now for your free Strawberry Tea fundraising kit, call: 0870 164 9422 or visit www.breastcancercare.org.uk/strawberry
IN conjunction with June's Tea Time Treats Blog Challenge, the theme which is BERRIES, I am offering some wonderful Strawberries & Cream Prizes from Sophie Allport's fabulous Strawberries and Cream linen range. There are THREE prizes up for grabs, and all of them PERFECT for your Strawberry Tea!
1st Prize:
Strawberries & Cream Tablecloth, set of Four Napkins, Tea Cosy, Adult Apron,
Tea Towel and set of Six Jam Pot Covers worth £77
2nd Prize:
Strawberries & Cream Tea Cosy, set of Four Napkins,
Tea Towel and a Book Bag worth £37
3rd Prize: Strawberries & Cream set of Four Napkins,
set of Six Jam Pot covers and a Tea Towel worth £19
British Summer Fruits is on organisation that represents 90% of berry growers in the UK. It funds and runs the Seasonal Berries campaign celebrating strawberries, raspberries, blueberries and blackberries.
Last year, British growers produced more than 49,000 tonnes of strawberries and growers are hoping for an equally good season this year.
Strawberries are an iconic part of the British Summer and will always be linked to calendar events such as Wimbledon and this year's exceptional events such as the Queens' Diamond Jubilee and the Olympics.

A Strawberry Tea is a fun and easy way to support Breast Cancer Care. All you need to do is get together with friends and family, buy or bake some cakes, add some strawberries, put the kettle on and away you go!
With a Strawberry Tea, you have the perfect excuse to catch up with old friends and tuck into delicious treats, all the while raising money for a great cause. And it doesn't matter if you raise £20 or £200 because every penny will help us continue to support anyone affected by breast cancer.
Where will you hold yours?
A Strawberry Tea can be about…
Baking – it can be as simple or as elaborate as you like. Check our recipes section for ideas.
Having a tea break at work – bring a smile to your colleagues' faces by bringing in baked goodies and putting the kettle on.
Getting your club involved – if you are member of a sports club, you could have a Strawberry Tea in the pavilion or club house.
Craft – are you good with a pair of knitting needles? Then you could create items to sell or raffle at your Strawberry Tea.
School – children love an excuse to get messy, so why not get them baking or making decorations for your Strawberry Tea.
How to raise money from your Strawberry Tea
Charge for cake – people are always happy to pay for a slice or two.
Spread the word – why not Tweet about your event? #StrawberryTea
Join us – find out what everyone else is up to for their Strawberry Tea via our

Facebook

page.
Sell tickets or charge an entry fee to your party.
Run a raffle – ask guests or local businesses to donate prizes.
Play the game – use the Strawberry Tea game or Afternoon Tea quiz in our resources section.
Guess the weight of the cake – this classic game is always popular and the winner takes the cake home!
Boss's tea round – ask your boss to be on tea making duty for the day, with donations given for each cup.
Market stall – a craft, cake or plant stall can be held almost anywhere.
Sell Breast Cancer Care pin badges – you can order some from our resources section.
If you would like more inspiration for BEAUTIFUL STRAWBERRY recipes, then take an country amble down a summer lane to Seasonal Berries website here: Seasonal Berries Recipes. The website also has a wealth of Berry Facts, including berry nutrition, health benefits and seasonal berry charts, You can also keep up to date on their Facebook page: Seasonal Berries.…….and to enter the competition to win one of the THREE Strawberries & Cream Sophie Allport prizes, just follow the instructions below.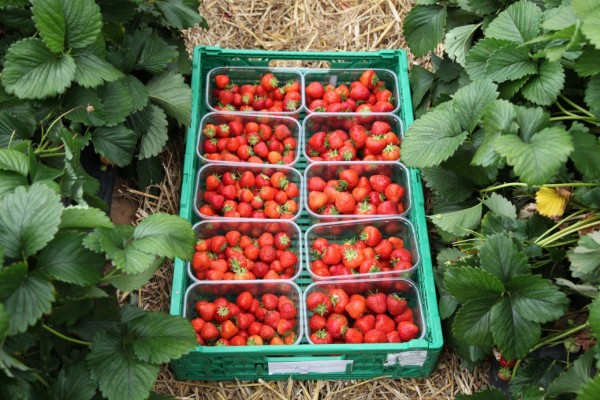 DON'T forget to share your STRAWBERRY recipes and enter the Tea Time Treats June Berries Challenge here: Tea Time Treats for June is summer fruits. And, how about this LOVELY summer recipe for a Strawberry beverage, perfect at any Strawberry Tea. 
Wolds Way Lavender and Strawberry Fruit Cup

Print recipe
A boozy lavender fruit cup made with vermouth, herbs and fresh strawberries! How good is that! This is another gem of a recipe that I discovered on a recipe card from Wolds Way Lavender Farm in North Yorkshire, England – which is just 10 minutes from my parent's cottage. The delicately flavoured drink is the perfect way to unwind after a long, hard day........It is almost better than Pimms, and, as Pimms is my favourite summertime tipple, that is really saying something! Sit back, relax, sip and enjoy!
Ingredients
20g (handful) culinary lavender flowers
400ml fresh orange juice
400ml ginger ale
200ml dry vermouth
Juice of 1 lemon
fresh strawberries ( a small punnet, about 150g to 200g)
lemon verbena or lemon balm
Note
The delicately flavoured drink is the perfect way to unwind after a long, hard day........It is almost better than Pimms, and, as Pimms is my favourite summertime tipple, that is really saying something!
Directions
| | |
| --- | --- |
| Step 1 | Rub the base of a punch bowl with the lavender flowers (crushing them gently to release the oils), before adding the orange juice, ginger ale, vermouth and lemon juice. |
| Step 2 | Add the hulled strawberries, halved or sliced, and then garnish with sprigs of lemon verbena or lemon balm. Chill for 30 minutes before serving in tall glasses with or without ice. |
| Step 3 | (After rubbing the lavender flowers over the base of the bowl, discard them). |
(Disclosure: The prize for this contest is being provided by British Summer Fruits and the contest is only open to UK residents)
1. Complete the Rafflecopter widget below to verify your entries
2. Entries are by blog comment, Twitter, Facebook etc
3. Closing Date is the 30th June 2012
GOOD LUCK!
Karen
The winner will be selected at random by the Rafflecopter widget below and you can enter via Twitter on a daily basis to have more chances of winning.