An invitation to a VERY 
Large Tea Party!
The First Tea Time Treats 
Round Up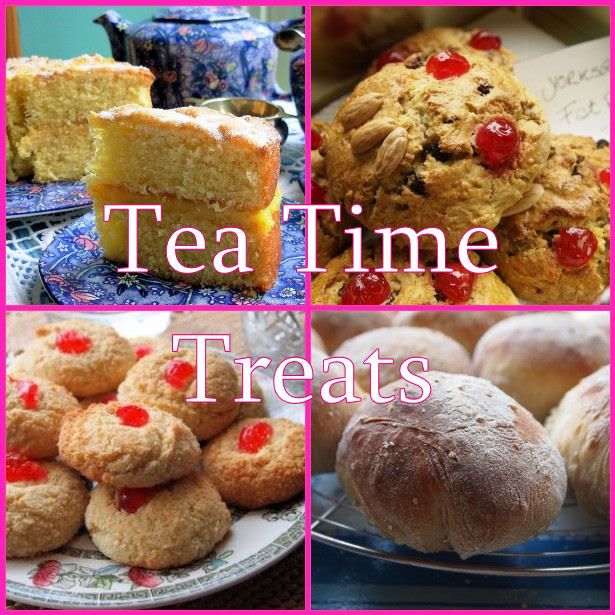 Well what an amazing response to our first Tea Time Treats challenge……..both Kate and I are overwhelmed with the turn out as well as the high level of amazing baked tea time treats that were sent to tempt us! We had a staggering THIRTY FOUR entries in the end and all of them delectable treats that would grace any tea time table.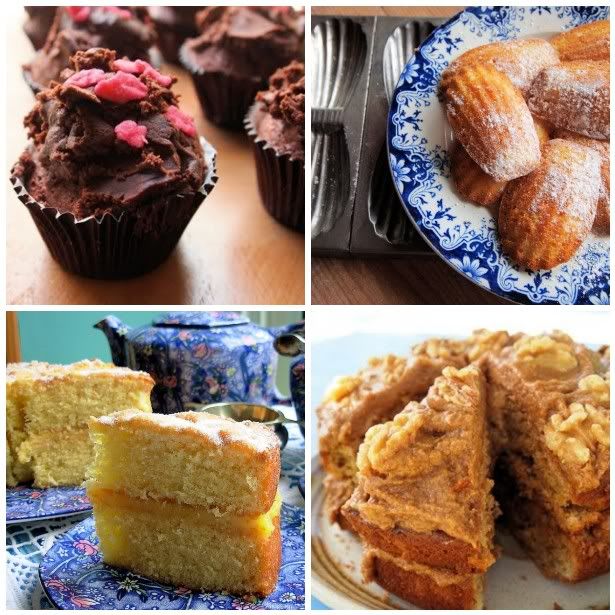 Before I carry on and share all of those tempting delicacies, I just want to say a BIG thank you ~ you made our first month's challenge a huge success and I hope Kate and I will see all of you at our tea time table throughout the baking year…….Kate is up next and will be announcing her special December challenge tomorrow ~ so LOOK out for that. 




A Plea! Can I ask you all to remember to e-mail your NEXT tea time treats post link to: teatimetreatschallenge@yahoo.co.uk
We only had about 50% of the entries e-mailed, and I had to hunt for missing posts well into the night! I think I have gathered them all up, if I have missed your post, please let me know.


The First Round Up 
of
TEA TIME TREATS
November ~ Ginger and Bonfire Treats


First to arrive at the table was a tasty entry from the lovely Laura from How to Cook Good Food; I had the pleasure of meeting Laura recently and her entry was a real treat, she offered us all a slice of Ginger and Currant Tiffin Squares, these lovely treats were dedicated to Laura's History of Art teacher Miss Grubb and what a lovely tribute they are to a much admired teacher. 


Next to take her place at the table was Liz from Eliza Do Cook More ~ a new blog for me admire and also a stunning entry too ~ Liz made a wonderful Bonfire Squash Cheesecake with flames no less! Lis said that she always associates squash with bonfire soups so she came up with this amazing creation as a change!




Next we have my partner in crime's entry ~ the delectable Kate from What Kate baked, and what did she bake? Well, she baked a fabulous and fun Bonfire Night Cake, complete with chocolate matchmakers for logs and smarties for flames ~ I am impressed Kate! 




Our next entry was from another friend of mine, Jude from A Trifle Rushed……..Jude rushed in with no trifle but she did offer us all an amazing Banana and Ginger Tea Loaf. Jude knows the way to my heart and this type of tea loaf cake is a favourite of mine. 




I was VERY impressed and intrigued with the next entry from Lucy who lives over at Lucy in the Sky……..she brought us a scone recipe, and a wonderful scone recipe at that too ~ Ginger Beer Scones. Lucy also has some other enticing looking scones on her blog, and I am keen to give her lemonade scones and cheese and beer scones a go after I have made these! 




I LOVED the quirky post that accompanied the next entry from Heavenly Housewife; alongside HH's Parkin for Bonfire Night was an amusing post about how people from other countries view our Bonfire Night festival, which made me laugh ~ thanks for the insight HH! Her parkin was typically British however and looked wonderful. 




I was delighted to see Sarah from Maison Cupcake join us at the table next, and she also brought some tasty savoury treats……our first and only savoury tea time entry ~ Mini Steak and Kidney Pies, and these looked amazing, I am a BIG pie lover and could have scoffed most of these! I loved Sarah's series of photos of her pies being made too…….here are the results, all mine I think!




Jac from one of my favourite blogs, Tinned Tomatoes was next; she is also a great twitter friend too, so it was lovely to welcome her to the tea time table. Jac came bearing gifts of Nanaimo Bars and they looked pretty tasty to me, especially as Jac said she added MORE custard to the filling ~ I like your style Jac! 




Next to tempt our taste buds was my lovely friend Ren from Fabulicious Food. Ren and I have met three times now, twice in the UK and once in France! She rallied to to the tea time treats call and presented this fabulicious Spiced Toffee Apple Cake. I had seen the cake on the cover of the BBC Good Food magazine and was tempted to make it myself, so it was wonderful to see Ren's lovely creation entered.




Victoria was next at the table and with a beautiful looking cake; Victoria has a wonderful blog over at 21st Century Housewife and her entry was a rather delectable looking Beetroot Poppy Seed Cake ~ I love beetroot in baking and her cake looked so pretty as well as moist inside. Victoria's cake was a Nigel Slater recipe and his recipes are always a hit with me. 




Next to knock at the tea party door was my close twitter pal, Janice from Farmergirl Kitchen, another favourite blog of mine, and Janice always has something tasty in her table! Janice entered some REALLY pretty Ginger Cupcake Sparklers in the tea time treats challenge ~ she saw the recipe in The Great British Bake Off book and just had to try them she said, I am so glad you did! 




Becky over at Wonder Years baked a really lovely sticky and dark Ginger Cake and I loved her addition of stem ginger to the cake and the topping. You only have to look at her lovely photos to see how moist and gingery it was, what a great entry for the challenge!




Checky's Kitchen is a new blog for me and what a great entry Francesca did for us with her Ginger Bread; her post title "Bang"  also made me laugh! Pop over to Checky's Kitchen to read about the connection with Francesca's gingerbread and Nigella Lawson, that's all I am saying for now…..




One of my favourite bloggers is Kentish Keg-Meg, and I was thrilled to see that she had entered her Kentish Cob-nut Cake into the tea time treats event……it is lovely to see a regional recipe using regional produce too. Hurrah for Kentish Keg-Meg in keeping these old English recipes alive! 




This next entry just makes me smile, it is brilliant! My friend Kate from Turquoise Lemons submitted these gorgeous Tea Pot Ginger Biscuits! I now have a severe case of tea pot biscuit cutter envy and feel the need to own some right now! I was also very impressed with Kate's icing skills and who wouldn't want a ginger tea pot with their cuppa?!




Ros the Baking Addict, and another twitter chum was next……Ros is to be found baking up a storm over at The More Than Occasional Baker blogspot, and  her Ginger and Treacle Spiced Traybake had all the hallmarks of a stunning Autumn bake, delicious, and a Mary Berry recipe, so a classic!




I am next! I was at my parent's house when I baked my entry, a family favourite and more ginger I'm afraid! I made a very sticky and VERY gingery Dark Sticky Double Gingerbread. This is not a shy retiring kind of gingerbread, this is a very dark and sticky piece of culinary work with a wicked secret, MORE ginger lurks beneath its plain exterior, I always add chunks of crystallised ginger for that extra kick……..




Another new blog and another lovely recipe from Robyn and the wonderful Biscuits and Blackites…….at last a Flapjack recipe too! I remember making flapjacks with my mum and then with my daughter and I was delighted that we had a batch for the tea time table. Robyn made some Ginger Flapjacks and they looked fabulous. Robyn tried a ginger flapjack at the Manchester Feast Market and wanted to replicate them at home ~ GREAT job! 




My dashing friend Dom from Belleau Kitchen is next……I was also lucky enough to meet Dom in person recently and he and his blog are top of my reading list…….Dom had a bit of a disaster when he came to bake his entry, bless him, half way through baking his Parkin he had a power cut ~ subsequently his new recipe was then known as Power-Cut Parkin, I like it!  




Gary from Exploits of a Food Nut was next and with a fabulous doughnut recipe that he baked in an ELECTRIC doughnut maker! His mini Ginger and Cinnamon Doughnuts looked SO much better than the deep fried ones and I loved his entry for that reason……I need to add a doughnut maker on my Christmas list now, one can never have enough gadgets! 




The more than occasional baker Ros was back with her SECOND entry ~ wow, she can bake up her a storm! Her second entry was some wonderful Apple and Sultana Crumble Bars……these delectable baked bars actually came from the Halloween and Bonfire section of The Hummingbird Bakery Cake Days cookbook so were seasonal and right on topic!