– Herbs on Saturday Round Up & New Blog Hop –
Join in for March & Share your Recipes!
Thanks so much to all the lovely people who added their recipes for February's Blog Hop and the  Herbs on Saturday event. It's a great way to share your recipes and also encourages you to cook with herbs. This weekly fun event was hosted on my blog for the first time in February, and I was pleased to have had eleven entries, admittedly three of the entries were mine, but it was a nice start to the event.
Herbs can make, and in some instances when they are over used, break a dish, but they add flavour and depth to sweet and savoury dishes alike, and I love cooking and baking with them. I will be posting the new blog hop at the end of this post, and the event will run for the whole of March……..it's just a matter of adding your herby recipes as and when you make them, so we can all share your culinary creations – the photo links in the blog hop will take us back to your blog where we can all enjoy the recipes first hand.
Your recipes do not need to have been made on Saturday and you can add a link any day of the week…….this blog hop will remain open for four weeks, giving you plenty of time to share your recipes. So, without further ado, here is the first Herbs on Saturday round-up for your culinary pleasure:
I was the first to enter, of course, with my Wild Garlic, Lemon & Lovage Soup!
Next on the blog hop was Dave's wonderful sounding Big Easy in a Jar Spice Mix – this did have Bay leaves in it, so counts as a herb recipe as well as a spicy one!
Searching for Spice added their beautiful Fresh Herb Dressing next and it looked absolutely fabulous, so green and fresh – full of herbal goodness!
My lovely chum Janice from Farmers Girl Kitchen was next with an amazing looking dish, Moroccan Baked Turkey with Chickpeas and Rice……Janice said that she used a considerable amount of coriander in this dish, it looks lush!
Next up in the blog hop was Mark from Mark's Veg Plot, and I LOVED the look of this hearty recipe, Pork Chops with Sage, braised in cider, just my kind of recipe for a cold winter's day, thanks Mark for adding this.
I am next again! This time with my Fool's Salt or Sel Fou as it is called in France; a herbal salt that is great when added to all types of savoury dishes.
Dave from Inspired by eRecipe Cards was back with another wonderful recipe, his Sodom and Gomorrah Salt Alternative looked great and I love the name!
Next we have a wonderful looking bread recipe from Cakes,Crumbs and Cooking – I LOVE dill and this Potato and Dill bread looks fabulous, so moist too.
My lovely fellow baking addict friend Ros was next, and she added some tasty looking Cheese, tomato and herb twists to the blog hop – these look amazing and have all my favourite ingredients in them!
Back to me again and my last entry for Herbs on Saturday for February – Auberge Blend – Herbes de Provence, my version of this famous herbal mixture for the South of France.
And finally, another great looking bread recipe, Parsley-Onion Oat Bread from Sarah over at Confessions of a Curious Cuisinière; this bread looked so tasty and I LOVE the mix of  ingredients in it, thanks for entering.
That's all for the February Herbs on Saturday round-up, I hope you have enjoyed the recipes that everyone shared……..the NEXT blog hop for March, with all the instructions, is below. Have a wonderful Saturday and I am looking forward to seeing what will be added for March. Karen.
Herbs on Saturday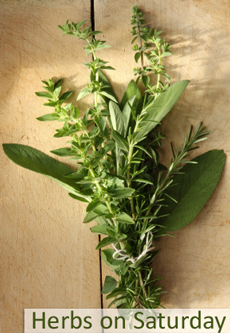 BLOG HOP
– March –
1. If you make any recipe with herbs on a Saturday or during the week, please add your recipe/blog post link here. The recipes do NOT have to be vegetarian.
2. This a Blog Hop, so you can see and share all of your Herb recipes/blog posts as well as discover other recipes and other blog posts too, it's a great way of meeting new people and discovering new recipes!
3. To add your recipe to the blog hop, you need to link to me and add the Herbs on Saturday badge somewhere on your post page. To link to me, the URL: https://www.lavenderandlovage.com/2012/03/herbs-on-saturday-round-up-new-blog-hop-join-in-for-march-share-your-recipes.html needs to be added in your post at least once, as a link.
4. You can enter as many times throughout the month; this Blog Hop will close on the 31st March and a new one will start on the next Saturday in April.
5. The Herbs on Saturday badge can be grabbed from my side-bar and you can also display the badge on your blog if you wish.
6. Have fun and don't forget you can add and enter as many times as you want, with any herbs that have been used in your recipe/dish.