~ May Herbs on Saturday Round Up ~
A WINNER has been picked!
I had a GREAT response the revival of my Herbs on Saturday Blog Challenge and a BIG thanks to ALL of you who added your recipes and recipe links to the event. I am happy to tell you that I will be making this a monthly event now, with a little prize at the end of the month for the recipe that is picked by a special "mystery judge". May's prize is a lovely book called The Herb Garden for Cooks, and is a must for all that are interested in starting a herb garden, or those who would like to make new recipes with herbs. 
So, who was the mystery judge this month, well none other than my lovely Lancashire lass chum, Sue from A Little bit of Heaven on a Plate!  THANKS so much Sue for judging – and I bet it was hard, given the quality and standard of all the entries! I must just say at this point, that I entered a couple of recipes into the blog challenge, and I asked Sue not to take them into account…….and the winner is…..drum roll……….after careful consideration, Sue picked Number 11 on the Herbs on Saturday Challenge page, and number 11 is……Roast Chicken with Herb Butter, Onions and Garlic by Tango like Raindrop! PLEASE email me your postal address and I will get this book off to you in the post! Here is a photo of the winning recipe, which Sue said she picked because….."it looks amazing and will be a recipe I'll try for sure"…….well, I agree Sue and a roast chicken is always welcome on my table, especially for Sunday lunch.  So let's see all the entries, we had a FABULOUS twenty-four recipes  in total, and all of them VERY herby and very tasty!
Herbs on Saturday May Round-Up
Lucy from Lucy in the Sky was fist to add her link; she shared a LOVELY recipe with a post entitled 'Wild' Weeds!  Lucy says that there is something incredibly primitive about foraging, and her dog thought it was great fun; she gathered some Wild Garlic, leaves and buds and made a stunning looking herbal Omelette! To read more about what else Lucy foraged, just click on the recipe link…..she got lots more herbs and weeds too!
Lucy didn't stop at the omelette, oh no, she was on an herbal roll now, and her second entry was a DELISH looking Sage and Onion Quiche. I love sage and onion in stuffing, but have never thought of adding them to a tart or a quiche, but Lucy's quiche looked fabulous!
And so who is next…….YES, it's Lucy again, I LOVE the fact that she entered so many wonderful recipes, herbs MUST resonate with her as much as me! Her third entry is a FAB recipe to make your Own Cheese.  And with her home-made cheese, she served freshly chopped chives…..LUSH!
We have a PIE next, and I am known for my love of pies, this pie is one of my favourites too, a Gala Pie. And, you guessed it, it's another STUNNING recipe from Lucy! THANKS so much Lucy for your GREAT multiple entries……all of them are just fabulous. Lucy says that Gala Pie can be served hot or cold, and it would be good for picnics too……
The next entry is a lovely sounding pasta recipe, Gnocchi with carrot-rosemary sauce. This lovely recipe is from Chris over at Cooking around the World, and the gnocchi has fresh rosemary in it, which sounds delicious. Chris made his own gnocchi for this recipe and you can see some of the before and after photos on his blog! Thanks for your entry.
Next we have my LOVELY friend Jayne, whom I have had the pleasure of meeting! Jayne has a great blog called Made by Jayneand her entry was a special Cinco de Mayo recipe, which is good as it is my birthday! Her "Fiesta" recipe is a fresh and zingy looking Fresh Salsa and it has some FABULOUS ingredients in it including fresh Coriander.
Number 7 on the linky took me to a GREAT French blog called Les recettes de Lorette – but sadly I could not see the specific post for the Herbs on Saturday recipe…..so, if you see this Lorette, PLEASE send me the link and I will add your recipe!
Next is Urvashi from The Botanical Baker, and she made some GORGEOUS little Carrot and Coriander Tarts, using fresh coriander as well as coriander seeds and powder! I LOVED this recipe, and may make these for my parents who are vegetarian! THANKS Urvashi.
I absolutely LOVED this next entry, as I am a Fish Fanatic, and Fiona from London Unattached sent over her VERY tasty recipe called Cod in Foil.  Fiona was the lucky winner of some fresh fish that I was offering in a giveaway, and she used some thyme as her herbal ingredient in this recipe.
My chum Dave, over at Baking Beats entered a LUSH and VERY tasty burger recipe – Pork, Sage and Apple burgers. In his recipe post, Dave offers you to choice of making burgers or for ease, a pork fry up with the mixture! BOTH would suit me thanks!
Next we have our WINNING recipe, from Tango like Raindrop! The lush and delectable looking and sounding Roast Chicken with Herb Butter, Onions and Garlic. Tango adores garlic, onions and roast chicken and this French recipe is a most delicious way to combine all three ingredients she says…..it must be, it won Sue's heart!
Next up is moi! I entered a couple of recipes, so I will post them all together here, albeit out of sequence for the latter recipe!  My first recipe is a BIG favourite in our house, my Oven Baked Chicken and Aubergine (Egg Plant) Parmigiana and this makes a GREAT family friendly recipe, all age groups love it!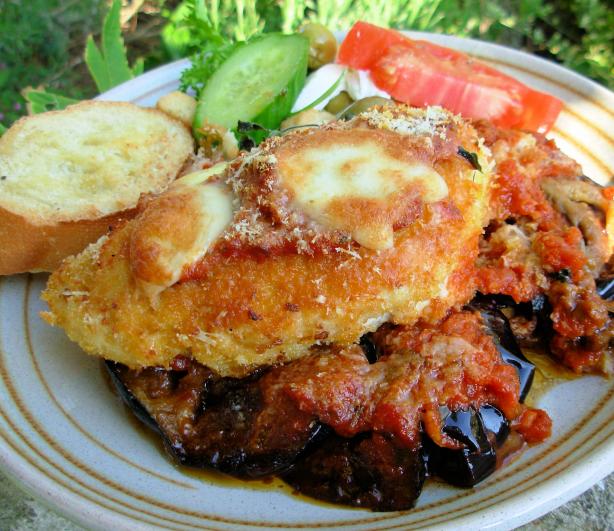 My next entry is at 21, but I will add it here…….to get it out-of-the-way! It's my VERY special recipe using lavender, Wolds Way Lavender and Strawberry Fruit Cup. If the weather holds out for this Jubilee weekend, this would be a FABULOUS drink to make for your celebrations or street party!
My lovely friend Galina is next…from Chez Maximka, and she has shared a super soup recipe called Asparagus, Rosemary and Roasted Garlic soup. Galina received the book "A soup for every day" as a gift, and was thrilled to have this addition to her cook book collection. The layout of the book is a bit like a diary:  a recipe per day…..and it's from this book that the soup recipe came.
I was VERY excited when I saw this recipe over at Phil's amazing blog As Strong as Soup, and I asked him (shame on me!) to add it to the event as it's a WONDERFUL recipe! One of the herbs in the sauce is my favourite, Lovage…..and the recipe is an old Roman recipe….. fascinating! THANKS for adding it Phil. Here's the link to this fab recipe: Duck Apicius
The next entry was a delight, as it was Jane's FIRST entry into a blog challenge, as she is new to blogging! THANKS for your lovely entry and CARRY on blogging! Jane's blog by the way is Onions and Paper – I LOVE the name and her recipe was a pork recipe loosely based on a recipe from the late, great Elizabeth David. Better a dinner of herbs…..
Now it's the turn of a FAB baker to enter something! Ros from The More than Occasional Baker, a friend of mine, made some LUSH sounding biscuits and submitted them to the challenge! Ros made some Lemon, Lime and Basil Cookies and I am intrigued with the combination of flavours, but I expect they work very well together.
This is Fiona from London Unattached's second entry into the event, and another STUNNER if I may say so Fiona! Fiona has offered us a plate of kedgeree, Smoked Salmon & Quail Egg Kedgeree. FABULOUS recipe thanks Fiona and I am loving the quails eggs!
Meanwhile, look what Kavita from Kavey Eats has made and entered! ICE CREAM! Kavey hosts a monthly Ice Cream blogging challenge, and her own entry this month was also HERBAL (mint), so she added her recipe here too…..THANKS for your SCRUMPTIOUS Quick & Easy Triple Mint Choc Chip Ice Cream – that will go down a treat in this hot weather.
I am delighted to see Jane from Onions and Paper enter some more of her LOVELY herb recipes again, and this time one of my favourites, Tabbouleh. I ADORE tabbouleh and especially when made with mint, thanks JANE!
The next entry is also another favourite of mine, and the write up that accompanies the recipe is very interesting. This lovely recipe comes from BAKING ELEMENTS, a fabulous food blog that I have just discovered. And, the recipe in question is BAKED FALAFEL.
Sarah from a FABULOUS blog called The Garden Deli submitted a delicious pasta recipe….Warmer days, a food festival and a bowl of pasta with herbs, and you MUST check out the first photo on her post, it's amazing close up of a bee on a chive flower……quite stunning! The recipe's name by the way is Pasta in a cream and green sauce and here's the photo of it now.
The penultimate recipe to be added to the Herbs on Saturday challenge comes from Jacqueline over at How to be a Gourmand, one of my favourite blogs……..and her wonderful herbal recipe is a simple salad, Thai Cucumber Salad. The salad contains a goodly amount of Coriander and having looked at the recipe, the ingredients are all so fresh, and yet invigorating!
And finally, the last LOVELY recipe to be added is from Ren at Fabulicious Food! THANKS for your fabulicious entry Ren, I ADORE feta cheese and especially when it is married with chives! I LOVE the omelette that Ren submitted, Feta and Chive Omelette and could eat it all day long!
That's it for May!
The NEW Herbs on Saturday challenge for June will open on Saturday 2nd June, so watch out for it……..
and there will be a new Mystery Judge and a NEW book to give away too! 
THANKS again to all of you who entered, Karen