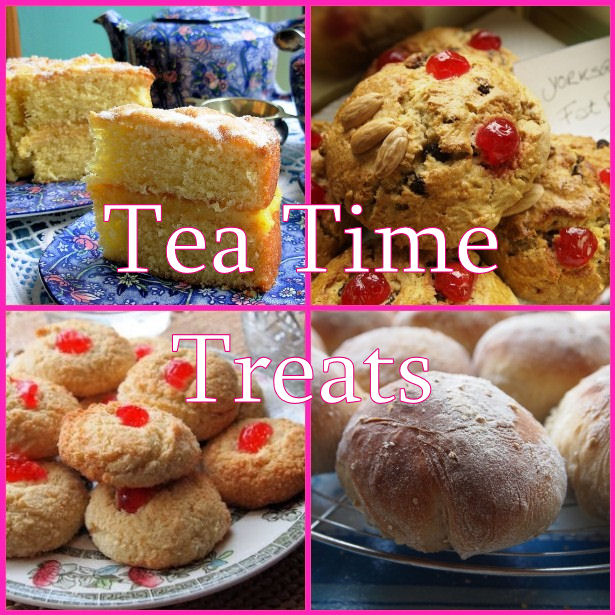 ~ Cake Stall Cakes & Bakes ~
July Tea Time Treats Round Up: Part One
WOW!
As I start to write my FIRST round-up post, there are SIXTY EIGHT entries, there may be more by the time I finish writing! Now, I am not usually a "Wow" person, I pride myself on being able to say what I think in a more appropriate and grown up manner, but as words have failed me, I am saying 
WOW

and

THANK YOU

to ALL of you who entered your amazing cakes and bakes! Kate and I are SO pleased how

Tea Time Treats

seems to have resonated with you all, and you have made the FIRST nine months of our challenge FUN and VERY TASTY too!
As I am planning on posting thirty entries per round-up, I won't witter on for now, but will launch straight into
PART ONE

of the

GREAT BIG FAT TEA TIME TREATS

round-up for July – the theme being 

Summer Fairs & Fêtes and Cake Stall Cakes & Bakes!

1. Chocolate Whoopie Pies – Ros from The more than occasional baker is our FIRST entry and what a FABULOUS offering too! LOVE the look of those little beauties!
2. Chocolatey Chocolate Cupcakes – Who doesn't love CHOCOLATE and Jude from A Trifle Rushed is our next cake stall entry with DOUBLE chocolate cupcakes! LOVING those cake toppers too Jude!
3. Simply Chocolate Cake – Susie from Fold in the Flour is next with this GORGEOUS cake, and I LOVE the tea time photo too Susie –  bet this cake would be VERY popular! It looks so rich and more-ish….
4. An Olympian Cake – Jude from A Trifle Rushed is back with a FABULOUS cake – PLEASE don't cut this one Jude, just sell it whole!! I bet this would be SO popular with the little ones too!
5. Andy Murray mint slice – I JUST love the name of this entry from Becky over at Mint Custard, and I bet it would have been VERY popular at a Wimbledon Cake Stall!
6. Wasabi and White Chocolate Cupcakes – Ros from The More than Occasional Baker is back with a VERY unusual entry, and yet SO pretty! HOT cakes I think these may be – but a VERY inventive idea!
7. Low Calorie Vanilla Bean Scones for a Wimbledon Strawberries & Cream Tea – This is my first entry, Karen from Lavender and Lovage, and these were made with Wimbledon in mind too!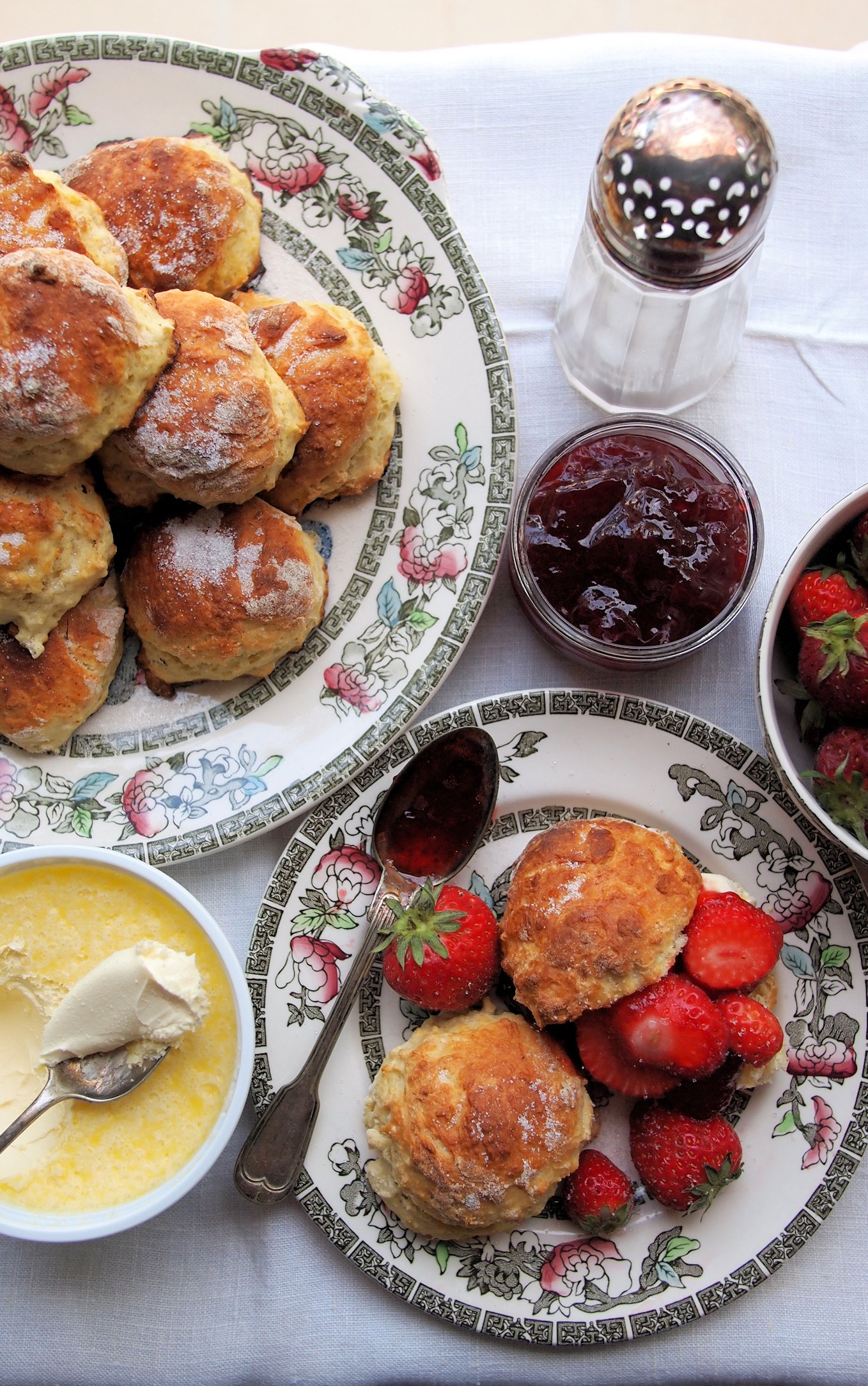 8. Chocolate cake with Raspberry Cream – What a PRETTY cake this is from Lottie's Wolf of Cakes, and Lottie can make this cake ANY time she likes for me, as I LOVE raspberries and cream and cake….
9. a victoria sponge  – A GORGEOUS classic is next, from a bit of  a classic himself, Dashing Dom from Belleau Kitchen made this Victoria Sponge even better by reducing the sugar! Make mine two slices please Dom!
10. Seasonal Cherry and Almond Traybake – Ren from Fabulicious Food brings us our first tray bake, and SO seasonal too, with fresh cherries! Looks lovely and I bet this would fly off the cake stall table!
11. Lemon drizzle cake – Sophie from Totally Caked Out (LOVE her blog name!) brings another classic, albeit a modern classic to the table, and I LOVE lemon drizzle cake, so I have already bought this already, sorry folks!
12. Macaroon cake with raspberries – Way down under, Johanna from Green Gourmet Giraffe (another blog name I JUST love!) made this FABULOUS cake, I bookmarked this as soon as I saw it! Welcome to Tea Time Treats and THANKS!
13. Healthier Carrot Walnut Cake – Who doesn't love a GOOD carrot cake, so I was really pleased to see our FIRST carrot cake, and it was the creation of Mich from a Piece of Cake, LOVE the look of these LOVELY little carrot cakes, so moist too!
14. Raspberry Ripple Cheesecake Cake – Jac from Tinned Tomatoes made this amazing gateau below and OMG! I mean cheesecake, cakes and raspberries! PASS it over, it's mine! GORGEOUS looking cake thanks Jac!
15. Chocolate, Hazelnut and Rasberry Fondants – I JUST love this next entry, so elegant and chocolatey and a wonderful entry from Nazima over at Working London Mummy, who always makes the most amazing cakes, LOVE these Nazima!
16. Coffee and walnut cupcakes – Katharine who has the lovely blog Leeks and Limoni made these GORGEOUS little cakes and I JUST love the texture of them, they look so light and crumbly, thanks Katharine!
17. Strawberry Banocolate Muffins – My new friend Camilla from Fab Food 4 All made these delicious sounding muffins (or buns as I call them!) I DO love the combination of strawberries, banana and chocolate – LUSH!
18. Chocolate Slice and Anzac Slice – This next entry is really TWO entries as Michelle from Utterly Scrummy Food for Families made these TWO classic tray bakes, which she says are part of her "quick fix" cake stall recipes….I LOVE Anzac biscuits, so I know I would love them as a tray bake – great idea!
19. Double Chocolate and Summer Berries Truffle Slice – Another entry from Karen at Lavender and Lovage, hey, that's me! A sort of chocolate truffle-cum-brownie slice……with seasonal berries, we liked this recipe, I hope you do too!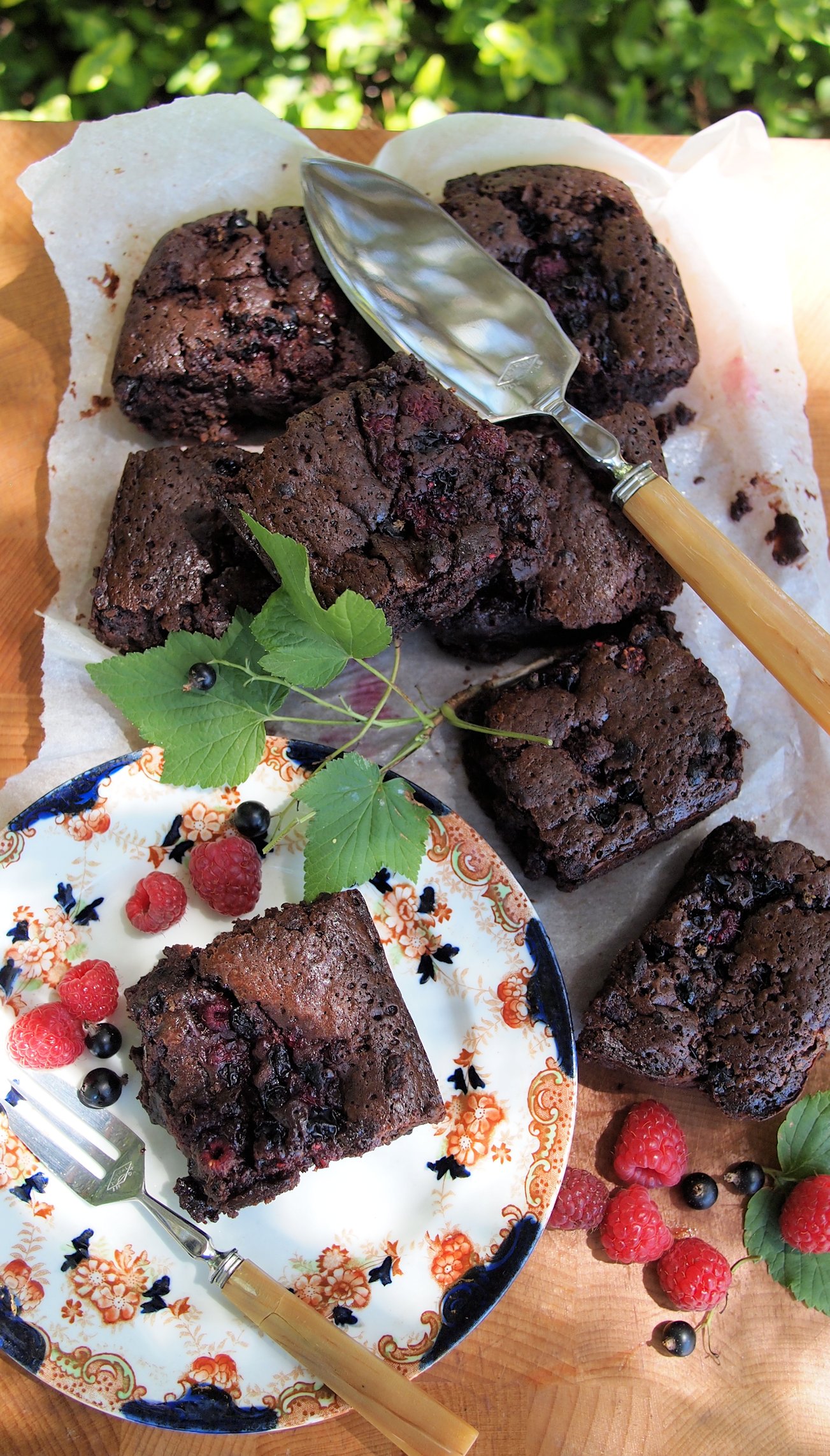 20. Cupcakes are a great idea for cake stalls: my blog post about school bake sales – My lovely friend Rita from Rita Cooks Italian made these STUNNING little cupcakes for the cake stall! She says she loves her decorations which were "crazy but fun" – I like that!
21. Coconut Checkerboard Brownies – Another LOVELY entry from Mich and A Piece of Cake – what I love about these Brownies is that they have coconut in them  and they looks so pretty too! Thanks Mich!
22. Honey Roasted Pear & Almond Breakfast Muffin – This next entry is a very sophisticated entry and I LOVE muffins (BUNS!) for breakfast! Fleur from Homemade by Fleur brought these and I think they look LUSH darlink!
23. White Chocolate and Cherry Loaf – I LOVE this next entry, as I LOVE cherries in cakes! Laura from Laura Loves Cakes baked this amazing loaf – a GORGEOUS combo of ingredients and I VERY cake stall photo too!
24. Cornish Fudge Fairings – I love Cornwall (I used to live there), I love fudge and I LOVE Fairings, so when Gill from Tales of Pigling Bland brought these for the cake stall, I hid them so nobody else could buy them! LOVELY entry thanks Gill, and another blog name I love too!
25. Walnut Brownie Cupcakes – Hello Cupcake! – Next are these STUNNING little cupcakes, baked JUST for our cake stall by the lovely Janice from Farmersgirl Kitchen – Janice made these from a new book she received and I have to say they look FAB!
26. Marble Matcha Castella – What an intriguing entry this cake is, and SUCH a lovely idea too! Cheah from  No-Frills Recipes made this LOVELY loaf cake and used green tea powder to create the swirls – FABULOUS idea!
27. Strawberries and cream sponge cake – Strawberries and Cream! NO contest, two of the BEST ingredients in the culinary language, and when added to CAKE = SUBLIME! And brought to us by My Little Italian Kitchen – THANKS so much!
28. Summer Berry and Chocolate Traybake – My lovely chum Jen from Blue Kitchen Bakes is next and with a BRILLIANT tray bake with berries and chocolate! Looks and sounds divine Jen, and I bet this would sell out in a trice too!
29. Walnut Whip Whoopie Pies – Our SECOND Whoopie Pies, and these lovely little creations are the work of Caroline from Caroline Makes. Not only do we get these wee delights, but Caroline also posts some handy step-by-step photos for her recipe too!
30. Blackcurrant Glaced Chocolate Cakes – Last, but NOT least in my FIRST mega round up are these GORGEOUS little cakes – made by Angela from Garden, Tea, Cakes and Me, the icing is made from RIBENA! What a GREAT idea, I may need to steal that from you Angela!
That's it for Round up
PART ONE!
Look out for Round Up

Part TWO

tomorrow…..
where I have at least THIRTY EIGHT more cake stall cakes and bakes to share!