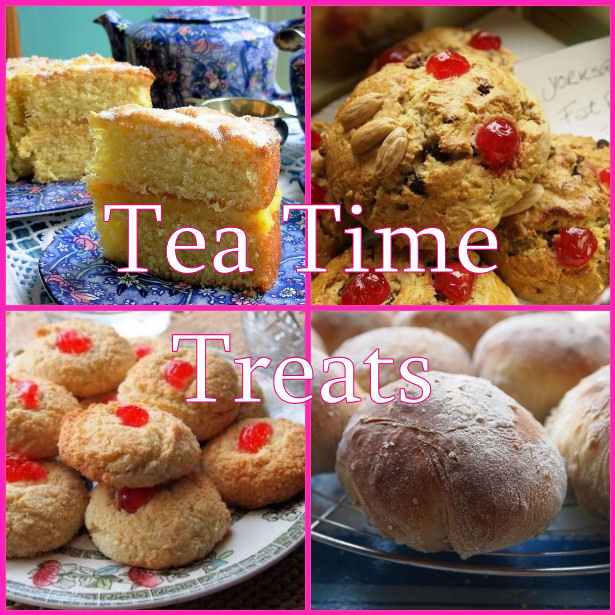 ~ Cake Stall Cakes & Bakes ~  
July Tea Time Treats Round Up: Part Two
Are you sitting comfortably? It's time for
PART TWO

of the

BIG FAT TEA TIME TREATS

round-up! Feast your eyes on the following entries, if you missed PART ONE – never fear, cos' it's here: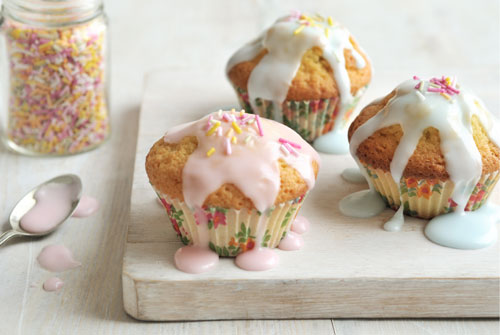 31. Olympic Baking: Chocolate and Pistachio Logo Cake – This next cake comes from a VERY famous person, yes, it's none other than my own TTT partner and one of the cloud wranglers in the OPENING CEREMONY at the OLYMPICS – it's Kate from What Kate Baked! (I knew her before she was famous you know!) WELL DONE Kate!
32. Not So Checkerboard Brownies – These DELIGHTFUL little brownies, so pretty aren't they, were baked by Vivian at Vivian Pang Kitchen Blog! I LOVE the little bows and flowers she added too!  Vivian also entered THREE more delectable bakes too…….see al of her DELECTABLE bakes below! THANKS Vivian!
Japanese Cotton Marble Cheesecake
Black Sesame Marble Cheesecake (gluten free)
33. Orange Polenta Cake – This GORGEOUS orange cake is the work of Jin over at Smell & Taste are my Memories, and I LOVE the way the oranges are glazed on top of the cake!
34. Red velvet cake with cream cheese frosting – I JUST love the Festive, Jubilee-ish and British decorations on this cake, it's so striking against the white icing! And this lovely cake was baked just for us by Katie over at Feeding Boys and a Firefighter…THANKS Katie, I love this one!
35. Figs & Raspberries Almond Cake – What a sophisticated bake this next entry is, and I also LOVE the combination of ingredients too! Jessie who writes her blog Jessie – Cooking Moments baked this one and I bet this was a winner on the cake stall! WELCOME to Tea Time Treats too Jessie!
36. Chocolate Victoria Sponge – I must admit I have a bit if a soft spot for the next cake,  and I DID try to hide it so I could take it home! I LOVE Maltesers you see, and I LOVE any version of Victoria Sponge cake….so, THANKS Lauren from A Baked Thesis, for bringing this along!
37. Mars Bar Cake – And if Maltesers are a favourite of mine, so are Mars Bars too, so THANKS Gary who is a a WONDERFUL cake baker and lives over at Exploits of a Food Nut! And by the way, this is a no-bake cake too, VERY handy thanks Gary!
38. Tres Leches Cake – The next cake comes from one my favourite blogs across the pond, Heather from Girlichef – her blog is amazing and she is pretty nice herself too! AND, anyone who brings a cake as gorgeous as this, has to be good! Thanks Heather!
39. Flower pot cupcakes – Although it is great to see BIG cut-and-come-again-cakes, I DO so love wee cakes, and this 2nd entry from Caroline at Caroline Makes, are JUST delightful, and she used my VERY favourite wafer daisies too! I bet these would be popular!
40. Gooey Popcorn Bars (Gluten Free) – This next entry comes from one my favourite blogs THIS side of the pond, the amazing Cakeboule! And I bet these would be VERY popular on the cake stall, as they are just the sort of thing that the kids would buy with their pocket-money and they are FUN as well as being GF too!
41. South African Muesli Rusks – This next entry holds a huge amount of nostalgia for me, as I was born and lived in South Africa and I KNOW and love these type of S African rusks – so when Claire from Under the Blue Gum tree, another favourite blog of mine, entered these, I was over the moon, as well as under the gum tree with her!
42. Gluten-free chocolate brownies with black currants – Moving on to MORE chocolate delights, and when Galina from Chez Maximka turned up with these GORGEOUS little GR brownies, I nearly mugged her for them! Thanks Galina!
43. Mint Chocolate Chip Ice-Cream Cupcakes – What a FUN entry the next one is, Michelle from The Peackchicks Bakery (I LOVE her blog name) made these FAB ice-cream cone cakes, and I just know that these would sell out in a flash on a cake stall!
44. Chocolate and Walnut Flour Free Cake – Fiona from London Unattached has been having us on, she says she Can't Bake and Won't Bake, BUT, here's the evidence that she CAN! Just look at this LUSH looking cake! Fiona, you are on the Church Tea rota as of NOW!
45. Summery white choc strawberry cake – SUCH a pretty cake and LOOK at the topping, and this wondrous cake is ANOTHER entry from Sophie at Totally Caked Out – and is looks LUSH! Pass me the WHOLE cake please Sophie!
46. Strawberry cake version 3.0 – LOOK at these wee tarts, how I LOVE wee strawberry tarts and cakes, and these look fabulous, all thanks to my lovely friend Kiki at Kitchen of Kiki. Kiki lives in Denmark and is a TTT regular, with so many amazing creations under her belt, thanks again!
47. Peanut Butter and Chocolate Cookies – Now I hope I didn't upset my good friend Choclette from Chocolate Log Blog when I said I wasn't keen on Peanut Butter (YES, I know, I am in the minority there!) because the thing is this, her cookies look so DARNED lush, that I would try one of these, and I just know that I would love them and they would be SO popular on the cake stall!
48. Scrumptious Carrot Cake  – Another LOVELY carrot cake, and I must confess that I thought there would be more, as they make SUPER cake stall cakes, and this GORGEOUS cake is the work of Blissfully Scrumptious, and OMG! Yes, it is SCRUMPTIOUS – thanks so much!
49. Chocolate Chunk Traybake with Fudgy Chocolate Icing – Caroline from Cake, Crumbs and Cooking made this next sinfully good-looking tray bake, and notice how she says all the right things…..Chocolate, Chunk, Fudgy and Icing……what's NOT to like! AB FAB!
50. Squidgy Chocolate Cake filled with chocolate mousse – MORE naughty but nice words, we now have SQUIDGY! How I LOVE that word when associated with baking! And the squidgy cake in question is the work of Hooney over at Cookaroo. Hooney is a TTT Virgin and I hope to see MANY more treats from you in future challenges, thanks!
51. Sydney Specials (or Chocolate Crunch Slices) – Another LOVELY entry from the fabulous Katharine at Leeks & Limoni – great name for a blog eh? This is a VERY nostalgic post for me, as I KNOW where her crunch slices originate from, a VERY old Be-Ro cookbook, where they are called Australian Crunchies for some reason! GREAT entry thanks Katharine!
52. Mini Victoria Sponge Cakes – HOLD me back! LITTLE cakes and not just any cakes, but LITTLE Victoria Sponge cakes! These gorgeous mini creations were baked by Kat from Life of a Cupcake Baker, and I'm sorry folks, but they are ALL mine!
53. Treacle Gingerbread Loaf – Jac from Tinned Tomatoes KNOWS the way to my heart, I LOVE ginger cake and I was surprised we didn't have more entries, as it's a great cake stall bake, BUT, Jac to the rescue, and thanks so much for this LOVELY gingery treat!
54. Tea Time Treats: Cake stall cakes & bakes – Helene at I Cook with Butter (I LOVE that name!) also knows the way to my heart, as she made these GORGEOUS little Victoria Sponge cakes……and LOOK at her fab photo too! She used a Mary Berry WI recipe and just added jam and icing sugar, that's JUS T the way I like them, so thanks Helene!
55. Mini Chocolate & Blackcurrant Cakes – And MORE people who are wooing me with their WEE cakes! Helen from Fuss Free Flavours is trying to get my RIGHT side with these GORGEOUS little Chocolate cakes, I JUST love these too, thanks Helen, now pass them ALL over please!
56. Pumpkin raisin muffins – Cheah from No-Frills Recipes is next, and she made us a batch of muffins (BUNS!) and in little loaf tins, so maybe they are loaves?! Whatever you want to call them, they look WONDERFUL! Cheah has baked her heart out for TTT and some of her entries are in part one, so a BIG thanks!
57. Banana Toffee Curd Cream Cake – My LOVELY friend Shaheen from A2K – Allotment 2 Kitchen is next and OMG – JUST gimme that WHOLE cake please! Banana, Toffee Curd and Cream – HELLLO! What a DELIGHT, and I bet this would FLY of the cake stall!
58. Lemon Soufflé Cake – Kimmy from Cooking Pleasure is also a NEW TTT member, and she made this LUSH looking Lemon Soufflé Cake – it looks so light and airy that I am sure it would FLOAT off the cake stall table! Thanks Kimmy!
59. Apricot & Pistachio Tray Bake Cheesecake – The LOVELY and talented Kit from I-Lost in Austen is next…..another favourite blog of mine, and JUST look at her AMAZING creation! Such a BEAUTIFUL tray bake, thanks Kit, and lovely photos too!
60. Strawberry blondies (GF) – Hungry Hinny is also another favourite blog of mine, and look what she baked, SUCH a lovely looking batch of STRAWBERRY Blondies! I JUST love the look of these and they are also SO pretty, such a lovely colour!
61. Orange and Vanilla Bean Cupcakes – Vikki from Cake Fairy Blog is a TTT regular and she always bakes some lovely treats, and just look at these cakes – SO pretty and with my favourite ingredients in them too….you can also see her holiday photos of Malta in her post too!
62. Welsh Cakes – Eira from COOKBOOKS GALORE is another LOVELY TTT regular and she made one of my favourite bakes, Welsh Cakes, and I bet these would sell like hot cakes on the stall, sorry! And, Eira also used her Gran's recipe too, which is wonderful!
63. Chocolate and Orange Marmalade Loaf – This next entry from Suelle at Mainly Baking, is a STUNNER! I LOVE marmalade loaves and they are always so popular on cake stalls…….and hers looks so sticky and gooey and GORGEOUS! Thanks Suelle!
64.  Chocolate and Blackcurrant Cupcakes – Maggie over at Kitchen Delights made these LOVELY delights, and I just think these are the prettiest cakes I have seen, and I LOVE your cake stand Maggie! And as always, a BIG thanks for your lovely entry!
65. Janie's Flapjacks – Lucy from Vanilla Frost Cakes made us a batch of FLAPJACKS! I love flapjacks and I remember buying many a flapjack at the school fair, they make EXCELLENT cake stall offerings and Lucy's look lovely! This is the LAST entry into our July Tea Time Treats challenge, and it seems fitting that Lucy's classic cake stall bakes finish this MEGA round-up off for us! 
STOP PRESS! I JUST found ONE more entry that was not added to the linky and that was in my SPAM mail box!
66.  Chocolate Jam Tarts – From my LOVELY friend Laura from How to Cook Good Food……phew, so glad I found these Laura! Laura made another CLASSIC cake stall recipe and made jam tarts POSH with chocolate pastry! I LOVE this idea! THANKS Laura, this makes our TTT total 66 entries, but as we has some multiple posts, about SEVENTY cakes and bakes! HOLY FLYING CAKE! Thanks so much! 
THANKS

to ALL of you for a HUGE

Cake Stall Tea Time Treats

event
You have all been AMAZING!
Here, have a CAKE on me!!
Karen