Herbs on Saturday June Round Up
and the Winner is announced for the Book!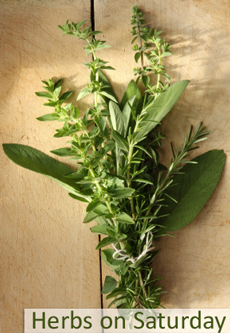 Here we are again for a wonderful round up of all the entries into Herbs on Saturday for June! There were TWENTY SIX tasty recipes shared for the challenge, and all of them were winners! However, there has to be a winner chosen for the book, which is Jekka's Complete Herb Book, and the mystery judge this month was……… FLEUR from Homemade by Fleur! With a BIG thanks to you Fleur for looking through all of the entries and picking a winner……I will copy what Fleur wrote to me, so you can see why she picked the winner, who is, by the way………Sarah from The Garden Deli and her Lemon Verbena Cupcakes!
Fleur said she picked the winning recipe because…." It was hard to choose, but I think the winner for me has to be the lemon verbena cupcakes.  There are a couple of reasons for this.  Firstly, I loved reading about the school gardening club and what they are growing.  I involve my children lots in the garden so I know how much fun it is and how much children can learn through gardening.  Also, I thought the recipe was very unique.  I use herbs a lot in my cooking but not so much in my baking, and you know that I just love to bake so will certainly be trying out this recipe.  They sound delicious"…..
CONGRATULATIONS to Sarah! 
And now for the round-up……..oh yes, the NEW Herbs on Saturday Challenge is UP and running already and I am DELIGHTED to say that my lovely friend Vanesther from Bangers and Mash is Guest Hosting it for July! PLEASE enter your lovley herb recipes for July by following the link below:
Herbs on Saturday June Round-Up
 The FIRST entry was a stunning double entry from Dashing Dom, from Belleau Kitchen and he made TWO amazing recipes for the event, Lemongrass Vichyssoise served with Caramelised Onion and Thyme Bread – both of them looked absolutely LUSH and I have bookmarked both of them to make in the future, as they are BOTH my kind of recipes!
Next is a fabulous recipe from Chris and Cooking Around the World – he made these amazing little Samosas, which, are favourites of mine; the recipe originates from Kenya, and I remember LOVING these when I lived in South Africa!
I am next, Lavender and Lovage, and as I cook with herbs a lot and submitted a few recipes, I will gather them all up and post them here, so we can get on with the other LOVELY entries! My first entry was a simple Loch Fyne Smoked Salmon Tartine (Tartine au saumon fumé) – these are simple to make and SO tasty!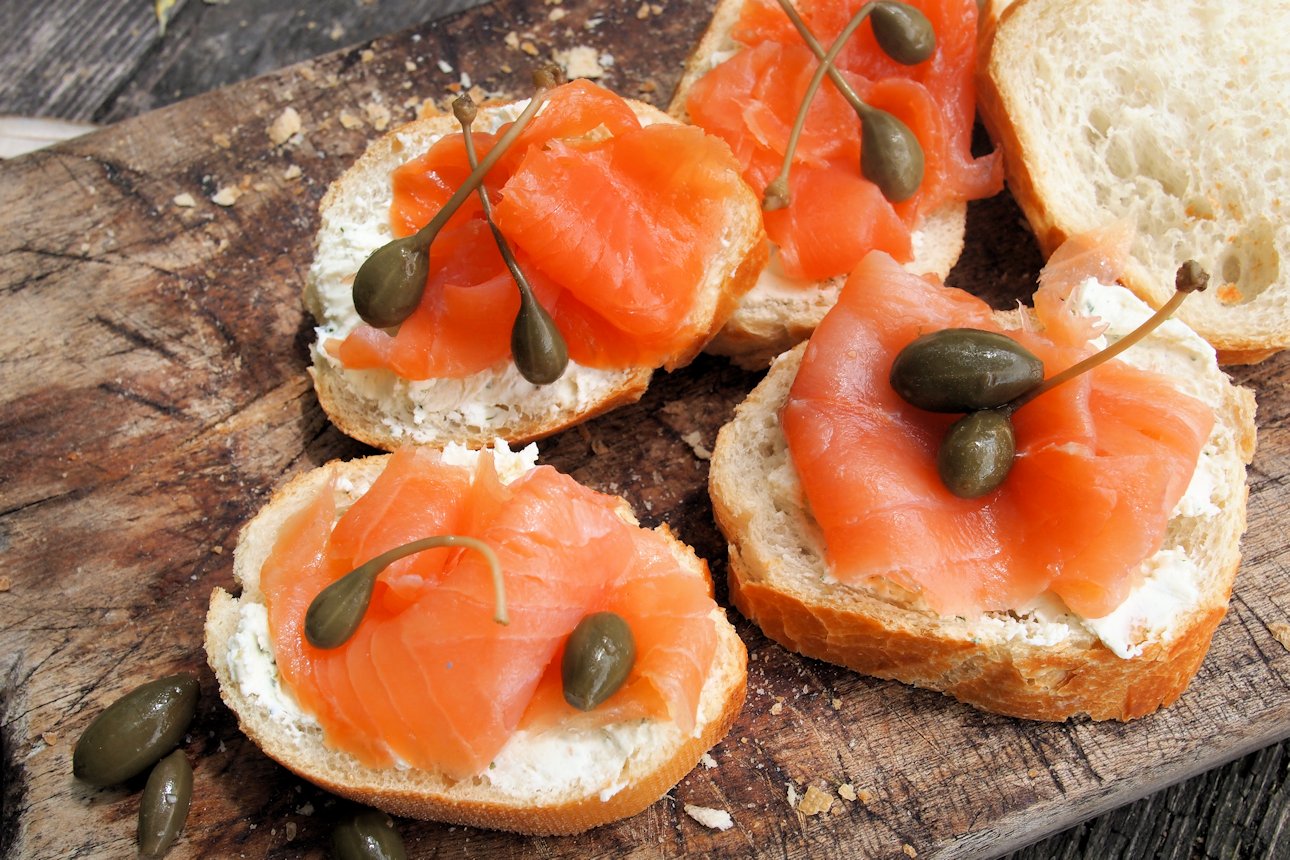 I then submitted my Herb Marinated BBQ Scallop & Bacon Skewers (Kebabs) which were made with fabulous Scottish Scallops and were marinaded for a few hours in a delightful herb marinade!
 I LOVED this next entry from Vanesther over at Bangers and Mash, who is the host for this month's Herbs on Saturday challenge; she made this FABULOUS Slow roasted tomato and oregano pizza and as soon as I saw it, I was LUSTING after Pizza for all month!
Susie from Fold in the Flour used one of my all time favourite herbs in her entry which was a Poached Salmon, Soured Cream and Dill Tart. I LOVE tarts and pies and her salmon tart looked amazing and check her post out, as she has some lovely photos too!
My LOVELY friend Louisa from Chez Foti, in the SW of France was next and she made a fabulous lunch of Greek Stylie Pork & Veggie Kebabs. Louisa has a LOVELY herb garden this year and if the kebabs are anything to got by, I want to go there for lunch every day!
 Tarragon makes it first appearance now and I am a BIG lover of tarragon, so it was nice to see my Nom Nom Nom (cookery school) buddy, Fiona from London Unattached, bringing me a plate of Tarragon Chicken to the event, and with a cautionary tale too!
 Next was a BEAUTIFUL post and entry from Thrifty Household, and all to do with Rosemary! All sorts of rosemary related recipes had been made, but the ones that were submitted were Rosemary Vinegar and Oil! BOTH beautifllly bottled and ready for summer salads!
 I was pleased to see the FIRST soup entered next, as I LOVE soup in the summer as much as the winter! My lovely friend Janice from Farmersgirl Kitchen came with a BIG bowl of delicious looking Summer Vegetable Soup with Granary Bread – and it looked DIVINE darlink!
 I was THRILLED to see the next entry, from lovely Linzi over at Lancashire Kitchen, as I am BIG lover of herbal and floral syrups and she made the most amazing Mint Syrup! I can see myself making some of that this summer as I have LOTS of mint in my herb garden!
 Janice from Farmersgirl Kitchen has been VERY into her herbs this month, as she sent over another FAB recipe, and I DO love a good salad, Janice made this lovely sounding (and looking!) Tabbouleh – Bulgar Wheat Salad and used LOADS of parsley in it, which I love in a tabbouleh salad!
 I simply ADORE this next entry, and you will see why when I tell you that Ros from the More than Occasional Baker blog made these gorgeous savoury Sage, Thyme and Emmental Madeleines……AB FAB Ros, and I LOVE savoury bakes, so this recipe was an instant hit with me, thanks!
This next entry is also SO original and unique, Tango Like Raindrop (last months winner of the cookbook) made these FABULOUS preserved Bloody Mary Tomatoes. I can see myself making these and devouring them very rapidy as I LOVE Bloody Mary cocktails!
We finally get to see the AMAZING winning entry now, the Lemon Verbena Cupcakes from Sarah and The Garden Deli. Lemon Verbena is one of my favourite herbs and I also grow it in my herb  garden and use it a lot in my cooking and baking. I LOVED this recipe, as much as Fleur did!
I KNEW I had another entry to add to my list above! Oh well here is another Lavender and Lovage entry using THYME!  Piquant Pizza with Goat's Cheese, Chorizo and Chillies for a Great Midweek Supper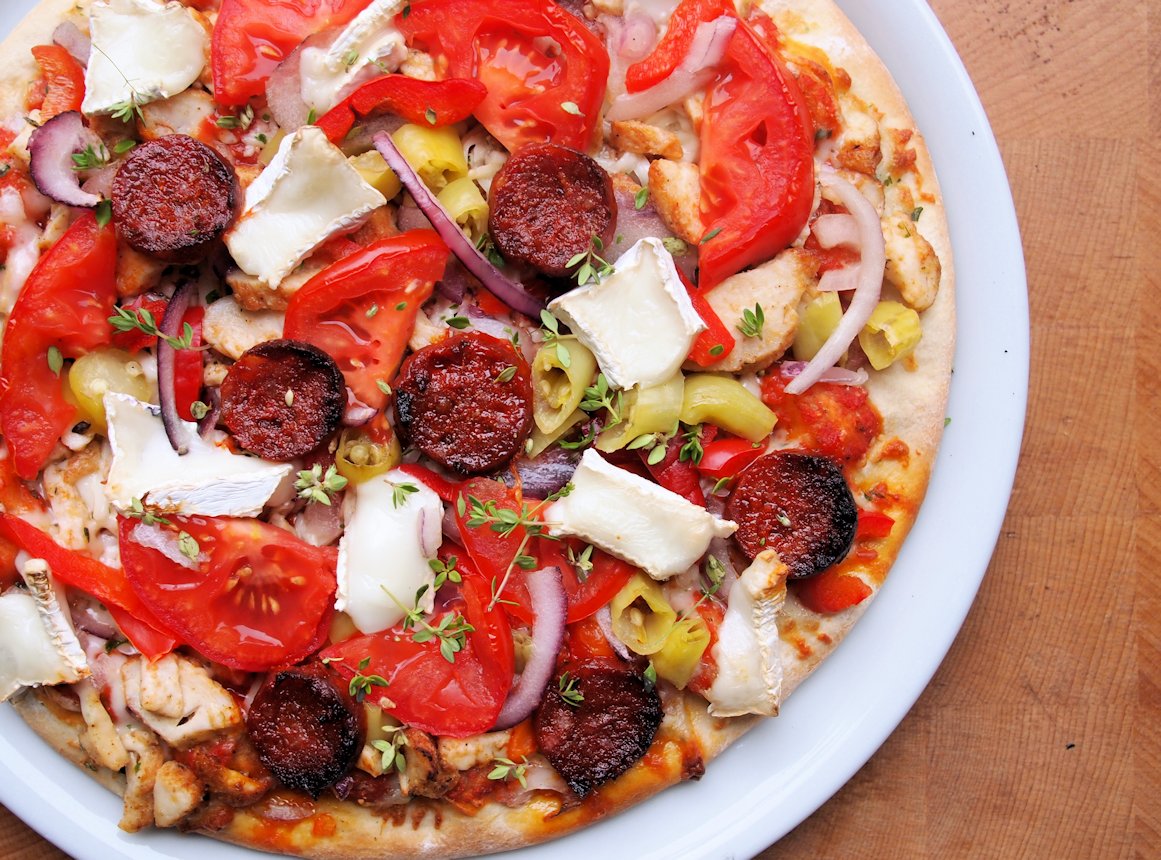 My LOVELY friend Laura from How to Cook Good Food was next and with a SUPER home-grown salad recipe…Home Grown Seasonal Salad with a Mint, Oregano & Lime dressing. I LOVE this entry as it is simple, home-grown, seasonal and yet so VERY imaginative! And the photos were LOVELY too!
This next entry for another salad comes from The Lemon Bowl, and is SO elegant! Fava, Radish and Shaved Fennel Salad – looks amazing and SO summery, and broad beans (fava beans) are one of my favourite vegetables too, especially in salads!
Also from the Lemon Bowl is another GLORIOUS recipe, Greek Style Farro Salad. Again, this is such an elegant and tasty looking salad, as well as being unique and a meal on its own too….
 Trust Choclette from Chocolate Log Blog to bring booze along to the Herbs on Saturday challenge, BUT I am so glad you did though! She brought TWO cocktails, Summer Cocktails – Rhubarbarella & Chocadoodledoo, and never mind what is in them, I would drink them JUST for the names!
Finally, a lovely meat dish with herbs,  Slow cooked shoulder of lamb, and this GREAT roast comes from Sarah at Sarah's Kitchen Diary…..a SLOW cooked lamb joint with rosemary and thyme, and it lo0ks DIVINE!
My friend Solange from Pebble Soup was next and with a FABULOUS bread recipes, with herbs of course. Solange baked and entered a LOVELY Rosemary and Sea Salt Foccicia – I bet that would be BRILLIANT with some soup!
 Another LOVELY broad bean recipe and a toasted treat too – Jacqueline from How to be a Gourmand made this amazing Broad Bean & Mint Bruschetta which will be on my menu very soon as I LOVED all of the ingredients in this and it would make a fabulous light lunch.
 Another soup is next, and another LOVELY summer soup too, from Mel at Edible Things. Mel made this lovely A Soup for Summer for her entry, and the herb that I was most interested in that she used was another favourite of mine, Chervil. Her soup looks and sounds DIVINE!
 Another GREAT baked entry is next and I LOVED this one……Cheese and Herb Muffins. These were baked and entered by my friend Jen who cooks over at Blue Kitchen Bakes, and she can bake these ANY day of the week for me, they look amazing! I DO love a nice savoury bake!
THAT'S IT!
With a BIG THANKS to ALL who entered, and for all of your FABULOUS recipes!
A big thanks to our mystery judge Fleur and also to Vanesther who is guest hosting July for me! 
Karen