Summer Fairs & Fêtes and Cake Stall Cakes & Bakes
July's Tea Time Treats Challenge!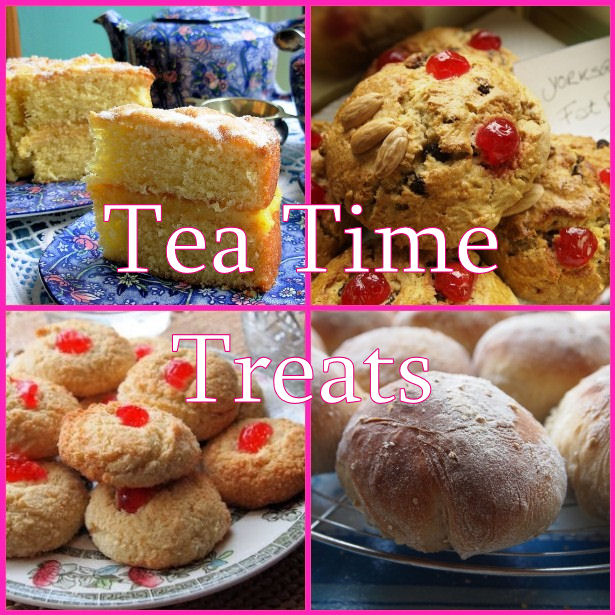 It's time for the NEW Tea Time Treats July Baking Challenge, and this month is a CORKER!  I am pleased and excited to reveal the theme for this month, which is:
Cake Stall Cakes & Bakes
 That's right, it's Summer (IT IS really – I know the weather says not!!) and it's time for all those 
Summer Fairs & Fêtes……and what do you find at the School Summer Fair and Church Fête, a CAKE STALL of course! So, what cakes and bakes qualify then? Practically ALL types, from melting moments biscuits to the Queen of all Cake Stall cakes, the Victoria Sandwich! BUT, Kate and I are also looking for all sorts of special cakes and bakes, such as regional speciality from where you live maybe, or even better an OLD FAMILY FAVOURITE! I have put together  a list if some ideas I came up with, the list is NOT definitive by any means and we are welcoming ALL kinds of cakes and bakes, and, if you actually made them for a REAL Cake Stall, ALL THE BETTER! 
Summer Fairs & Fêtes and Cake Stall Cakes & Bakes Ideas:
Victoria Sandwich, Lemon Drizzle, Chocolate Cake, Cherry Cake, Coconut Cake, Fruit Cake, Strawberry and Cream Layer Cake, Coffee Walnut Gateau, Macaroons, Muffins, Cup Cakes, Fairy Cakes, Butterfly Cakes, Flapjacks, Brownies, Tray Bakes, Apple Pie, Cherry Pie, Peach Pie, Strawberry Tart, Melting Moments, Viennese Whirls, Shortbread, Biscuits and Cookies, Coconut Ice, Toffee, Fudge, Chocolate Truffles, Tiffin, Tea Loaves and Tea Breads, Iced Fingers, Fancies, Scones, Fat Rascals, Lemon Bars……….
 

So, with a FLURRY of FAIRY CAKES, I officially announce that July's Tea Time Treats Baking Blog Challenge is OPEN!
And, for a Lush round-up of last months BERRY BEAUTIFUL BAKES, visit Kate over at

What Kate Baked!

 
LET'S BAKE!
Karen
Tea Time Treats for JULY is OPEN from the 1st July until the 28th July 2012.
(The Round Up and the new Challenge will be posted on or before the 1st August)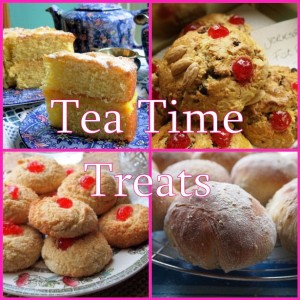 Tea Time Treats Rules and Guidelines:
1. Post your recipe on your blog with a link to Lavender and Lovage and What Kate Baked, mention the relevant month's host, that's Lavender and Lovage this month and attach the Tea Time Treats logo as shown on the event page.
2. Add Tea Time Treats in your blog post as a category, label or tag.
3. The recipe can be one of your own or one you've seen elsewhere. You are welcome to republish old recipes/posts but please add the information about this challenge.
4. Please be as creative with the theme as you like.
4. If you put your post on twitter please mention @KarenBurnsBooth @katecakeandbake and #teatimetreats in your message and we will retweet all those we see.
5. You do not need to enter every month to join in with the challenge.
6. Your post can be submitted for other blogging challenges, just make sure this complies with the rules of the other challenge.
  VIP:
By way of making entries simpler, and so Kate and I DON'T miss emails in the future, we are testing a new system of entering your recipes this month; ADD your recipe link to the Simply Linked box below; it's EASY and then all I have to do it swoop around at the end of the month the gather them all up for my MEGA ROUND UP!
NOTE: For the links to work, you MUST have linked back to me for this challenge, as mentioned in the guidelines above! The link for Lavender and Lovage is: https://www.lavenderandlovage.com and the link fot this month's challenge is: http://wp.me/p287Dn-1QC