~ Herbs on Saturday ~
August Challenge:
Win a copy of The Ultimate Book of Herbs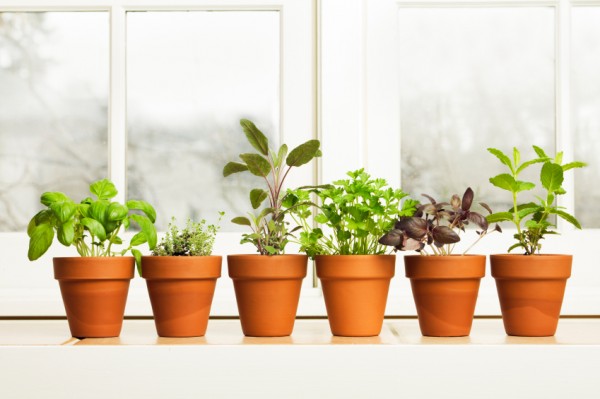 It's AUGUST and a new Herbs on Saturday Challenge!  Firstly, I want to say a HUGE thanks to Vanesther over at Bangers and Mash for her IMPECCABLE hosting for July – she was the Herb Hostess with the Mostess and you can see her FABULOUS month's round-up of recipes here:
Herbs on Saturday – July Round Up July.
Secondly, a BIG thanks to all of you who entered last month, there were THIRTY entries, and all of them winners!  There has to be ONE winner for the book however, and with thanks to Helen at Fuss Free Flavours for her judgung duties, she picked…….French Foodie Baby and her LUSH looking Nectarine Shiso Ice Cream.
French Foodie Baby wins a copy of  The Best-Ever Easy-to-Use Herb Cookbook.  
This month's book up for grabs is the Reader's Digest The Ultimate Book of Herbs: The Definitive A – Z of Herbs and How to Grow and Use Them:
"The Complete Book of Herbs" tells you all you need to know about planting, growing and harvesting your own herbs and how to use them in your home. You'll discover that they have a wide range of uses, not only in cooking but also as natural ingredients in home remedies, cosmetics, aromatherapy, household cleaners, insect repellents and crafts. By growing and using your own herbs, you'll keep your family healthy and safe, save money and use fewer chemicals in your home. Feature spreads highlight certain types of herbs (such as Asian herbs, herbs for bouquet garni etc), and there are also quick-reference charts, such as a trouble-shooting guide for pests and diseases. Feature boxes on 'Herbal Folklore' reveal how the medicinal properties of herbs have been strongly associated with magic and folklore for centuries. The beautifully illustrated extensive chapters on cooking, home remedies, beauty products and cleaning provide detailed information with step-by-step recipes and techniques on using herbs in your home.
With thanks ALSO  to Janice (Serial Crafter) who allowed me to use her FABULOUS scrapbook image as my new Herbs on Saturday post logo….. so, that's all for now, to enter is easy, all you have to do is follow the guidelines below, and have a WONDERFUL Herbal August! Karen
Herbs on Saturday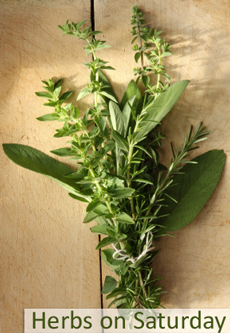 Guidelines how to enter:
1. Post your recipe url to the Linky at the bottom of this post, including your email and the title of your recipe or post.
2. Display the Herbs on Saturday badge (as shown above and below) to the relevant recipe post, with a link back to the monthly challenge post HERE.
3. Add as many recipe links as you like, there is NO limit and the recipes and posts can be from any day, NOT just Saturday!
4. If you tweet your post, please mention #herbsonsaturday and @KarenBurnsBooth in your tweet – I will retweet all that I see. 
5. The recipe can be one of your own or one you've seen elsewhere. You are welcome to republish old recipes/posts but please add the information about this challenge as listed above, along with the Herbs on Saturday badge.
6. A guest blogger will choose their favourite recipe at the end of each month, and the winner of that recipe will receive the book that has been featured for that month.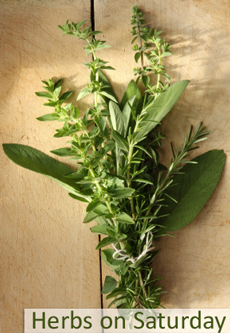 Herbs on Saturday is a Recipe Sharing Blog Challenge……a simple and easy way to share recipes throughout the month and also a chance to learn new ways to cook with herbs, as well as discover new blogs and blogger chums! Add your recipe to the linky below: