~ Herbs on Saturday ~
September Challenge:
Win a copy of Herbs (River Cottage Handbook)
It's SEPTEMBER and a new Herbs on Saturday Challenge!  Firstly, I want to say a HUGE thanks to Vanessa, author of Prepped and from Goddess on a Budget blog, for being the MYSTERY JUDGE!
Secondly, a BIG thanks to all of you who entered last month, there were THIRTY THREE entries, and all of them winners! But here has to be ONE winner, for the lovely prize, which was a copy of Reader's Digest The Ultimate Book of Herbs: The Definitive A – Z of Herbs and How to Grow and Use Them and the winner is…………………..Louisa from Chez Foti for her A Glut of Tomatoes Pasta Sauces! WELL DONE Lousia, and what a worthy winner she is, as she made TWO lovely sauces, and this is what Vanessa said…."the recipes were seasonal, rich, beautifully photographed, achievable, versatile and economical"………and that is HIGH PRAISE from such a wonderful cook and author!
 Until my Round-Up goes live a little later, I am SO sorry it is late, you can see the entries here:
I have a copy of this book and it is so useful, as well as having some WONDERFUL recipes at the back of the book too!
Herbs are the most liberating and confidence-boosting of ingredients: grow some and you feel like a proper gardener, bring some into the kitchen and you feel like a proper cook. They allow you to experiment and bring individuality to your cooking while, at the same time, anchoring you in sound culinary tradition because herbs are often responsible for those key flavours that 'make' a dish. Not only that but they are a step on the road to a more self-sufficient, homegrown, organic way of eating. In the first part of the book, Nikki explains how to get the most from herbs. She outlines the basic choosing, picking and using guidelines. The second part is a catalogue of herbs, each with grow-your-own notes, flavour descriptions and mini-recipes. Among the forty herbs that Nikki describes are basil, bay, bergamot, chives, coriander, dill, fennel, horseradish, hyssop, marigold, marjoram, mint, parsley, perilla, rocket, rosemary, sage, scented geranium, tarragon, thyme, wild garlic and winter savory. Following this are over fifty wonderful and adaptable recipes for everything from herb-scented cakes and biscuits to soups, stuffings and tarts, where more than one herb is, or can be, used. With an introduction by Hugh Fearnley-Whittingstall and full-colour photographs, Herbs is a must-have book for every kitchen.
With thanks ALSO  to Janice (Serial Crafter)follow who allowed me to use her FABULOUS scrapbook image as my new Herbs on Saturday post logo….. so, that's all for now, to enter is easy, all you have to do is follow the guidelines below, and have a WONDERFUL Herbal SEPTEMBER! Karen
NB: IN order to start adding recipe links to the new challenge, I am posting this now and will link to the round-up when it is live…….not long to wait until the round-up is published now, sorry to be late, but I LOST my word.document that it was all listed on, so I have to write it all again! 
 Herbs on Saturday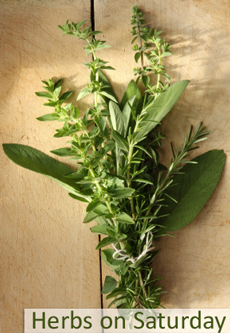 Guidelines how to enter:
1. Post your recipe url to the Linky at the bottom of this post, including your email and the title of your recipe or post.
2. Display the Herbs on Saturday badge (as shown above and below) to the relevant recipe post, with a link back to the monthly challenge post HERE.
3. Add as many recipe links as you like, there is NO limit and the recipes and posts can be from any day, NOT just Saturday!
4. If you tweet your post, please mention #herbsonsaturday and @KarenBurnsBooth in your tweet – I will retweet all that I see.
5. The recipe can be one of your own or one you've seen elsewhere. You are welcome to republish old recipes/posts but please add the information about this challenge as listed above, along with the Herbs on Saturday badge.
6. A guest blogger will choose their favourite recipe at the end of each month, and the winner of that recipe will receive the book that has been featured for that month.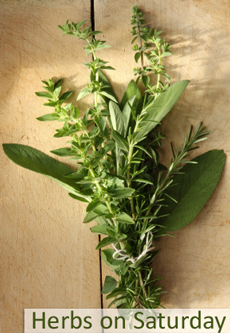 Herbs on Saturday is a Recipe Sharing Blog Challenge……a simple and easy way to share recipes throughout the month and also a chance to learn new ways to cook with herbs, as well as discover new blogs and blogger chums! Add your recipe to the linky below: