September Herbs on Saturday Round-Up
In your Own Words!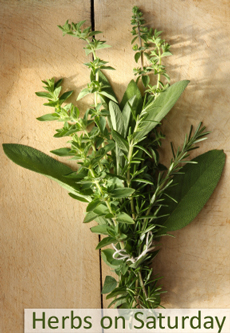 It's that time again, the BIG Herbs on Saturday Round-Up, but before I start, I would just say a big hello to all of the new entrants who submitted recipes, and to my regulars of course!  We had a LOVELY lot of herbal recipes submitted, as always, from cakes to fish bakes, and cookies to tisanes…….I am always amazed at the variety of uses that you all find to incorporate herbs into you everyday meals and baking, and, I often have a flurry of bookmarking recipes as I peruse the entries and leave comments.  I did notice a slight trend leaning towards comfort dishes, as we in the Northern hemisphere veer towards winter……….which is nice, as it brings a seasonal element to the challenge.  Before I list the recipes, as you know there is always a book up for grabs for the winning recipe as chosen by a mystery judge, and this month, as I have been staying with my daughter, she was the mystery judge, and she has chosen……….
The winning entry was submitted by the lovely Sally from Recipe Junkie, who is a regular at Herbs on Saturday and  always comes up with some tasty dishes! WELL DONE Sally, you have won a copy of  Herbs (River Cottage Handbook) . My daughter said…." It was nice to see such a simple salad added, and the use of herbs such as dill, tarragon and basil made an intriguing combination of flavours, as well as the addition of watercress, rocket & spinach leaves in the salad, which again, lent a fresh peppery taste to it"…….
As soon as this post has gone live, I will be posting the NEW challenge for October  and will add the link here: Herbs on Saturday October.  A small change to the way I list the recipes, when I read all your posts and copy the links and photos,  I try to highlight and pick some salient points to share in the round-up, but it get's hard……so, this time, I am listing your recipes and photos with some of your own words, in the hope that readers here will want to read more, and follow the link back to your recipe and blog! THANKS for all of your amazing entries once again, and here we go……the September Herbs on Saturday Round-Up:
1. Mamacook – Mushroom Stroganoff for kids – "This is loosely based on this recipe from the good food website but I've made a few changes to make it my own. My son loves mushrooms, along with prawns he'd eat them for every meal if I let him.  I'd had the idea of making a mushroom stroganoff for him for a while but never attempted it, to be honest knowing what he's like I was worried it would be too bland but with some tweaks to this recipe it really wasn't, if perhaps it was a bit redder than normal recipes due to all the paprika but tasty! I served it with rice but all the mushrooms were eaten and the rice was ignored.  I think he's on some "why should I eat rice unless it's got interesting bits in it" vibe at the moment.  Well who can blame him I guess?" 
2. Food For Joy! – Pratiba Bhat in India – Masoppu (Cooked greens with lentils, tamarind and spices) – "Today's recipe is a marvelous spiced up rasam named Masoppu. Its a curry made by mixing green leafy vegetables of 3-4 varieties. "Masoppu" means crushed/ground leafy vegetables. Its spicy, tangy and chewy and I can just drink this like a soup. Vinay loves this dish a lot and I always see that he quietly relishes every mouthful of rice with it. Masoppu is a Mysore/Mandya delicacy which is made from lentils (dal), tamarind and spiced up with rasam powder, coconut and onions. This is generally served with white rice, Raagi Mudde or you can also serve it as a side dish to chapatis/phulkas."
3. Janice at Farmersgirl Kitchen – Roasted Butternut Squash and Tomato Tart – "I'm not quite sure what I did before I discovered Butternut Squash.  It has to be the most versatile of vegetables, that sweet, firm flesh goes so well with so many different flavours.  I combined the squash with tomatoes, bacon and basil in this tart with a single small courgette from my garden which needed to be used up.  As I am trying to cut back on calories, I used 0% Greek yogurt in the custard mix and it worked really well.  I had very positive comments from the family about this tart.  Vegetarians can just leave out the bacon with very little detriment to the texture and flavour". 
4. Gary at Exploits of a Food Nut – Gravad Max – "The recipe is simplicity in itself, mix the cure, cover the fish, weigh it down, forget about it for a day or two and then eat. I personally would recommend you get it going on Thursday/Friday night when you get home from work and come Saturday/Sunday morning you've got yourself a delicious, lazy but healthy breakfast".
5. Lancashire Food and Linzi – Autumnal blackberry and lavender cobbler – "The weather is definitely turning cooler plus our ever reliable blackberry plant "Loch Ness" in the garden has once again produced a bumper crop of blackberries, so this recipe was created. I love the subtle flavour lavender adds to blackberries a spicy edge and no hint of old ladies handbag. Cobblers for those not in the know are very popular over the pond in America and are a topping for a sweet dessert made out of a soft scone mixture. Perfect served hot with custard or cream, or cold on its own or with yoghurt or creme fraiche. Why not join in the baking fun by plundering your local hedgerows! "
6. Petra at Petra08's Weblog – RAW BEETROOT SOUP AND BAKED TOFU – "I have been thinking for a while about making baked tofu and how I could add as much flavour as possible and what better than to try my tomato powder! The allotment is generously making the beetroots grow and grow. My favourite this year is to eat them raw, I can't remember the name, or find the packet but it is a heritage kind that is very sweet in flavour. We picked a few yesterday and I wanted to make something of them for dinner. We gave some to our friend Eve and she made beet root juice with lemon and ginger. Inspired by this I decided to make raw beetroot soup to go with the tofu".
7. the taste space – steam, bake, boil, shake! With Janet – Cherry Collard Dolmas (Turkish Collard Leaves Stuffed with Rice, Beans and Fresh Cherries -Visneli Yaprak Sarma) – "With a bit of extra time on my hands, I decided to tackle my own cherry dolmas. In retrospect, a raw version would likely have been quicker, but I opted for a more traditional cooked dolma.  As traditional as cherry dolmas can be. When I visited Turkey, I was not wowed by dolmas. They were not on my radar. However, traditional dolma recipes typically include savoury spices like cinnamon and allspice, so I was sold. Instead of pine nuts, I used pistachios. Instead of traditional raisins, I used a touch of currants.  The majority of the sweetness comes from the cherries. Instead of a rice-based dish, I beefed it up by including white beans. Doing so made me have a lot more filling than I had initially bargained for, so I scrapped the grape leaves and plucked collards from my garden instead. With a cooked filling, a cooked collard seemed  more appropriate, instead of my typical raw collard wraps. Pre-steaming the collard leaves made them much easier to wrap the filling and keep their shape".
8. Corina at Searching for Spice – Coriander and Lemon Chicken – "I am really enjoying Sarah Raven's Food for Friends and Family right now. I love the freshness and the use of different ingredients, herbs and spices. She is definitely one of my favourites of the moment. I kept more or less the same ingredients for this recipe for coriander and lemon chicken but made one big change. I had no limes in the fridge so it became coriander and lemon rather than lime chicken. I also cooked it on the oven top rather than in the oven, but apart from that it is fairly similar. The chicken could easily be cooked on skewers so it would be a great recipe for the barbecue. It would also go very nicely in flatbread with salad, like a shish kebab. I really loved this recipe. The marinade made the chicken so lovely – lemony and herby – and kept it really moist as it was cooking".
9. Runner Beans on a Garlicky sauce by Rita at rita cooks italian – "The runner beans are also popular in Italy during the summer. The easiest way to eat these vegetables is to boil them and season with salt and olive oil or in a quick sauce made with fresh and ripe tomatoes. In the traditional recipe a lot of basil is added to the sauce. In this recipe I have used a mix of basil and chives". 
10. Janet at The Taste Space – Kasha Salad with Roasted Beets and Green Beans in a Lemon-Dill Vinaigrette – "Nothing says more Eastern European than beets and dill, especially with kasha! Kasha is buckwheat that has been hulled and roasted. As such, it is a darker brown than raw buckwheat. Kasha can be tricky to cook as it can absorb lots of water and turn into mush. Here, I opted to toast it in the oven first, and then cooked it in a 1:2 ratio with water. While the kernels still seemed to explode slightly, they reminded me of coarse bulgur in this salad"
11. Sally at Recipe Junkie and the attack of the custard creams – Focaccia – "It's  very straightforward bread to make, and I love the involvement, pushing your fingers into the rectangle of puffy dough to make the little holes, drizzling the olive oil, sprinkling with herbs and salt and making something delicious with very little effort". 
12. Louisa at Chez Foti – Courgette Soup with Parsley and Parmesan – "It's probably not entirely soup weather yet at Chez Foti, but there's a definite Autumnal crispness in the air early mornings and evenings, which is pretty welcome after all the heat of July and August. And besides I'm trying to loose a stone by christmas (a ridiculously tall order me thinks but I'm going to give it a whirl anyways) so soups are most definitely on the menu for me these days".
13. Sarah at The Garden Deli – Red Onion & Thyme Loaf – "Today I made a loaf flavoured with onion and thyme.  It would have been better if I'd been just a bit more organised, and had got around to making the soup to go with it too.  Still, according to the children the bread was 'cool' – I didn't manage to get an explanation as to just why it was cool, but I think it was something to do with the dough being rolled around the filling in the style of a swiss roll.  The dough could be rolled around a whole range of fillings – just pick your favourite (and if you find one that you think is 'cool', let me know)"
14. Chez Foti – Fig, Goats Cheese & Red Onion Tarts – "Last Saturday we were happily invited to my friend Debbie's house for a spot of fig picking and horsey riding for Francesca. Five kilos later we came home (not counting the umpteen in our tummies). I'm afraid to say I put most of them in the freezer to make into jam when I've a little more time on my hands than this week. The rest were made into several batches of these gorgeous wee Fig, Goats Cheese & Red Onion Tartlets and a fabulous Fig & Pear Crumble (which I shall be blogging shortly too)" 
15. Vanesther at Bangers and Mash – Basil and garlic focaccia – "Baking often makes me a little nervous as the end result is usually meant to look neat and tidy. But thankfully bread is different and focaccia in particular should look a little rustic and rough around the edges. Which is obviously another reason why this is my kind of bread.You can top your focaccia with whatever you fancy really – a light scattering of your favourite herbs, cheese, olives, or maybe someone caramelised onions and sun-dried tomatoes. But here I use my all-time favourite: basil and garlic".
16.  Mich from a Piece of Cake – Antipasto Scrolls (The 5 minute knead bread) – "These antipasto scrolls are the quickest bread I've made. I call it the "5-minute knead bread" because all it requires is 5 minutes of kneading and no proofing time (unbelievable!). I was initially a little worried about how this would turn out as I have never made bread this way before. Fortunately, these scrolls are soft and taste delicious with the Parmesan cheese kneaded into the dough. The best part is it's still soft the next day".
17. Honeyed Fig & Goats Cheese Tarts with Walnuts & Chocolate Balsamic Sauce by Choclette at Chocolate Log Blog – "plenty of ideas immediately sprang to mind to use my goat's cheese. Some friends were the unsuspecting guinea pigs for one of those ideas: a Mediterranean inspired creation which I turned into a starter. This would also work well as a light lunch. To give the starter its chocolate hit, I started by making some chocolate balsamic vinegar". 
18. Sally from Recipe Junkie – A fresh herb salad – "Often, if I serve salad with a meal, I don't really think about what leaves are going in to it – it's just salad…right? We usually have a couple of varieties of lettuce in the garden during the summer along with some rocket, and that does for us. And sure, a salad like that would have been fine with this meal, but the salad suggested by Jamie was a revelation in t he context of the meal as a whole. It included celery, which can sometimes be a little 'crunchy' – I wouldn't normally include it in a salad with leaves – if I do use it like that, I tend to put it with apple and walnuts in a kind of Waldorf salad type thing – but using the leaves set off the celery in the sauce. The flavours of the dill and tarragon really brought out the flavours in main dish too".
19. Katharine at LEEKS & LIMONI – Herby trout with potatoes – "Before I write about this dish, I feel I have to come clean about its origins. GL devised the recipe and indeed cooked it for the photo above so I cannot claim any credit for it. However, I have a feeling it will become a staple as it worked so beautifully on every level. The fish, protected by the herbs and potatoes stays wonderfully moist, the herby layer gives the fish a fresh lift and the potatoes provide a crunchy texture to contrast with the softness underneath". 
20. Chris as Cooking around the World – La Soupe Aux Choux – Herby cabbage Soup – "If it is according to your desire, you might open the meal with a small glass of pastis – as also seen in La Soupe Aux Choux. As you see on the picture as well, you have a nice baguette ready to go with the herby cabbage soup, too. Should you have anything of the baguette left, you could finish your meal with some cheese. Yep! I did it! Since we used our lovely bouquet garni, I decided to enter this post into Lavender and Lovage's Herbs on Saturday challenge, even though, it's Wednesday". 
21. Janet at the taste space – steam, bake, boil, shake! Quinoa Wraps with Sweet Potato, Tofu Feta and a Sweet Tahini Dipping Sauce "This is the story of a picnic that didn't happen, twice. We had full intentions of getting together with friends, having a picnic together on the island.  However, after a weather forecast of 100% rain, the plans were abandoned. Rob and I stayed at home and relished in a relaxing afternoon together. Together, we still continued with our picnic menu: Quinoa Salad with Sweet Potatoes and Dried Iranian Limes. I figured a grain salad would travel well but may not be too picnic-friendly (who was going to bring plates?) so I thought it would be neat to stuff it into a wrap. Rice paper rolls for company and kale wraps for me! I figured a tahini dipping sauce would bring this over the edge, so we plunged forward with our ornate plans". 
 22. Thyme for Tea – My Little Italian Kitchen – "Italians love foraging and there is something addictive about that. The fresh air, the colours of the countryside and the good stuff you take home, make it a very relaxing, therapeutic and pleasant experience. My dad is one of them. He has been making his own herbal teas for years now. It started as a Sunday afternoon hobby and it turned out to be a "factory-like herbal tea making" at home. He dries the herbs by leaving them on a cloth for a week or so. Then he takes the leaves off the stalks and mixes them all up.  He combines different herbs together depending on how they taste and their properties. Since he began making his own I struggle to enjoy any shop bought ones. None of them will taste as good.There is something very soothing about having a "tisana" or herbal tea, especially during winter months and they are a blessing if you have a cold! A  generous teaspoon of good quality and local honey will make it just perfect, like a medicine".
 23. Mich from a Piece of Cake – Orange Ricotta and Rosemary Cheesecake Flan – "I am growing a lovely pot of rosemary and have used it on many savoury recipes, and really enjoyed its wonderful fragrance on them. This is the first time I have come across a dessert using rosemary and was rather hesitant as it seemed rather weird, so I put it on my wait and see list. Just last week, the Yoghurt Place* sent me some Greek Yoghurt samples and  coincidentally I managed to find ricotta cheese at the supermarket, which made decide to give this recipe a try. This turned out to be a cheesecake with a light texture (as yoghurt replaced some of the cream and cheese) and unique flavour which I liked very much. What gave the special flavour is the orange, honey and rosemary-infused mixture that was added to the cheesecake. The taste of the each ingredient is subtle and blended well together. The best part is undoubtedly, the honey and sugar-coated syrupy cooked oranges topping the cheesecake". 
THANKS very much to ALL of you!