October Herbs on Saturday Round-Up:
In your Own Words!
Another month and another FABULOUS round-up of fabulous Herbal Recipes……with a HUGE thanks to all of you who linked up and submitted your recipes, both newbies and regulars. A small change to the way I list the recipes, when I read all your posts and copy the links and photos,  I try to highlight and pick some salient points to share in the round-up, but it get's hard……so, this time, I am listing your recipes and photos with some of your own words, in the hope that readers here will want to read more, and follow the link back to your recipe and blog – I did this last month and I had some great feedback, so it's in your own words again!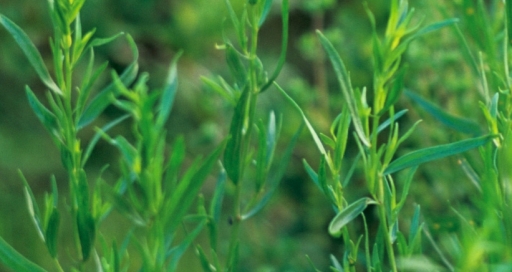 Before I list the recipes, as you know there is always a book up for grabs for the winning recipe as chosen by a mystery judge, and this month, the mystery judge is the lovely Vanesther from Bangers and Mash Blog, and she has chosen……….Sarah from The Garden Deli and her delicious Fennel & Raisin Biscotti! Vanesther said…
"That was a hard decision! So many wonderful dishes this month – I want to try them all. In the end I found myself torn between the following three dishes: Pumpkin Carbonara by Chez Foti, Keralan Potato Curry by How to be a Gourmand and Fennel & Raisin Biscotti by The Garden Deli. All three are definitely "my kind of food" and all give centre stage to their chosen herbs. But in the end I've settled on The Garden Deli's Fennel & Raisin Biscotti as I absolutely adore fennel seeds in baking and I think these biscotti would be a lovely accompaniment to my afternoon coffee."
Sarah wins a copy of The Kitchen Herb Garden Cookbook – Sarah, maybe I can deliver it by hand as we live to close to each other?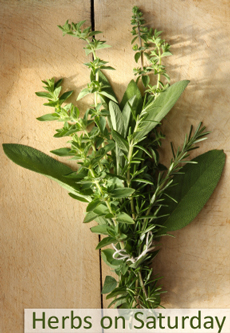 1. The Best Roasted Sweet Potatoes with Adzuki Bean and Quinoa Kale Salad by the taste space – steam, bake, boil, shake! "My criteria for my eats? First of all, it must be whole foods oriented (nothing white- flour, rice, etc) with limited oil and salt. A lover of most international cuisines, I try not to discriminate but it must be filled with ingredients I love. Beans! Quinoa! Greens! Squash! Lemon!"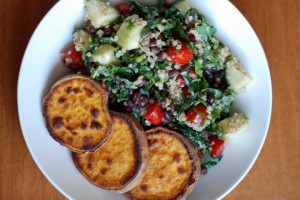 2. French Egg & Tomato Breakfast Tartine with Lovage by Lavender and Lovage: "A "Tartine" is a French "open sandwich", similar to a Danish sandwich, but often served as an appetiser, although, French sandwich shops often serve large and very filling rustic versions! My recipe is a breakfast or brunch idea, but of course this would also make a great lunch, tea or supper dish. Fresh tomatoes are fried in butter and served with a free-range egg on toasted bread, with "soldiers" and a garnish of fresh lovage."
3. Fennel Seed & Biscotti by The Garden Deli: "The trouble with fennel seeds is there's very little time between them being ripe and ready to collect, and them having been scattered to the four corners of the garden (and probably the neighbour's garden too) where they will germinate in the spring and add to the already huge variety of weeds that flourish here.  But then, a few extra weeds are OK if in return there's a jar full of tasty seeds in the kitchen cupboard. I used the first of this year's fennel seed harvest to flavour some biscotti.  I love these little biscuits with a cup of coffee, and they're pretty good dunked in a glass of desert wine too."
4. Carnival Squash Stuffed with Cranberry Maple Quinoa and Beans by the taste space – steam, bake, boil, shake! " The squash verdict? Love the carnival squashes! Dry yet moist, crumbly and sweet. Perfect as a stuffed squash because you can eat through the squash at the same time and integrated it into the dish. It might be too crumbly to hold up as large chunks for soups or stews. In the end I ate the skin of the squash, too. It was nice and crispy after all the roasting, so make sure you scrub the squashes clean before you start."
5. Stuffed Globe Courgettes with Lamb, Cinnamon and Rice by Ren – Fabulicious Food. "Autumn, for me, is about slowing down the cooking. I want nourishing food; the caramelised sweetness of roasted fruits or vegetables, hearty stews and warming spices. This recipe of stuffed globe courgettes with lamb, cinnamon and rice  ticks all of the necessary cold-month boxes. The globe courgettes, which could just as easily be curvy squash, mini pumpkins or long marrows, are baked and then filled with a flavourful mixture of minced lamb slowly cooked down with onions, garlic and a sprinkle of cinnamon. They are so easy to prepare and make the perfect weekend supper.I used the recipe for 'Magic Bread Dough' from Hugh Fearnly Whittingstall's River Cottage Veg Everyday.It's an interesting mix of strong and plain flour and something I haven't tried before."
6. Seasonal Cheese and Leek Flatbread Sandwich by Farmersgirl Kitchen: "My Mum probably makes the best sandwiches, she always ensures that there was plenty of filling and that the filling goest right to the edge of the sandwich, the best way to achieve this is by cutting off the crusts. But I'm not going to make that kind of sandwich because ever since the early stages of the Great British Bake Off, I've been hankering to make some flatbreads."
7. MEDITERRANEAN HERB TART by La Rosilla – Lifestyle and Food: "Sometimes I fancy something different for supper, still comforting, but fresher & light and full of flavour. My hens have been laying well, so eggs I had a plenty, along with the ingredients to rustle up a savoury tart, I call it that, not a quiche, because my delightful brood don't eat quiche but they love tart The flavours almost lend themselves to a feeling of 'end of the summer' Mediterranean favourites encased on a plate."
8. Keralan Potato Curry to celebrate National Curry Week by How to be a Gourmand: "Hailing from a city that has won the title of Curry Capital in Britain 4 years running, I've been lucky enough to eat my way through an array of fingerlickin' curries. Normally, I go for very spicy, bold and intense flavours with red meat. This week, I thought I would try something different. Well, vegetarian if I'm honest. Besides, a break from red meat will probably do me no harm at all. I've decided to make a Potato Keralan Curry adapted from a Diana Henry recipe. I've used light coconut milk in this recipe but if you want a richer flavour, opt for the full fat version."
 9. Roasted Butternut Squash in Salsa Verde by Rita cooks Italian: "Butternut squash is very popular here in the UK. I often use winter squashes to prepare delicious soups. This time I have roasted and seasoned butternut squash with a simple version of salsa verde (green sauce). The result was delicious: the sweetness of the roasted squash combines well with the freshly chopped herbs and the strong taste of raw garlic".
10. Strawberry Basil Cake by The more than occasional baker: " I had some leftover strawberry puree from making my neapolitan cake and initially decided to make a strawberry cake as it was my favourite layer of the cake. I then got to thinking about what would pair well with strawberries and thought of my favourite herb basil. It's basically a sponge cake with pureed strawberry and basil mixed in. It was really aromatic and tasted amazing. It has a banana bread like texture and you can definitely taste the basil. Not too exciting to look at but absolutely delicious! I imagine it would be great served warm with a strawberry puree! "
11. HEMP SEED TOPPED BAKED TOFU AND TOMATO SAUCE by Food Eat Love: "I got a bit carried away at the veg shop and got a whole bunch of tomatoes. They just looked so perfect, large, ripe and full of flavor! I got two large bunches and happily carried them home. I did tomato powder before and a few weeks ago I bought a bag of hemp seeds, it looked healthy and I wanted to use it for a vegan dish, well time to try them! I have never used hemp seeds before so I toasted them in a dry pan first and they are really nice and slightly nutty in flavor, I thought it would give a nice crunch to the tofu. It is possible to exchange the tofu for something else, for example a white fish could work as well."
12. Très Rapide French Tarragon Chicken by Lavender and Lovage: "A simple low-fat 5:2 Diet supper or luncheon recipe that can be whipped up in a trice! Organic chicken breasts that are diced and then sautéed with fresh tarragon and half-fat crème fraîche with just a hint of lemon juice! This can be made in less than 15 minutes from prep to plate, making it an ideal recipe for busy bees or couch potatoes! I love this served with spinach or a side salad. Do try to use fresh tarragon, I have not tried this with dried, but imagine that it will not be as zingy and fresh. (215 calories without the spinach or 227 calories WITH a portion of spinach)"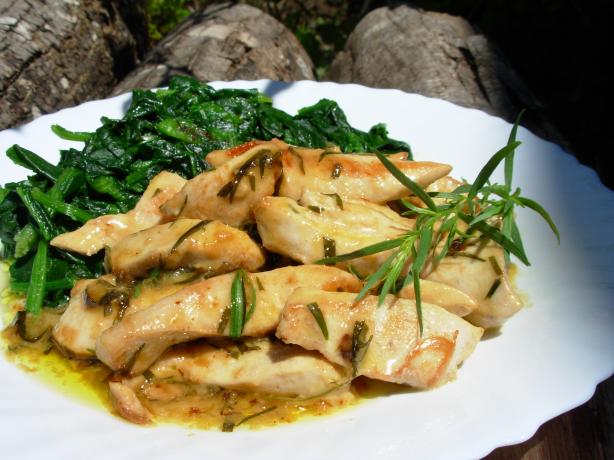 13. Middle Eastern Aromatic Mixture by Erbe in Cucina: "Last year I prepared two aromatic mixtures, the Mediterranean Aromatic Mixture and the Asian Aromatic Mixture. This summer I planned to prepare also a third one, with a middle eastern touch. I harvested and dried all aromatic herbs throughout the summer, and when I finally prepared the mixture the smell of toasted sesame and mint was amazing. I didn't use any chili because my three years old son doesn't like hot recipes, but one or two Cayenne chilies should be added in a grown up version of this mixture."
14. Leek, Potato and thyme Soup by Lancashire Food: "This is my standby soup recipe, deliciously warming and comforting and a great anecdote to when you need the equivalent of a hug in a bowl. Outside its been bashing down with rain and even when it stops raining its raining leaves as autumn is well and truly well under way. Leeks are fairly easy to grow in the garden and even if your yield is disappointing you normally can rescue enough leeks for soup."
15. Butternut, Feta and Red Onion Tart with Thyme by Chez Foti: "My latest mission has been to develop an interesting Butternut Tart and I'm finally happy with the results and ready to share the recipe. A Shortcrust pastry base (homemade or shop bought), a meltingly soft layer of red onions topped with roasted butternut cubes, crumbled feta cheese, toasted pine kernels, a generous sprinkling of fresh thyme and finally a drizzle of  balsamic for a little zing. Not only is this a great family-friendly mid-week supper or lunch tart, it's a more interesting than normal vegetarian dinner party option too."
16. No Knead Pizza: Strawberry Balsamic Chicken with Cilantro/Spinach Feta & Pine Nuts by Mich Piece of Cake: "This brilliant no-knead method is a perfect for lazy bakers like me who'd rather not undertake any form of laborious kneading. The only catch is that one needs patience and to plan ahead – the dough has to ferment overnight for a full 18 hours in order to achieve the desired texture. Like what many others who have tried it, I'd say that this pizza is definitely worth the while. I used the pizza dough to make two delicious pizzas: Strawberry Balsamic Chicken with Cilantro as well as a vegetarian version of Spinach Feta and Pine Nuts. The pizzas flew off the dining table and my kids ate up all the edges because they loved how crispy and chewy it was."
17. Roast Duck with Honey & Rosemary Jus & Roast Potatoes by Elizabeth's Kitchen: "This is a wonderful recipe from Gressingham Duck. The flavours compliment each other very well and it is quite easy to prepare – maximum taste for very little effort. I've entered this recipe into Lavendar & Lovage's October Herbs on Saturday food bloggers challenge. It's a perfect recipe for these cold, autumn evenings."
18. Afghan-style aubergine and yoghurt by Bangers and Mash: "The recipe comes from Sally Butcher, a British-born cook who married into an Iranian family, and it is taken from Veggiestan: a Vegetable Lover's Tour of the Middle East. I don't own this book yet but I plan to get hold of a copy very soon. It's an incredible dish. The herbs and spices, lemon, garlic and chilli give it a beautifully fragrant zinginess, which works so well with the creaminess of the Greek yoghurt and the soft, sumptuous texture of the smoky aubergine."
19. Pumpkin and Goat's Cheese Tarragon Brunch Muffins by Chocolate Log Blog: " As I hoped, these were a match for the beetroot muffins and made a very tasty lunch for CT and I for the next few days. Toasting the pumpkin seeds first worked really well, bringing out their rich nutty flavour. The squash flavour was more subtle, but played it's part very well in keeping the muffins moist. The tarragon flavour, worked well, although a few more leaves would have given a better flavour; it was only just detectable. The cheese added that yummy umami quality which just makes you want to come back for more."
20. Pumpkin Carbonara by Chez Foti: "Luckily I've already picked lots of fully ripened radiantly orange pumpkins and so it's pumpkin with everything these days at Chez Foti. And as usual I'm loving adding a seasonal touch of healthiness to our favourite family suppers. It was the turn of the carbonara this week. Much as I love carbonara made traditionally with just eggs, bacon and parmesan it's not exactly nutrient rich and I'm reluctant to give it to my kids in its basic form. Whilst Mr F and I will happily eat a large leafy salad on the side the kids won't, so I like to add some veggie goodness to the sauce. Pumpkin works wonderfully with both parmesan and bacon and so it's a natural for carbonara, and I also like to add a little fresh sage which is the perfect paring for pumpkin and bacon."
21. Roasted Guinea Fowl with Lemon Mustard Herb Vegetables by London Busy Body: "The closest I have ever come to guinea fowl before now was watching the film, Notting Hill, over and over and over again. There is a part where Julia Roberts, a vegetarian, proclaims to the dinner party host that, "it was the best guinea fowl I've ever had".  That has been my limited knowledge of guinea fowl. Anyway, I checked several recipes online and prepared it most like this one from BBC Good Food but with a few additions and changes. We were quite pleased with the results."
22. Red Onion Tarte Tatin by Jen's Blue Kitchen Bakes: "After making the apple tarte tatin with my Mum in France a few weeks ago I wanted to have a go in my own kitchen. But instead of making the same thing twice I decided to have a go at a savoury tart. I received a review copy of Absolutely Foolproof Food For Family and Friends for recently and there is a recipe for a red onion tarte tatin. I don't have a tarte tatin tin but Rosemary recommended using a round ovenproof dish instead. The only thing I have that is the right size is a 23cm silicone cake tin, fortunately it worked although it meant having to caramelize the onions in a frying pan first before transferring into the cake tin. More about the tart later."
23. Chorizo, Tomato and Chilli Bean Stew by How to be a Gourmand: "This recipe can also be used as a quick mid-week meal when you don't have a lot in the fridge as it relies on a few staples in your store cupboard.  It's one of our favourite mid-week meals as the intense flavour grips you from the first bite. As the colder months approach, we tend to rely on this recipe more and more frequently as it "warms the cockles of your heart" as my dad keeps telling me!"
24. Butternut Squash and Pan Fried Sage Risotto by How to be a Gourmand: "I ventured into making risotto a couple of years ago, more accurately, butternut squash risotto when I ordered it in a gastropub and was so disappointed with what arrived; long grain rice with brick hard butternut squash. Not very appetising and it made me try to discover the taste of what I had expected all those years ago. When I attempted this recipe, which has been adapted from BBC Good Food  I was more or less expecting failure but much to my delight it was unctuous and just on the right side of indulgent. Attention, the butter and Parmesan cheese in the recipe do make this dish so try not to scrimp on the portions "
25. Soda Bread with Spinach and Thyme by Mamacook: "I have to be honest and say I'm not a fan of the flavour of bicarbonate of soda, I find it gives an astringency which I find off putting but I think I'm just sensitive to it.  That said, I will have a play with this recipe and see if I can reduce the bicarb or hide that flavour.  That all said, it was still pretty yummy and making bread from scratch in 45 minutes can't be bad (you're reading about someone who makes sourdough here so I believe in long bread making processes most of the time!)"
26. Traditional Roast Lamb by Recipe Junkie and the attack of the custard creams: "Much the same way as I was hankering for some plain, no nonsense soup the other week, last weekend, we had a beautiful leg of lamb, roasted very traditionally with garlic and rosemary. It tasted so good, that I thought it was worth mentioning, just in case you too were getting a little over-harissa'd. Not that there's anything wrong with lamb and harissa, it's delicious, but if you were craving something a little closer to home as the weather turns colder, there's a lot to be said for this way of roasting lamb."
27. Prunes Poached in Red Wine & Rosemary by Blue Kitchen Bakes: "After flicking through a few book I came across this recipe for the poached prunes in Ani's Raw Food Desserts. I only had enough to make a half quantity which is just as well because my boyfriend doesn't like prunes or red wine. I wasn't sure how this would work as a dessert but I was pleasantly surprised. The honey added a gentle sweetness that worked well with the wine and rosemary. I had to substitute the agave syrup in the recipe for honey as I didn't have any. There is also a small amount of lemon zest as well just to give it a bit of a lift. As winter is drawing in I'll be making that beef tagine again and now I know what to do with the leftover prunes. This recipe ended up being quite a nice little treat on a Monday evening and as I made enough for 2 I'll be having the leftovers tonight."
Once again, a BIG thanks to all of you who entered and linked up your recipes, do join in for November – I look forward to seeing what you all cook up on the herbal scene!  November is being Guest Hosted by Jen at Blue Kitchen Bakes here: November Herbs on Saturday