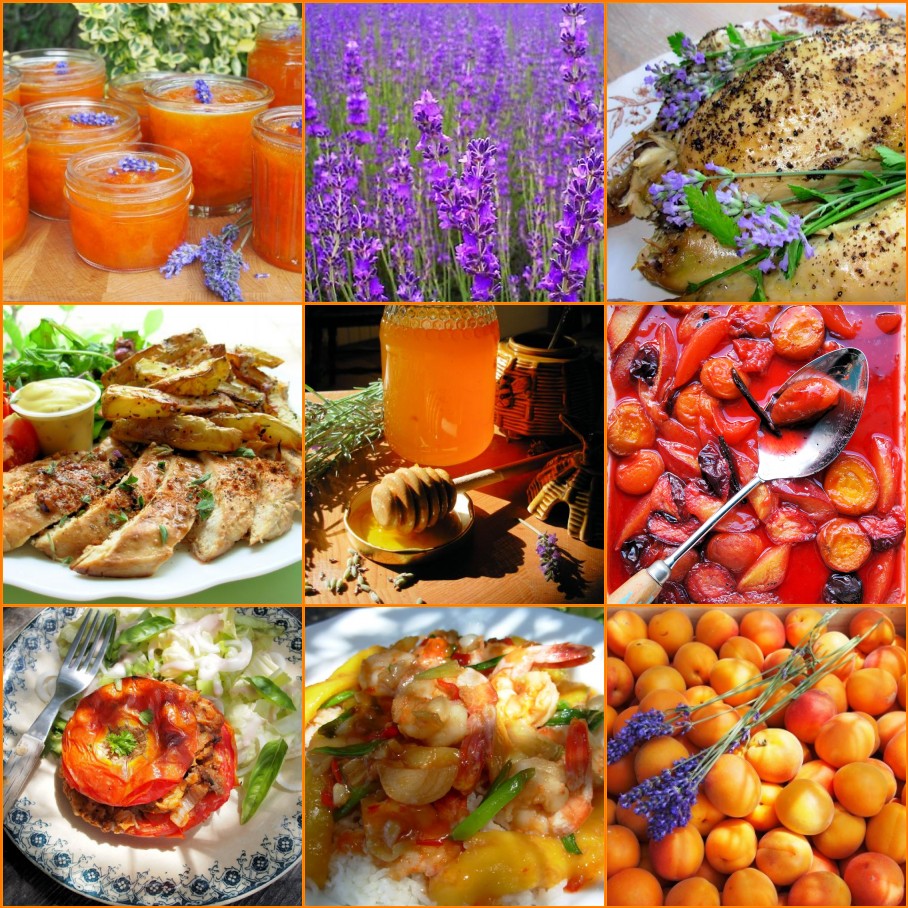 Herbs on Saturday Round-Up for December 
In Your Own Words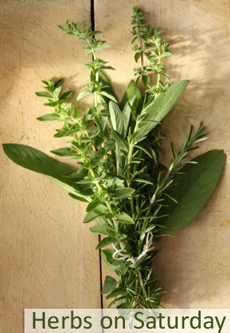 Welcome to the LAST Herbs on Saturday round-up for this year and a HUGE thanks to all who have supported and participated in my herbal challenge for 2012! I am constantly amazed and delighted at all of the recipes that are entered into the challenge every month, and I end up bookmarking nearly every single one. This month has been just as inspirational and there are some real gems that have been entered, both culinary and crafty. December's challenge was a little different as I asked you all to send in  recipes with HERBS in them, as usual, but also ANY crafts that used herbs of spices too…….and, the best entry at the end of the month, will win the lovely book by Cath Kidston called Christmas Decorations Book.
So, without further ado, here is the round-up of all the entries, in your own words, and the winner will be announced a little later and will be published in the NEW January Herbs on Saturday challenge, which, is being hosted by the

lovely Vanesther over at Bangers and Mash, the link will be added  as soon as it is live here: Herbs on Saturday. 

Oh yes

,

 a VERY Happy New Year, may 2013 bring you health, wealth and happiness in all that you do. KAREN
Herbs on Saturday Round-Up for December – In Your Own Words
Chicken with Tarragon & Mustard Leeks by Anneli at Délicieux:  "A delectable recipe using leeks, chicken and tarragon  the perfect marriage! I have entered this recipe into the December Herbs On Saturday challenge hosted by my friend Karen over on Lavender & Lovage."
 Roast Guinea Fowl with Clementine & Pine Nut Stuffing by Elizabeth at Tango like a Raindrop: "I served this meal with homemade cranberry sauce (also containing Pontack sauce), Brussels sprouts gratin with bacon, cream and almonds and two types of potato: whipped buttery sweet potato mash and Shetland potato mash (I don't know what species of potato these are, but they are the best. potatoes. ever!)"
Focaccina Bread with Rosemary by Rita at Rita Cooks Italian: "Focaccina Bread with Rosemary has a golden crisp, oily crust and is the perfect size for a party season snack……In order to obtain good focaccina breads with rosemary it is important to push the rosemary with a finger in the middle of the bread and half way the baking time, you need to turn the focaccine upside down. Using this method you will prevent burning the rosemary (burnt rosemary tastes bitter!) and the oil on the bottom of the baking tray will make the focaccine breads golden and crisp."
Beef in Beer by Camilla at Fab Food 4 All:  "This casserole is a delicious combination of beef, beer, mushrooms and red onions in a meaty, herby, tomato infused gravy which is perfect for mopping up with mashed potato….."
Pomegranate Roasted Chicken by Mich at a Piece of Cake: "It's just three weeks to Christmas! The gorgeous red and green colours on this Pomegranate Chicken dish make me feel all Christmas-y. I really love how pretty pomegranate seeds are – they remind me of rubies sparkling in the sun. I would probably make this again for Christmas dinner as this gorgeous chicken dish serves well as a centrepiece for Christmas celebrations."
Hazelnut-Roasted Delicata Squash with Hazelnut-Sage Pesto by Janet at Taste Space: " You actually don't need cups of sage to make this pesto. Instead sage is buffered with mild baby spinach to create a garlicky spread. Instead of pine nuts, I used toasted hazelnuts and hazelnut oil to flavour this winter pesto. The nutritional yeast adds the traditional cheesy taste but feel free to omit it. I chose to serve it with hazelnut-roasted delicata squash rings….  Later in the week, I liked it smeared inside a green wrap (with a nod to my simple hazelnut-roasted squash, avocado and cucumber wrap)."
Pork chops and fennel with salsa verde by Mary at Adventures in Fussy Eating: "Picture the scene if you will. Gluten free me, with a fussy eating husband who limits his likes to 'meat and two veg'. Luckily our fellow diners are not part of the fussy brigade. So meat and two veg is what we had……Even fussy diners won't recognise the anchovy flavour, it just gives it a salty kick."
Quilted Santa Wall Hanging by Elizabeth at Elizabeth's Kitchen (Tango Like a Rain Drop): "I get creative around this time of year. It's the time after my university exams and before the next modules start so I've plenty of free time to fill with creativity. I usually make gifts for others, but this year I've made something for my own home – a quilted santa wall hanging. I love handmade Christmas decorations and I'm quite pleased how this pattern, from The Gooseberry Patch Country Friends Go Quilting (2000), has turned out (if you ignore the fact that it's a little squint)!"
Courgette and mushroom omelette with garlic and parsley by Vanesther at Bangers and Mash: "We now eat a fair few omelettes in our house. Our life can get pretty manic, what with school and work and all the various out-of-school clubs and activities, not to mention some attempt at a social life; so it's good to have a speedy and adaptable supper up your sleeve. They also make the perfect brunch dish, when you fancy something warm and tasty but don't want to go to too much effort."
Warm Potato & Apple Salad with Black Pudding Crumbs by Anneli at Délicieux: "I would place this dish perfectly within the category of 'brunch'. It is utterly delicious and distinctly memorable. If you are someone who would normally shy away from black pudding, then I urge you to give this one a go as I am pretty sure you will like it. I certainly plan to make it when we have guests visiting despite black pudding being a divisive ingredient that I would usually hesitate to serve without checking preferences first."
Roast Root Veg Fritatta with cauli & chorizo by Sally at Recipe Junkie and the attack of the custard creams: "I started off getting excited about a chorizo/cauliflower combo. Roasting cauliflower is my new favourite thing. This wasn't helping with the leftovers, of course, but I needed to start somewhere,for goodness sake. "If I roast these together then may be…" I thought…..So I did – a small cauliflower and 120g of cooking chorizo, cut into small florets/sliced and into the oven at about 220 for 10 mins or so then turned down to 180 for another 15 minutes."
Stuffed Turkey Breast Steaks in Blankets by Camilla at Fab Food 4 All: "At this time of year it's expected that most of us will have a turkey dinner at Christmas. Not everyone though needs or can consume an entire turkey in their household, some people have vegetarians in their family and others just need to cater for one or two…..A traditional stuffed turkey roast wrapped in bacon but in miniature, this dish can be made for 1 person or several. The sausage meat stuffing is given a festive feel with parsley and orange zest! "
Dolmas (Middle Eastern Stuffed Grape Leaves) by Janet at Taste Space: "I don't know about you, but there is something so awesome about little nibbly snacks. Finger foods are fun. Serve as an appetizer, a snack, or eat a bunch as a meal. I served mine with a simple tahini dip which contrasted the lemony flavours nicely. A thinned out hummus dressing could work, too."
Home made gravadlax by Mary at Adventures in Fussy Eating: "I keep reading that everyone should start their own Christmas traditions. The Christmas cake and pudding making already has a baton holder in our family, with mum doing a brilliant job. My brother holds the 'best stuffings by far' award, while my sister's ham glaze is second to none. So what could possibly be left on the winter food traditions list for me? As of today, it's home made Gravadlax all the way."
Thai Chicken and Noodle Salad by Mich Piece of Cake: "I'm a huge fan of Thai food and this Thai Chicken and Noodle Salad is not only easy to do but is perfect as a light meal after all the feasting during Christmas……The dish is salty, sweet, spicy and crunchy (raw vegetables and peanuts) all it once. It is very aromatic from the basil leaves and very refreshing."
Flatbread with apple, rosemary and Wensleydale by Sarah at The Garden Deli: "As well as enjoying the fragrance, I love using rosemary to flavour breads – on its own, or with some salt and olive oil are favourites.  Branching out a bit I thought I'd try combining the rosemary with some other flavours – apple and Wensleydale cheese seemed like a good bet.  Using a recipe taken from the Bourke Street Bakery cookbook – I used the topping on some soft, chewy and very tasty olive oil bread. "
Kasha with Sauteed Mushrooms and Dill by Janet at the Taste Space: "To flavour this dish, I adapted the recipe in Appetite for Reduction for Sauteed Kasha and Mushrooms with Dill, a pasta-less version of Kasha Varnishkes. The fluffy kasha is combined with sauteed mushrooms and onions. Lots of black pepper and dill make this dish flavourful, despite it looking so bland on paper."
Chicken, Ham & Pecan Crumble by Jen at Blue Kitchen Bakes: "We managed to get a 2.7 kg chicken in the reduced price section at the supermarket for £5, massive for two people but I like having lots of leftovers to play with. We also bought a 2 kg gammon joint as well which I boiled (got loads of stock in the freezer now) and roasted, no chance of running out of ham for a while! Normally I would have made a pie with the leftovers but I fancied doing something different this time so I made a savoury crumble topping with oats and chopped pecans."
Rosemary chocolate truffles by Choclette at Chocolate Log Blog:  " With the rosemary playing such an important part in these chocolates, I am also submitting this to Karen's Herbs on Saturday…….Inevitably, I changed the recipe, but like to think I stayed true to the spirit of the golden palets. I flavoured the ganache with rosemary rather than vanilla and upped some of the quantities as I wanted to make a goodly number."
NB: I have a feeling there may be some entries missing, if you FORGOT to add your blog link to the challenge linky here, please leave a comment below with the link and I will add it! HAPPY NEW YEAR!
Karen