~ Tea Time Treats ~
January 2013:
Citrus Fruits for a Zingy Start to the New Year!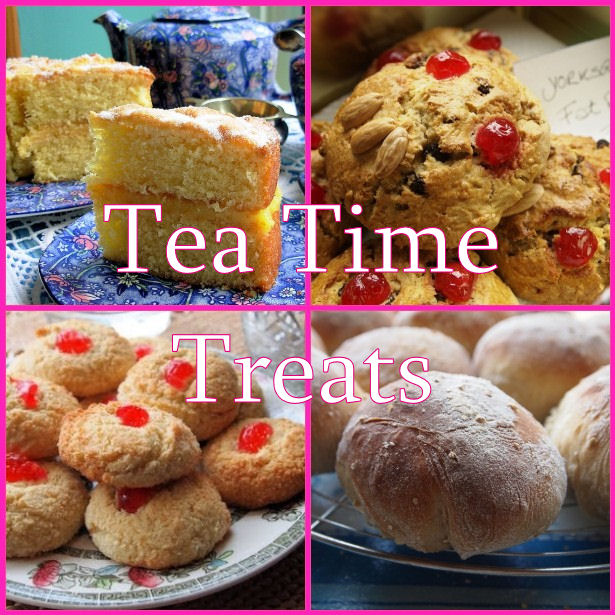 Hello Tea Time Treats Bakers! Happy New Year and may all your hopes and dreams come true in 2013! It's with a zingy flourish that I reveal to you the Tea Time Treats January theme……it's all about FRUIT for January, and the fruits are……….CITRUS fruits! You can bake or make anything with citrus fruits in for our tea-time table: oranges, lemons, limes, grapefruit or kumquats……as well as clementines, satsumas, tangerines etc. You can bake cakes, scones, bread, tray bakes or make marmalade, it's ALL suitable for January's Tea Time Treats theme this month! 
You could make a

Lemon Drizzle cake

, or some 

Orange Pancakes

……or how about some grapefruit marmalade or even a marmalade bread and butter pudding; all citrus fruits are welcome and not just cakes and bakes; jams, conserves, chutney and marmalade are welcome as well as bread, biscuits and  sticky puddings! Anything citrus is welcome at the January Tea Time Treats table. 
Last month's theme was Chocolate and was hosted by Kate, do pop over to see the round-up here:
 December Tea Time Treats Round Up!
 Chocolate can be used in January too, as long as there are citrus fruits added! So, here we are a brand new year and a brand new Tea Time Treats! Kate and I would like to wish a very Happy New Year to all of our loyal TTT bakers, here's to another year of fabulous cakes, bakes, breads, biscuits and preserves!

Karen xxx
Fresh Orange Cake with Citrus Buttercream

Print recipe
A beautiful light fresh orange cake with a tangy citrus curd buttercream filling and topping.
Ingredients
Cake
4 large eggs, weighed in their shells
butter or soft margarine ~ same weight as the eggs
caster sugar ~ same weight as the eggs
self-rising flour~ same weight as the eggs
zest of 2 oranges
juice of 1 orange
buttercream
4 ozs softened butter
8 ozs sifted icing sugar
juice of 1 orange
4 to 6 tablespoons St Clement's curd
decoration
jellied sweets such as oranges and lemons
hundreds and thousands
Note
Alternative measurements:
4 eggs
8 ounces soft margarine or butter
8 ounces caster sugar
8 ounces SR flour
Directions
Step 1
The measurements for this recipe are equal amounts of sugar, flour and fat to the weight of the eggs; therefore, weigh the eggs first – if the eggs weigh 8 ounces, you will use 8 ounces of sugar, 8 ounces of butter or margarine and 8 ounces of flour. If the eggs weigh 6 ounces, all the other ingredients will be 6 ounces – easy!
Step 2
Set oven Gas 4, 160C (fan oven), 180C or 360F: grease and base line the bottom of 2 x 8" sandwich tins – cake tins.

Step 3
Cream margarine or butter together with the sugar, until light and fluffy, then add the grated orange zest.
Beat the eggs, and then add them to the mixture, gradually and beating well after each addition.
Sieve the flour and fold into the mixture with a metal spoon. Add orange juice to the cake mixture to loosen it, it should be soft dropping consistency.
Step 4
Divide equally between the 2 prepared tins and bake for 25 minutes in the middle of the oven.
Remove and allow to cool for 1-2 minutes.
Step 5
Remove from the tins and cool on wire racks, then sandwich the cakes together with the buttercream when cold, to avoid the buttercream melting. Spread the buttercream on the top of the cakes and decorate with jellied sweets and hundreds and thousands. Place on an attractive cake stand or plate, and serve in dainty wedges with freshly brewed tea.
Step 6
To make the buttercream: Add the sifted icing sugar to the softened butter and mix well until thick and creamy; add the orange juice to make a softer buttercream and then add the citrus curd, spoon by spoon until desired consistency has been achieved. Use as above.
Tea Time Treats Rules and Guidelines: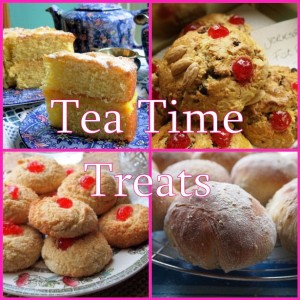 1. Post your recipe on your blog with a link to

Lavender and Lovage

and

What Kate Baked

, mention the relevant month's host, that's Lavender and Lovage this month and attach the Tea Time Treats logo as shown on this page.
2. Add Tea Time Treats in your blog post as a category, label or tag.
3. The recipe can be one of your own or one you've seen elsewhere. You are welcome to republish old recipes/posts but please add the information about this challenge.
4. Please be as creative with the theme as you like.
4. If you put your post on twitter please mention @KarenBurnsBooth @katecakeandbake and #teatimetreats in your message and we will retweet all those we see.
5. You do not need to enter every month to join in with the challenge.
6. Your post can be submitted for other blogging challenges, just make sure this complies with the rules of the other challenge.
VIP:

By way of making entries simpler, and so Kate and I DON'T miss emails in the future, please ADD your recipe link to the Simply Linked box below; it's EASY and then all I have to do it swoop around at the end of the month the gather them all up for my MEGA ROUND UP!
NOTE: For the links to work, you MUST have linked back to me for this challenge, as mentioned in the guidelines above! The link for Lavender and Lovage is: https://www.lavenderandlovage.com and the link for this month's challenge is: http://wp.me/p287Dn-3F4 
LINK UP BELOW: