Tea Time Treats for January 2013:
The Round-Up with Citrus Delights!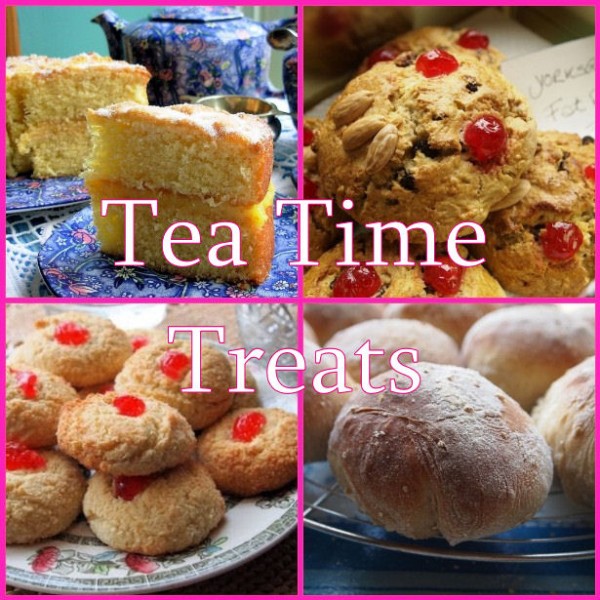 The call was made for this month's  Tea Time Treats to be made with all things CITRUS….oranges, lemons, limes, grapefruit or kumquats……as well as clementines, satsumas, tangerines etc and you DID not disappoint.  We had SIXTY THREE entries into this month's zingy challenge, and every single one looks delicious.
THANKS so much to each and every one of you who rose to the CITRUS challenge, we had regulars and lots of newbies too…….and now on to the MEGA round-up!
Kate is in the Tea Time Treats chair for February and the theme is: Perfect Puddings – get those pudding bowls greased up and ready……
Karen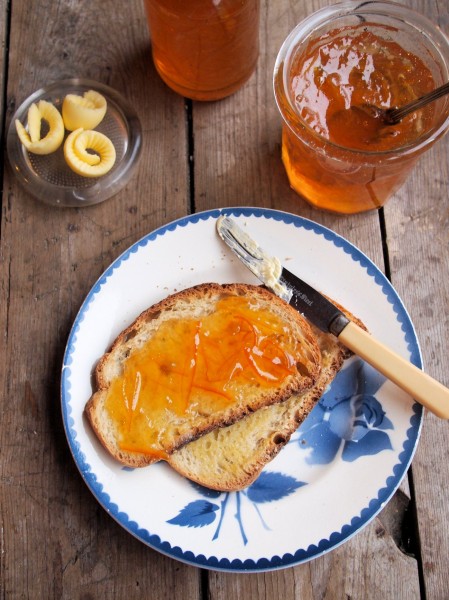 January 2013 Tea Time Treats Round-Up:
1. Strawberry Lemon Cupcakes by Elizabeth at Elizabeth's Kitchen:  Elizabeth and her daughter made these delicious little cakes one cold, dark, dreary day in Shetland on the last day of 2013. Elizabeth and her six year old daughter headed off to the kitchen, her daughter with her new cupcake chef's hat and apron, and Elizabeth with her new copy of The Great British Bake Off……and just look at what they made, thanks so much to BOTH of you for these sunny little citrus treats in the midst of winter!
 2. Healthy, Low Sugar Parsnip, Lime and Warm Spice Breakfast Muffins by Fleur at Homemade by Fleur: Fleur was experimenting with this recipe, trying to think of ways using much less sugar, and by using a common root vegetable and then mixing lime with spice, she came up with this super recipe, which is perfect if you want something to satisfy your sweet tooth without going over board. The tang of lime worked really well and the parsnip is not over powering at all, in fact I could hardly taste it Fleur said!
3. Orange and Passion Fruit Cupcakes by Angela at Garden,Tea, Cakes and Me: Angela made some gorgeous little cakes for Tea Time Treats and for National Cupcake Week! Her Orange and Passion Fruit Cupcakes have a light fruity and refreshing taste to them, and the inspiration for the cakes came to her during a recent shopping trip to a local farm shop,  when Angela spotted some home-made curds, and as soon as she saw the jar of passion fruit and orange,  she knew I wanted to use in these little cakes.
4. Blueberry Orange and Yoghurt Cupcakes by Ruth at Makey-Cakey: Ruth made two batches of cupcakes in the weekend. One was a very child friendly blueberry, orange and yoghurt variety, and the other was a slightly more grown up attempt at capturing sloe gin and lemonade in cake format – a lemon cupcake with sloe gin icing. The kid friendly one however tasted great without any further tweaking required; and with a little help from Mini-M who tested any different approaches with her decorating!
5. Moroccan orange cake, gluten free by Mary at Adventures in Fussy Eating:  Mary tweeted about this cake, as she is  bonkers about baking this particular gluten free cake. There are all manner of versions of it – clementine, orange and lemon – but she believes the original is best. It really is the easiest cake that you'll ever bake, and the main thing is boiling the oranges for two hours in advance, which Mary often does that the night before she bakes this cake, so everything is ready to go.
6. Dan Lepard's Lemon Curd Cookies by Mainly Baking:  Mainly Baking made a beautiful plate of cookies that used lemon-lime curd; these lemon flavoured biscuits are made with a spread of a mixture of cream, rolled oats and lemon curd, which gives a rich, chewy topping when baked – a lovely contrast to the crisp shortbread. The recipe makes 10 cookies, which isn't an unrealistic amount for three people to eat over a weekend…..unless you are a lemon curd lover and very greedy!
7. Lønnestræde Grapefruit Jam by Kiki from Kitchen of Kiki: Kiki is a LOYAL supporter of Tea Time Treats and I don't think she has ever missed a month's baking! And this month she is spoilt for choice she says, as she loves citrus! Here's her first recipe,  Grapefruit Jam based on red grapefruit (Star Ruby sort). Kiki says that as this jam is made from citrus fruit and the sugar amount is quiet high, there is not need for adding pectin gelling powder, as the citrus fruit is a natural source of pectin. I love it!
 8. Bergamot-orange jam by Kiki from Kitchen of Kiki: ANOTHER stunning entry from Kiki, and I am a HUGE lover of Bergamot! Kiki says that after emptying her vegetable box she started to look at a weekly newsletter, where she saw a recipe for bergamot-orange jam. She then I realised that her "older" looking lemons actually were bergamot citrus fruit!  It was the very first time, that she had seen a bergamot in "real life", even though she drinks Earl Grey tea all the time!
9. Fruity Lemon Marmalade Tea Loaf by Jen at Blue Kitchen Bakes: I ADORE marmalade and also tea loaves, so Jen's entry is my cup of tea! Jen took inspiration for this cake from the recipe for a marmalade loaf cake in The Great British Book Of Baking, the book that accompanied the first series of the Great British Bake Off, and one of my favourites. She left out the nuts and added some currants and mixed peel instead and also increased the amount of marmalade, ground ginger and flour in the cake. LOOKS Fab Jen!
10. Lemon Curd by Joey at Little Accidents in the Kitchen: Joey whips up a silk smooth lemon curd and shares some LOVELY step-by-step photos too! She says that the biggest misconception of all is that it's hard to make. That's probably why so many people buy lemon curd from the supermarket, or gourmet speciality stores. But its really so simple to make, and much cheaper than buying. Of course, it tastes much better homemade as well! I TOTALLY agree Joey!
11. Orange Yoghurt Cake by Michelle of Utterly Scrummy Food for Families: Look at this delectable entry from Michelle! I adore any cakes that have yoghurt in them and this one looks proper lush! Michelle had had a lightbulb moment in the kitchen, not the sort of Oprah inspired navel gazing kind(LOL!), nor the unfortunate electrical incident kind either.  She had been making Lemon Yoghurt Cake for years and I suddenly thought, why not make it with oranges instead?! I agree! It looks amazing!
12. Cheat's Lemon Fondant Fancies by Sarah at Maison Cupcake: I was thrilled to see this next entry as I LOVE Sarah's recipes and her blog! And just look at Sarah's entry, JUST stunning and with my favourite wafer daisies too! Sarah says she saved heaps of time by using Squires instant lemon fondant icing which comes in various other flavours and colours….I do like the look of that icing I must admit. I am all for cheating and it's hard to believe that Sarah cheated at all with these stunners!
13. Lemon Blueberry Layer Cake by Joey at Little Accidents in the Kitchen: Another LOVELY entry from Joey! After lots of pondering and browsing through tons of blogs and recipes, Joey finally settled on the idea of this gorgeous Triple-Lemon Blueberry Layer Cake found on Sweetapolita, with some changes and personalisation of course. Joey says the cake turned out so soft and moist, I think it looks amazing and well done Joey, it is so professional looking too!
14. Spiced Squash & Orange Cupcakes by Sarah of The Garden Deli: Sarah says that one of the best squash varieties she's grown is 'Crown Prince'. It has a lovely grey/green skin and vivid orange flesh which tastes really good, and it certainly looks delicious in the little cakes that she made, adapted from The Vegetarian Gourmet book and full of citrus zest, spices as well as Sarah's lovely home-grown squash!
15. Lemon Prune Honey Butter by Elizabeth of Elizabeth's Kitchen:  Elizabeth says that this can also be used as a butter replacement in baked goods – which is a sweet, delicious, nutritious fruity spread. Elizabeth also says that she felt very virtuous and opted for scaling down the recipe for this lemon prune honey butter From Karen's Kitchen, as opposed to baking other calorie laden recipes in the post Festive period!
16. Chocolate, Cardamom and Marmalade Loaf by Choclette of Chocolate Log Blog: Choclette says that lovely CT bought her two books for Christmas, one was The Dessert Deli by Laura Amos, a book full of luscious and decadent desserts and the other was the acclaimed Scandilicious Baking by Signe Johansen, cook and fellow food blogger. Choclette then adapted a recipe from the book for a chocolate and orange marmalade loaf cake and here is the luscious result!
17. Clementine and Brazil nut cakes by COOKBOOKS GALORE:  A BEAUTIFUL entry from Cookbook Galore, where she has combined the lovely seasonal clementine with Brazil nuts to make some divine little cakes. Having read that most people today lack selenium, and that 5 or 6 Brazil nuts can  give the daily amount needed, here's a recipe containing them instead of flour, and one which uses oil and not butter, so they must be healthy for you!
18. Clementine cake by Sian of Fishfingers for Tea: A moist buttery cake drenched with a Clementine syrup and with a crunchy sugary topping and a fabulous offering from Sian, with gorgeous photos. Sian says that the flavour from the clementines is relatively subtle, you know it's there but it doesn't jump and down demanding attention. The moistness of the sponge is highlighted by the crunch of the sugar topping, giving a pleasant contrast.
19. Glazed Limoncello Cookies by Caroline of Caroline Makes: Fabulous little biscuits with a surprising topping and perfect to accompany a cuppa! These ware another edible gift that Caroline made this Christmas. She used a recipe that she found on food.com and also tried out her new biscuit "cookie press" with mixed results! I think the biscuits look lush mind you.
20. Cold Oven Cream Cheese Pound Cake from Mich and a Piece of Cake:  Mich was not disappointed by this recipe. The cake rose high in her loaf pan, it had moist, tender crumbs and was light to the bite. The lemon and ginger zest added a tangy yet refreshing after-taste  She served hers with a dollop of yoghurt and blueberries and her kids enjoyed this cake very much and asked for it again.
21. Almond Orange cake by Kiki of Kitchen of Kiki: This is Kiki's 3rd entry into Tea Time Treats as she loves citrus in cakes and baking! When you prepare the oranges for this cake you will be surrounded by a wonderful orange flavour in the entire kitchen, Kiki says.  The original recipe is made by Mai Knauer and I think it looks amazing, so moist and citrussy!
22. Chocolate Orange Brioche Buns by Under the Blue Gum Tree: Beautiful little brioche buns with a hidden citrus secret inside them! Best served still warm from the oven, they are perfect for breakfast, brunch AND as a tea time treat. I would be happy to have these little beauties on my breakfast or tea time table!
23. LEMON MERINGUE CUPCAKES by Angela from My Golden Pear: Angela has really gone to town with these lovely cakes, and as she had a tiny bit of lemon curd left over from whoopie pies which she had made last week, she decided to be a bit more creative.  As there wasn't that much lemon curd, she only baked half the quantity as required in the recipe and ended up with 3 gorgeous little cupcakes for a treat…..perfect for Tea Time Treats!
24. Lemon Curd by Kiki over at Kitchen of Kiki: Another STUNNING entry from Kiki and this time she has made my favourite preserve, Lemon Curd! Kiki says what would be more fitting for a tea table than home-made lemon curd? I agree 100%!
25. Orange Buttermilk Cake by Susie over at Fold in the Flour: Susie thought the time was right after the indulgence of the festive season, to try something lighter. At least in taste, if not calories. So, she baked this STUNNING cake for Tea Time Treats, an easy, lazy cake, with the all-in-one method as its base.
26. Chocolate & Orange Bûche De Noël by Kit if I Lost in Austen: Kit loves the chocolate & orange  combination so she decided to make a chocolate bûche de Noël with orange flavour &  a light crème chantilly for the filling, instead of the usual chestnut filling. She also  added a splash of Grand Marnier…..Mmm, that sounds amazing Kit!
27. Mini sticky orange and almond cakes by Super Golden Bakes:  Here's a cake recipe that's super easy to make, gluten-free and keeps well. A win-win-win! Sticky orange and almond mini cakes with Grand Marnier orange syrup…..oh yes!! I think the photo shows them off to their very best and they look so light and fluffy too! Thanks Lucy!
28. Orange and Chilli Granita by Shaheen from Allotment 2 Kitchen: Shaheen says that she knows it has been snowing, and the last thing some people want to see is a recipe for something cold and icy, but in her defence the flakes of chilli in this granita will give you a little warmth, if not a little fire. I need a little fire Shaheen and these look LUSH!
29. Versatile Doughnut Style Muffins by Michelle of Utterly Scrummy: Michelle says that these muffins taste like doughnuts but are as convenient to make and bake as muffins are.  You can fill them with whatever you like, Michelle used lemon curd for half of them and leftover Christmas fruit mincemeat to fill the other half, what a great idea to use up that festive mincemeat!
30. Pink Grapefruit Jellies by Sarah of Maison Cupcake: Sarah's 2nd Tea Time Treats entry is a wibble wobble jelly! Pink grapefruit has a unique flavour and this pink grapefruit jelly makes a sparky low fat dessert, Sarah says, and I think these look divine! Thanks so much for this sparkling wobbly entry.
31. Orange syllabub recipe with speculoos biscuit base by Sarah of Maison Cupcake: Hot on the heels of Sarah's wibbly wobbly pink grapefruit jellies is another lush entry, and a personal favourite of mine, syllabub. This orange syllabub with speculoos biscuit base took around 20 minutes to make and there are no eggs involved!
32.  Cardamom Rose Cake with Orange Drizzle by Karen of Lavender and Lovage! Yes, that's me folks! An exotic and very special cake, warm with cardamom and oranges as well as being  fragrant with roses and rose petal jam. This cake is perfect when served at the end of a formal meal with dessert wine, as well as being the centre piece of a formal afternoon tea; it's deliciously decadent with light, fluffy orange soaked sponge cake and highly fragrance rose petal jam.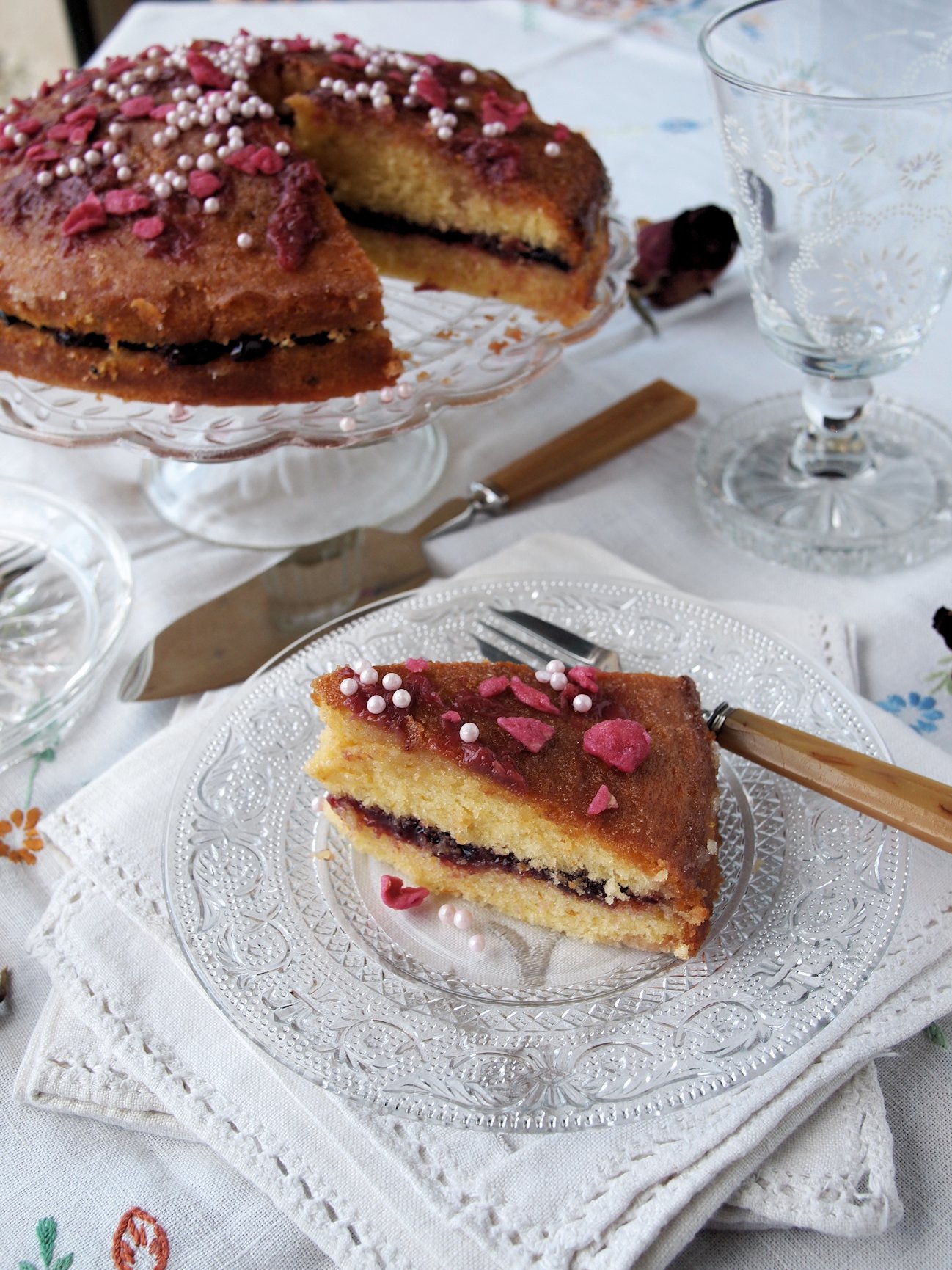 33. Quick Lemon Curd by Stacy of Food Lust People Love: Another lovely lemon curd recipe accompanied by some helpful photos. Stacy then went on to make Hot Lemon Curd Soufflés and Citrus Lust Mini Bundt Cakes with Lemon Curd with her curd, which was from Delia Smith's How to Cook Book 1.
34. Cold Oven Cream Cheese Pound Cake by Vivien Pang Kitchen: Vivien says she might bake these stunning looking cakes as one of her Chinese New Year giveaway for friends, what a great idea. The steps are simple just ordinary cake creaming method. The only difference is baking without preheating the oven.
35. Clementine and Almond Cake by Louisa of Chez Foti: Louisa says that on the whole this is about as healthy as a cake can be. No butter, no icing, no drizzle, not even any flour. Just cooked (whole!) clementines (or tangerines or satsumas), ground almonds, eggs and sugar. Oh and a little Amaretto to perk things up a little…..it sounds and looks to good to be true Louisa!
36. Nectarine and Apricot Sherbet by Jac of Tinned Tomatoes: Jac says that this one is a bit special, a real corker in fact. Nectarines, clementines, soft dried apricot, fizzy white schloer and an extra boost courtesy of some baobab powder. A lush smoothie, so full of flavour, finishing with a sherbet-like taste…..I am convinced Jac, please pass me a glass over as it looks WONDERFUL!
37. Biscuity Lime Pie by Laura of Laura Loves Cakes: Laura says that  whilst the weather is cold and dull, this Biscuity Lime Pie will certainly add some zing to your life! It has no less than the zest and juice of 4 limes and a lemon, and it is a lovely idea for an easy to make dessert. The case is made by blitzing ginger nut biscuits and then combining them with some melted butter, what a great idea!
38. Orange Walnut Loaf by Mich of A Piece of Cake: Mich really likes this loaf because its quick to make and perfect for days when she's rushed for time but needs to make something for tomorrow's breakfast. These stir-and-bake recipes (no need for mixer) are great for busy mums, she says!
39. Lemon Blueberry Bread by Joyce of Kitchen Flavours: This lovely loaf is the result of Joyce cleaning out her pantry! She  made this bread many months ago, when she found a small pack of dried blueberries in her fridge that she'd completely forgotten about. It's a  no-fuss, simple sweet bread to be enjoyed with a cup of tea.
40. Zesty Orange Terrine by Caroline of Caroline Makes: What a FABULOUS zingy entry Caroline's second Tea Time Treats submission is! Caroline found this recipe from a recent issue of the Slimming World magazine and tweaked it slightly as it was quite last minute and she didn't have any orange extract.
41. clementine and dark chocolate chip shortbread stars by Rachel of Marmaduke Scarlet: Rachel made these gorgeous little chocolate and clementine shortbread stars for our next entry. She used her favourite shortbread recipe and included the zest of two clementines as well as some dark chocolate, and the shortbread stars were topped while still warm with a sprinkling of clementine dust – a mixture of Demerara sugar that had been whizzed up with the zest of two more clementines. LUSH!
42. Lime & Raisins Rolls by Vivien Pang Kitchen: Vivien's second entry looks and sounds amazing – Lime & Raisins Rolls. She says these rolls have a Sweet and sour taste, just like pineapple!
43. Chocolate, Orange, Date & Seed Energy Balls by Helen of Fuss Free Flavours: Helen's latest new toy is a dehydrator from Lakeland, which she is loving experimenting with; it costs pennies per hours to run, and at this time of year takes the edge off the chill in her unheated kitchen. The fruit in this recipe was "dehydrated" and these little energy balls look healthy, but  in a tasty way!
44. Kumquat cream tart with candied peels by Ruchira of Cookaroo: Ruchira says that what is so brilliant about this tart is the sweet pastry crust and the candied peels contrast so beautifully with the Kumquat cream, so that you're instantly transported to another place. The tart is one of the prettiest I have ever seen and LOVE kumquats! THANKS so much for this wonderful entry.
45. Lemon Yoghurt Loaf with Blueberries by London Busy Body:  What a WONDERFUL looking loaf with amazing ingredients from the London Busy Body! The recipe is an old favourite from Ina Garten and it goes wonderfully with a cup of tea or cold milk.
46. The Macaron commandments by SuperGolden Bakes:  This next entry is simply STUNNING! Gorgeous macarons with chocolate and an orange curd filling…..simply divine. This fabulous entry comes with a list of Macaron Commandments too, of which number one is my favourite…."Do not show fear. Macarons, like dogs, can sense fear"…..I agree! Thanks for this lovely 2nd entry, just gorgeous!
47. Marmalade Loaf Cake by Victoria at A Kick at the Pantry Door:  What a fabulous entry this is from a Tea Time Treats newbie, Victoria and as I have just made a big batch of marmalade, I have bookmarked this recipe! This was a recipe that came together after Victoria had played with recipes, ingredients and quantities one Sunday morning. It's a simple, tasty tea-loaf, and the perfect accompaniment to a mug of tea on a Sunday afternoon!
48. Vegan Orange Poppyseed cakes by Shaheen of A2K – Allotment 2 Kitchen: Another FABULOUS entry from Shaheen and I love the look of this vegan cake. This cake has all the elements of a tasty treat but without the dairy products, thus making it a vegan treat – I think it looks LOVELY, and so moist too!
49. Lemon Shortbread by Annie at Working Mum's Cookbook: Another delectable treat and this time from Annie of Working Mum's Cookbook – and what a CITRUS delight these lemon shortbreads are! Annie quotes that lovely homely saying…"When life gives you lemons, make lemonade" ….and although she didn't make lemonade, she made these lush looking lemon shortbreads instead! I think they are perfect for a damp and dull afternoon with a cuppa!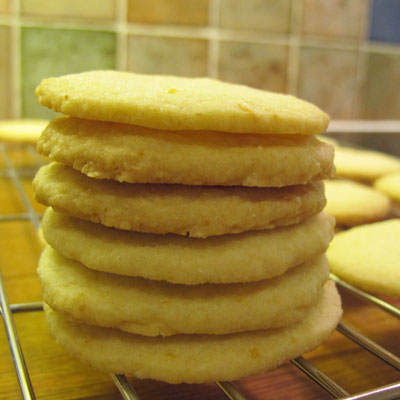 50. ORANGE AND ALMOND UPSIDE DOWN by Jo of MoJo: This next entry is accompanied by a FABULOUS post about age and reaching our 40's…..do take a trip over to Jo's blog and read all about her Mum's  'Recipe Book Graveyard' as well as drooling over he delicious orange and almond cake, which looks LUSH, I promise you!
51. Lemon Loaf Cake by Nazneen of Coffee and Crumpets: My lovely friend Nazneen is next and with a delicious lemon loaf……Nazneen  thought she'd start the New Year off right by posting a sweet recipe. One of her favourite bread/loaf/cake, lemon cake recipes, she says that this is a very tangy, that's fine by me as I LOVE tangy citrus cakes!
52. Blood orange drizzle cake by Natalie of Hungry Hinny: Natalie over at Hungry Hinny says that Blood oranges are a fruit she's always been intrigued by, but for some reason has never seen them in the shops. So, when she did spot a bag last weekend she got very excited and decided she had to bake something with them straight away……enter her LOVELY looking Blood Orange Drizzle Cake! I think the cake looks wonderful!
53. Lemon Yoghurt Cupcakes by Jen of Blue Kitchen Bakes: Another luscious entry from bake-a-holic Jen! And such LOVELY ingredients in these little cakes too. Jen made Mary Berry's lemon yoghurt cake last year and enjoyed the taste and texture that the yoghurt gave to the cake, so that was the inspiration for this recipe, and I think her cakes look SO pretty as well as sounding wonderful with all those great ingredients.
54. MADELEINES by Jean of Baking in Franglais: I adore madeleines and these look so light and fluffy. Jean says that if you have friends or family coming round for coffee and want to bake something lovely but don't have much time, madeleines are the solution.  They are quick and easy to make, fill the house with the wonderful smell of home baking and look gorgeous…..PASS me one over please Jean!
55. Lemon Swiss Roll by Jean of Baking in Franglais: Jean's second entry is just a delectable as her first, and this time she has made a LEMON SWISS ROLL.  Jean spotted the recipe for "luscious lemon swiss roll" in one of the Hairy Bikers books and felt it was time she had a go at something slightly more challenging than her normal baking.  But in the end, she  decided to opt for the Mary Berry version from her Baking Bible,  as it looked more straightforward. Mary ROCKS Jean!
56. Hugh's Jammy Muffins by Leesa from Life of a Mother: LOOK at these amazing jammy muffins from Leesa! Leesa hasn't got a sweet tooth nor do her children, who regularly eat enough supper to be rewarded with sweet treats, but about once a month she volunteers to bake 36 muffins/biscuits for the Infant School Friday After School Cafe.  And this is where she gets to experiment with her sugary culinary muscle…..they look wonderful to me Leesa and thanks for your entry!
57. Orange Polenta Cake by Galina of Cjhez Maximka: My lovely friend Galina has baked a Mexican delight for her entry; she likes the idea of travelling to Mexico (purely by means of cook books and online recipes) and has found lots of inspiring dessert recipes including the orange and almond cake as well as the polenta cake. This recipe is something in-between as it uses the ingredients from both cakes as she had a lovely stash of juicy and sweet blood oranges delivered from Abel and Cole that she wanted to incorporate in the recipe.
58. Lemon Curd by Solange of Pebble Soup: I am a sucker for lemon curd and was very pleased to see lots of curds entered for Tea Time Treats! Just look at Solange's lemon curd, it is bright and zingy and looks TOTALLY lush! This is what Solange said about it…."A picture speaks a thousand words, look at this lemon curd:It will bring a bit of sunshine in your kitchen, that's a promise"….I agree and would love that spread on my toast! THANKS Solange!
 59. Lemon and Orange Cake by Dom of Belleau Kitchen:  My mate, Dashing Dom made this next cake, a fabulous lemon and orange cake with a hidden secret, no flour but ground almonds! It's SUCH a pretty cake and as it is "healthy-ish" make mine two slices please Dom! Dom says that the original recipe is Nigella's classic Clementine Cake which is an absolute breeze to make…..however, he's  included a lemon in his, as that's what he had in the fruit bowl!
60. Date and Lemon Cake by Lucy of The Kitchen Maid: I LOVE Lucy's entry, a date and lemon cake and one that she says she was most desperate to find when she was going through my mother's recipes. There's a chance this could be an Elisabeth Pedersen recipe, based on the newspaper font and age of the clipping, but in Mum's book it's just called 'Mary's Date and Lemon Cake'…..I think it's a lovely story Lucy and a SUPER recipe!
61. Coconut Cakes with Lime Drizzle by Kate at What Kate Baked: My lovely TTT partner went skiing and then made these cakes, no not on the ski slope, but when she got home! I adore coconut and lime as a combination and I also LOVE the look of Kate's little cakes! These simple but tasty little cakes Kate baked today to celebrate the end of the glorious week.
62. Home made jaffa cakes by Becky of Mintcustard: Becky made these amazing HOME MADE jaffa cakes for TTT! I love jaffa cakes and have bookmarked her recipe to make myself soon. Becky is a sucker for nostalgia. In the past she's had a go at making Tunnocks tea cakes and Bourbon biscuits. So, when she saw that this month's Tea time treats challenge was citrus, she knew she had to make my own jaffa cakes…..I am so PLEASED you did too!
63. Blood orange drizzle cake by Becky of Mintcustard: And Becky did NOT stop at her jaffa cakes, she then made this stunning Blood Orange Drizzle Cake too! Becky says that these juicy darlings (blood oranges) are more available than they were in the 70′s and just one orange was sacrificed to make this cake that at least four of us will share……and such a lovely post about her dad! (There is no image to share, sorry!)