April Herbs on Saturday:
Win a Cooking with Edible Flowers Book!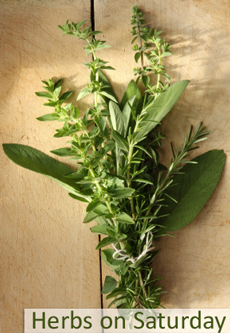 Welcome to April's Herbs on Saturday Challenge! Before I start, I would like to say a HUGE thanks to the lovely Andi over at London Busy Body who was the fabulous host for March, and you can see her brilliant round-up here: Herbs on Saturday – March 2013 Round-up PLEASE do pop over there and look at all of the amazing recipes and leave a wee comment for all of Andi's hard work! Next, I would like to announce the winner of last month's prize, a copy of the Best-ever Easy-to-use Herb Cookbook: Making the Most of Fresh Herbs in Your Cooking with 85 Delicious Recipes and 150 Photographs, will be winging its way to the LOVELY Rita from Rita Cooks Italian for her winning recipe: PALLOTTE CACIO E OVA. Well done Rita, I LOVED your recipe and also the poignant post about your father and family as well…….please email me your address and I will arrange for the book to be sent to you ASAP!
Now on to April's challenge and the prize this month is a copy of:
Cooking with Edible Flowers by Miriam Jacobs
As you all know I love cooking and baking with flowers, and I hope that I might see a few flowers in this month's challenge! This lovely little book is full of advice about edible flowers as well as how to prepare them. There are also recipes for the following plants:
Basil flowers, Chamomile, Chive Blossoms, Dill flowers, Hibiscus, Lavender, Marigolds, Nasturtium, Roses and Violas.
Herbs on Saturday
Guidelines how to enter:
1. Post your recipe url to the Linky at the bottom of the appropriate month's challenge, that's here for this month, including your email and the title of your recipe or post.
2. Display the Herbs on Saturday badge (as shown above and below) to the relevant recipe post, with a link back to the monthly challenge post.
3. Add as many recipe links as you like, there is NO limit and the recipes and posts can be from any day, NOT just Saturday!
4. If you tweet your post, please mention #herbsonsaturday and @KarenBurnsBooth in your tweet – I will retweet all that I see.
5. The recipe can be one of your own or one you've seen elsewhere. You are welcome to republish old recipes/posts but please add the information about this challenge as listed above with the Herbs on Saturday badge.
6. A guest blogger will choose their favourite recipe at the end of each month, and the winner of that recipe will receive the book that has been featured for that month.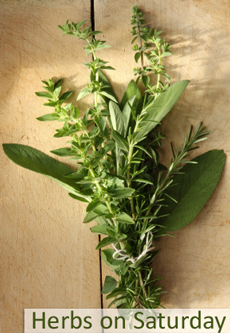 Herbs on Saturday is a Recipe Sharing Blog Challenge……a simple and easy way to share recipes throughout the month and also a chance to learn new ways to cook with herbs, as well as discover new blogs and blogger chums! Cooking with herbs is normal for me; I have always cooked with herbs, they enhance a recipe and are also beneficial to health…..I am a proud owner of a walled herb garden, where I grow most of my own herbs, specialising in heirloom and old-fashioned herbs of which my favourites are lavender and lovage, of course!
All you have to do to enter is add your ANY recipe that you have made throughout the week, or indeed the month, to the linky that is posted in the relevant month's post and, NOT just recipes that have been made on a Saturday; at the end of each month I will post a round-up and ask a "special blogger" to choose their favourite recipe from the ones that have been posted, and the recipe that is chosen will win a COOKBOOK!
So PLEASE read the guidelines above and add your herbal concoction below!
Link up below: