May Tea Time Treats Round Up – Biscuits and Cookies!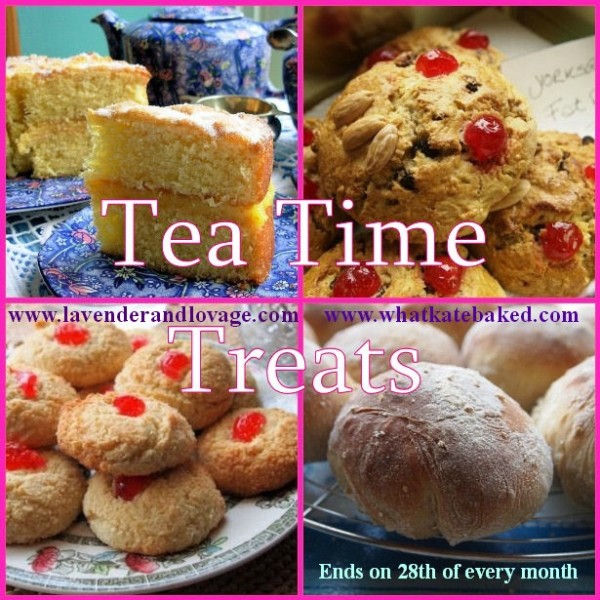 Welcome to the May Tea Time Treats table, which is laden with the most amazing biscuits and cookies……..from Pink Praline Shortbread and Chocolate Snickerdoodles to Russian Doll Sugar Cookies you all baked your hearts out and there are some amazing recipes! It seems that biscuits and cookies were very popular with all of you, obviously the best choice to have with a cuppa – for dunking maybe? Thanks once again for all of your lovely entries and you better get the kettle on now, as I am about to list all of the delicious Tea Time Treats entries now, and don't forget that Kate is the hostess with the mostess for June, so make sure you pop over to see what the theme is for June!
May Tea Time Treats Round Up – Biscuits and Cookies! 
1. Flapjacks by Pattern Patisserie:  Welcome to Patricia from Pattern Patisserie for her first Tea Time Treats entry, some classic Flapjacks with a cup of tea of course! Patricia enjoyed these whilst reading her latest copy of British Country Living magazine too!
2. Gingerbread Baby Cakes with Lemon Cream Cheese Frosting by Carrington Lane Bakery: Another warm welcome to Anne from Carrington Lane Bakery with her first Tea Time Treats entry too! Anne made some gingerbread cakes, a sort of cake-cum-cookie!
3. White Chocolate Dipped Lime Madeleines from Carrington Lane Bakery: And yet another LOVELY entry from Anne! This time with some French cookies, the classic Madeleine but with a white chocolate coating and some zingy lime added!
4. Coconut and Lemon Cookies by Cookaroo: Ruchira made the most exquisite coconut and lemon cookies, and  whilst she LOVES chocolate chip cookies, she also likes a coconut macaroon now and then too! Here's some coconut cookies she made, and they look divine.
5. Chocolate Chip Cookies by Belleau Kitchen: Dashing Dom proclaims these cookies to be "the best friggin' chocolate chip cookies ever made" and who am to argue, as they look absolutely amazing in his photos! The recipe was an SEO baby, after he googled "Best Cookies in the World"! Love it Dom!
6. Russian Dolls Matryoshka Vegan Sugar Cookies by Caroline Makes: Caroline always makes the MOST amazing cakes and bakes, and these Russian doll cookies are no exception – I ABSOLUTELY love these Caroline and thanks for making me smile when I saw them!
7. Chocolate Black Pepper Cookies by Elizabeth's Kitchen: Elizabeth has made some amazing chocolate and black pepper cookies, and like her, I am a BIG fan of black pepper in cooking and baking. She only just discovered this after a visit to a local chocolatier where they were serving up delicious little truffles containing cracked black pepper.
8. Funny Face Jam and Cream Sandwich Biscuits by Cake, Crumbs and Cooking: Caroline made these FABULOUS Happy Face biscuits, a sort of jammy dodger with a face! Thanks for these lovely biscuits Caroline – I love the cutters and your photos too!
9. 3D Dinosaur Cookies by Laura Loves Cakes: How much fun are these?! Laura made these scary little dinosaur cookies and they are THREE-D!  These cookies actually STAND up and I am amazed how they look – they would be the show-stopper at any little boy's birthday party!
10. Double Chocolate Macadamia Cookies by Cooking around the World: Chris is one of my favourite bloggers and his Tea Time Treats entry post is SO funny as well as having a GREAT recipe too! Chris says "It's useless to resist" these cookies, and I can see why!
11. Peanut, Chocolate and Walnut cookies by Cookbooks Galore: Regular tea time treats baker, the lovely Eira made some NUTTY biscuits for her entry, the recipe which originally came from her daughter's school recipe book, and made good use of some peanut butter left over from a guest's visit, avec chocolate drizzle! Fabulous thanks Eira.
12. Lemon and almond butter biscuits by Chip Butties and Noodle Soup: My lovely twitter friend from the FABULOUS named blog Chip Butties and Noodle Soup made these delicious looking lemon and almond butter biscuits, and I have to say, that those are some of my favourite ingredients!
13. Marzipan Macaroons or Kransekake by Chocolate Log Blog: I was hoping that Choclette wouls make some delectable chocolate creation for tea time treats this month, and she did not disappoint with these divine Marzipan Macaroons!
14. Tropical Chocolate Cookies by Mainly Baking: Suelle's entry are the delectable looking Tropical Chocolate Cookies which have mango, ginger, nuts and chocolate in them – Totally tropical then and very tasty looking too! Thanks Suelle.
15. Chocolate chip cookies by Caroline Makes: Another lovely bake from Caroline and these cookies have the added advantage of ebing vegan, making them a super treat for a vegan friend, as Caroline originally made them for.
16. Chocolate Crack Cookies by The Takes of Pigling Bland: The lovely Gill made these next beauties, a batch of chocolate crack cookies, and her photos of them are STUNNING too, as good as they tasted I bet! Thanks for your fabulous entry Gill.
17. Cinnamon and Caramel Cookies by The More Than Occasional Baker: My lovely friend Ros is a bit of a baking diva, and I JUST love her entry, which are cinnamon and caramel cookies – some of my favourite ingredients in one cookie, divine!
18. Oat and Sultana Cookies by Jibber Jabber UK: I was hoping that someone would make some old-fashioned oat and sultana cookies, as I LOVE these with a glass of cold milk, and Jibber Jabber obliged, and made a FABULOUS batch of them; she used to make them regularly for her dad and her brother, and now US!
19. Anise, Almond and Lemon Biscuits by What Kate Baked: My other Tea Time Treats half, Kate, made these delightful sounding biscuits, and I LOVE the addition of the anise with the almonds and lemon – pure genius idea! Kate says…"The humble biscuit. It brightens up teatime, is happily dunked in all manner of hot beverages and sustained the entire Royal Navy for many an intrepid voyage"……I SO agree Kate! Thanks darlink!
20. Birthday cookies by Mummy makes Cakes: A warm welcome to another Newbie – Jenny is from Mummy makes Cakes, a lovely blog based in Cheshire and she has made these amazing birthday cookies for her daughter's 2nd birthday – I LOVE them!
21. MY FIRST EVER COOKIES by Tea with Erika: I am so pleased to welcome another NEW face to the tea time treats tables, hello Erika!  Erika was a "cookie virgin" and these lovely looking cookies were the FIRST she had ever made! I am impressed, and I see from your blog that you have made more since then – attagirl!
22. Maple and Pecan Rusks by Under the Blue Gum Tree: Tea time treats regular, the lovely Claire in South Africa made some of my favourite SA biscuits, RUSKS! Her rusks are dead posh however and are made with pecans and maple syrup – WOW, what a GREAT combination Claire!
23. Pink Praline Shortbread by Blue Kitchen Bakes: Jen over at Blue Kitchen Bakes has come up with such pretty biscuits, some PINK praline shortbreads, and all because she did a bit of "cupboard raiding" for the ingredients! LOVELY thanks Jen!
24. ANZAC biscuits by Nicole Bremner: It's yet another welcome to a Tea Time Treats virgin, hello Nicola and HELLO to your delectable looking Anzac biscuits too, I LOVE them, and I have bookmarked your recipe to make soon too.
25. Chocolate Snickerdoodles by I Cook with Butter: The lovely Hélène (originally from France) has made an American classic and brought some SNICKERDOODLES to the tea time treats table! She got the recipe from Baked in America and decided to make the chocolate version, oh YES!
26. Cornflake and raisin cookies by The More than Occasional Baker: Another LOVELY recipe from Ros, and an easy recipe to make too she says. Ros also says that they taste like breakfast in cookie form – sounds like a plan to me!
27. Rye biscuit with anise by Kitchen of Kiki: My LOVELY regular Tea Time Treats friend from Denmark, Kiki, has come up with a SUPER entry again! She has made some tasty looking rye biscuits with anise, one of my favourite flavourings and so typically Scandinavian too.  I LOVE these thanks Kiki!
28. Orange, white chocolate and cardamom langues de chat by tastyrecipesandotherstuff: Siobhan has made a batch of DELECTABLE langes de chat (cat's tongues!) and with such sophisticated ingredients, I love her flavour combination of orange and cardamom.
29. Osmanthus Cookies by I-Lost in Austen: The lovely Kit has made some interesting sounding cookies, made from Osmanthus; Osmanthus are sweet fragrant flowers with a lovely fruity floral, apricot scent which is usually used in infused tea. Her recipe is adapted from My Kitchen Snippets, and looks beautiful!
30. Chocolate Drops by Farmersgirl Kitchen: Janice has made a classic and rather nostalgic recipe for tea time treats, some chocolate drops, and from one of my favourite cookbooks too, The Dairy Book of Home Cookery. They look amazingly tasty, and I could murder one now!
31. Italian Coffee Mocha Kisses and Brandy Snaps by Lavender and Lovage: My own two entries are for two retro classics, with a twist – brandy snaps and coffee kisses, both much-loved of old-fashioned cafe's and tea rooms, as well as my grandmother's tea time tables!
That's it for this month, thanks so much to ALL of you who entered and made something for Tea Time Treats, and if you forgot to add your link to the linky here, or email me your entry, let me know as soon as possible, and I will add your recipe/s in the round-up!
Karen