Layer Cakes:
Tea Time Treats Round-Up Part 2 (June)
As my partner in cake crime, Kate, is currently on her honeymoon, having just got sliced spliced, I am posting a Tea Time Treats part 2 round-up – as she doesn't want to be bothering with cakes right now! Kate's decadent part one can be found here:  June Tea Time Treats: Layer Cakes: The Round-up Part I, and I am taking over from the last cake that was posted (or is that last cake standing?!), which was a stunning White Chocolate Passion Cake.  Put on the kettle and join me for part two, where I have ELEVEN more cakes to share with you all, and look out for Tea Time Treats for July, which is hosted by me and will be revealed later today! Karen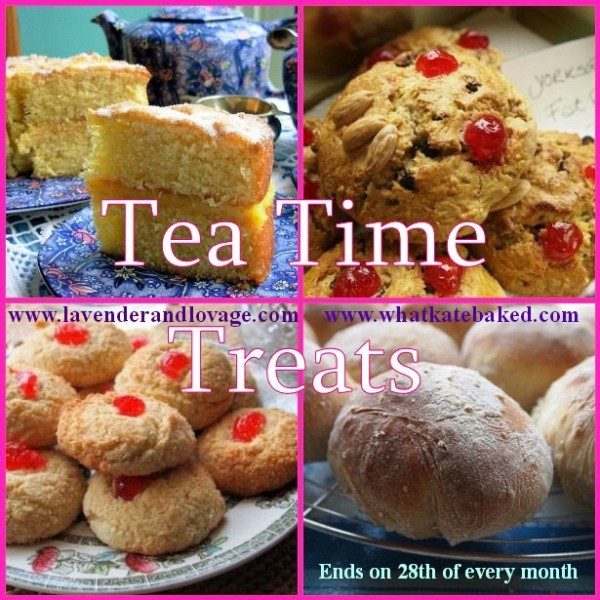 Chocolate Lemon Cake by Lottie of Lottie's World of Cakes and Bakes:  This cake consists of 3 layers, a lemon layer sandwiched between 2 chocolate layers. All 3 layers are brushed with a lemon syrup before assembling. The cake is filled and covered in a milk chocolate ganache. The recipe for the chocolate layers of this cake is based on Lottie's chocolate fudge cake recipe but this time with the addition of lemon.
Butterfly birthday cake by Mummy Makes Cakes: A simply STUNNING cake! She made all the decorations herself, and the results are just amazing I think you will agree. I have seldom seen a prettier cake and I wish I was 2 years old again, so I could have a cake baked like this for me!  I have shared TWO photos below, as I think this cake is drop dead gorgeous! (The chocolate cake recipe is from Nigella Lawson)
VICTORIA SANDWICH by Tea with Erika: I love a GOOD Victoria Sandwich, and I am so please to see this in the entries for Tea Time Treats, as a Victoria Sandwich is the ORIGINAL layer cake for me. Erika takes the plunge and bakes one for the FIRST time – and as a Victoria sandwich virgin, she passes with flying colours!
Strawberry cream meringue gateau by Cookbooks Galore:  A glorious cake of cream, meringue and strawberries. The finished gateau has a filling and topping of cream mixed with mashed strawberries, then the top is finished off with little meringue rosettes and decorated with strawberries…..that suits me just fine!
 Make-ahead Simple Strawberry and Vanilla Layer Cake by Gill of Tales of Pigling Bland:  Gill gets all Wimbledon and makes an EasyVanilla Cake from BBC Good Food, but adds strawberries to hers.  She also adds cake bunting for that summer fête feel. I think you will all agree that if the taciturn Andy Murray say this beauty,  it might spur him on to win this year with a promise of a slice!
Lemon & Pecan Celebration Cake by Elizabeth of Elizabeth's Kitchen: Elizabeth says for this indulgent celebration cake two cakes containing ground pecans, lemon zest and lemon juice are sandwiched together with home-made lemon curd and encased in a layer of marzipan and a layer of sugar paste before delicately decorated with a royal icing piped edging. It's not a cake you could eat two slices in a row of either, even if you serve small slices it is still very,very filling!
Flapjacks by H is for Home: Not really a layer cake, but as this is a new Tea Time Treats entry, I am bending the rules slightly! And, who doesn't love a GOOD flapjack!
Lamington Layer Cake by Under the Blue Gum Tree: What a FABULOUS entry into tea time treats from Under the Blue Gum Tree, a cake based on the classic Aussie Lamington. As a nod to the original Lamington recipe, the cake was filled with a coconut buttercream.
Mini Swedish Princesstarta by Victoria of A Kick at the Pantry Door: A Swedish Princesstarta is traditionally made of layers of sponge, jam, pastry cream, and domed whipped cream and covered with a pale green marzipan. Victoria has combined her go-to recipes for each of the above components, but scaled everything down here to make two smaller cakes, as with the fresh cream elements it won't keep as long as a normal cake.
Rhubarb and Rosehip Jam Cake by Shaheen of Allotment 2 Kitchen: Shaheen had a jar of Rosehip Jam that she made a long long while ago, so she thought instead of sandwiching the two sponge cakes together with rhubarb and ginger jam which was her original plan, she would do so instead with the Rosehip Jelly. In spite of how it looked, it was truly a lovely combination and tasted quite good – I agree!
GLUTEN FREE, BLACK FOREST CAKE by Jean of Baking in Franglais: A divine creation from Jean and this cake is gluten free too! The original guilt free recipe isn't exactly for a black forest cake, but at the last minute Jean decided to add some black cherry jam to the filling and put some cherries on top for decoration.

That's it from Cakey HQ – the new Tea Time Treats challenge will be posted very soon!
Karen