September Tea Time Treats Round-Up
A Virtual Cookbook of Recipe Treats!

Welcome to the BIG Tea Time Treats round-up for September; this month saw the theme for OATS as well as FLAPJACKS and TRAY BAKES too! And, we had 34 TASTY entries with lots of lovely seasonal fruit AND veg added as part of the ingredients too. As always you all baked some stunning treats and just look at our virtual Tea Time Treats Table below…….groaning with the most amazing recipes. A BIG thanks to all who entered, and October's Tea Time Treats is being hosted by Kate, over at What Kate Baked, and will be open VERY soon!
Karen
September Tea Time Treats Round-Up
1. Blackberry and apple crumble bars by Becky of Mint Custard – You cannot beat a classic combination and blackberry and apple is one of my favourite ingredient marriages!
2. Apple Parkin Slice by Patricia of Pattern Patisserie – Look at this lovely light parkin with apples! What a fabulous autumn tray bake from Patricia!
3. Blueberry-Oat Bars by Janet of Taste Space – This is another iconic autumn mix of oats with blueberries, and I think these bars would be the perfect treat for a lunch box as well as afternoon tea!
4. No Bake Carrot Cake Granola Bites by Shaheen of Allotment 2 Kitchen  – Fabulous little truffle style bites, made with a carrot cake and granola mix – this is such an innovative recipe!
5. End of Summer Roasted Fruit Flapjack by Katie of The Gluten Free Alchemist – Welcome Kate to her FIRST blog challenge and what an amazingly tasty first recipe too, LOVE the name of these, as well as the recipe!
6. Date Flapjack by Alison from Dragons and Fairy Dust – Another BIG welcome to a new tea time treats member! And, with a lovely retro recipe for date flapjacks too, a real favourite in our house!
7. Maple syrup, vanilla and oat cookies for Bake-A-Wish by Galina of Chez Maximka – I LOVE maple syrup and oats, so Galina's recipe was bookmarked to make immediately!
8. Rocky Road Chocolate Cake by Gill of Tales of Pigling Bland – A FAB bake for tea time treats, choc full of chocolate, fruit, nuts and marshmallows! Plus, Gill added MALTESERS! OMG!
10. Apple & Blackberry Traybake Cake by Louisa of Eat your Veg – LOOK! My lovely chum Louisa has a new blog and this is her first entry for tea time treats from it! I LOVE the look of her new blog and this tray bake – thanks Lou!
11. 5 Seed Slice by Ruth of Makey Cakey – Another lovely recipe with seeds and this healthy tray bake slice also has a delicious topping of jam too, for that extra special taste.
12. organic knobbly apple and cider-washed goats cheese traybake by Dom of Belleau Kitchen – another DELISH savoury tray bake and one that uses organic ingredients, which has my vote! Dom says this is perfect for feeding the troops too!
13. Peanut Butter Granola Bar by Ros of The More than Occasional Baker – another granola bar and this time with peanut butter as an ingredient, which could make a great snack for the kids after school!
14. Chocolate Chunk Melting Moments by Janice of Farmersgirl Kitchen – Janice takes a classic recipe for British biscuits and makes it even better with chocolate! LOVE this twist on the old-fashioned glacé cherry!
15. HALLOWEEN PUMPKIN TRAYBAKE by Jean of Baking in Franglaise – Jean is already on the ball with this amazing Halloween tray bake, made with pumpkin, orange and spices – it looks like a tasty trick or treat! SORRY!
16. Strawberry Flapjacks by Stuart of Cakey Boi – a FABULOUS entry from one of my favourite blog bakers, Stuart, and he made these LUSH looking flapjacks with STRAWBERRIES! How decadent is that!
17. Whole Hazelnut and Molasses Oat Bars by Shaheen of Allotment 2 Kitchen – another DIVINE entry from Shaheen! These bars are packed with nuts and have molasses added as the sweetener, which I love in baking!
18. greengage oatie slices by Andrea of Shabby Chick – I adore greengages and especially when added to oats, so these lovely seasonal slices that Andrea made have been bookmarked for me to make soon!
19. Carrot, Parsnip and Coconut Flapjacks by Kate of Veggie Desserts – I LOVE this next entry that uses all sorts of veggies as part of the ingredients! I bet these would make a healthy snack for the kid's lunch box too!
20. Apple & Blackberry Crumble Slices by Jenny of Mummy Mishaps – Fabulous crumble slices with seasonal fruit that was inspired by the Great British Bake Off! Thanks so much to Jenny, who is also new to Tea Time Treats!
21. Banana and White Chocolate Blondies by Debra of My Darlings and Me – WELCOME to Debra too, who has baked these gorgeous Banana blondies, which look absolutely LUSH! I LOVE the addition of bananas in these decadent bakes.
22. PEACH-ALMOND COFFEE CAKE by Grace of Life can be Simple – Another BIG welcome to Grace, who is always welcome at the Tea Time Treats table if she brings a batch of these tray bakes with her! LOVE the ingredients too!
23. Bakewell Oaty slice by Linzi of Lancashire Food – I LOVE Linzi's entry as I adore Bakewell Slice as well as oats, so this is a marriage made in heaven! Pop over to see what she has baked and you will see what I mean! Thanks Linzi!
24. Oatmeal Brownie Bars with Cherries by Suelle of Mainly Baking – Suelle is a regular to Tea Time Treats and this month she has baked some flapjacks WITH cherries, what a GREAT idea, and they look so gooey and delicious too!
25. Oaty Coconut, Fennel and Chocolate Cookies by Choclette of Chocolate Log Blog – I ALWAYS look forward to seeing what Choclette has made for Tea Time Treats, as she uses such interesting ingredients, and this month she has not disappointed with this recipe!
26. Pumpkin & Ginger Traybake by Aimee of Wallflower Girl – Another BIG welcome to Aimee and with her comes a batch of GORGEOUS pumpkin and ginger bakes! You can join the Tea Time Treats table ANY TIME you like Aimee, with bakes like these! THANKS for linking up!
27. Chocolate Mousse Brownies (Gluten Free) by Laura of I'd Much Rather Bake Than…. – I am LOVING all of the new Tea Time Treats members who have linked up this month, and here is another LOVELY bake from Laura, thanks SO much for these divine brownies!
28. Apple Cider Crumble Traybake by Caroline of Caroline Makes: Such a BRILLIANT autumnal entry from Caroline this month and I LOVE cider in cooking as well as apples too!  Who wouldn't love one of these slices with a cuppa or a glass of cider!
29. Muesli Bars with Vanilla Yogurt Topping by Kate of What Kate Baked – A FAB entry from my partner in baking crime, Kate! Kate made these lovely breakfast style bars with a yoghurt topping, so LUSH!
30. Plum & Almond Cake by Louisa of Eat Your Veg – A LOVELY entry from Louisa and her brand spanking new blog! This delicious tray bake makes 16 slices and has PLUMS in it for a lovely seasonal treat!
31. Fruit and mixed seed flapjacks from "A Country Cook´s Kitchen" by Kiki of Kitchen of Kiki – Kiki has been a loyal member of the Tea Time Treats club since we started TWO years ago, and she has come up with ANOTHER winner this month! Delicious mixed fruit & seed flapjacks, so healthy and tasty looking!
32. Rhubarb Crumble Tarts with Custard Ice Cream by Claire of Under the Blue Gum Tree – I absolutely LOVE this entry, I mean, CUSTARD cream ice cream WITH rhubarb crumble tart! Oh yes! I could eat a slice of this tart morning, noon and night WITH the ice cream of course!
33. Salted dulce de leche brownies by Hungry Hinny – These LUSH brownies have the most amazing ingredient added, Salted dulce de leche! I suspect that the added ingredient makes them exceedingly LUSCIOUS!
34. Lavender Honey Flapjacks by Karen of Lavender and Lovage – hey that's ME! These flapjacks are made with my own home-made lavender honey for a floral infusion of flavour! You could use any honey, but light floral honey is the best.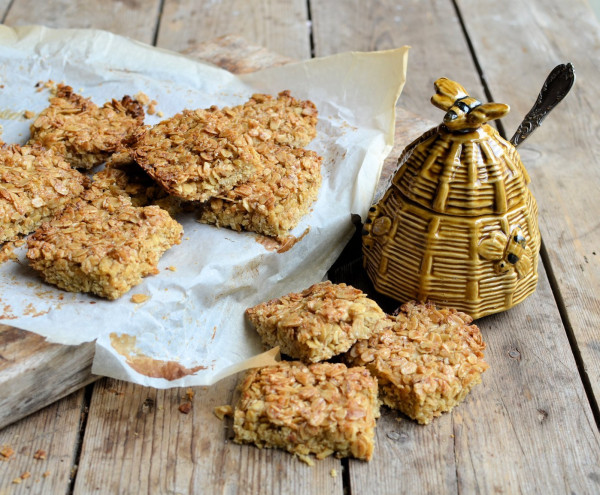 THE END!