November Tea Time Treats Round-Up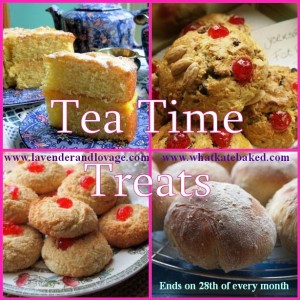 Welcome to a BIG FRUITY round-up of Tea Time Treats for November! The theme was DRIED FRUITS and as you can see, we had a veritable plethora of all things dried and fruity! There were cakes, biscuits, bread, tarts, poached fruits, fudge and so much more, and all of them so very seasonal and perfect for Christmas and the New Year. So, without further ado, sit back, relax and get the kettle on for November's Tea Time Treats Round-Up!
Karen
NB: Kate will be hosting her last Tea Time Treats challenge for December, over at What Kate Baked
1. Bara Brith by Vohn of Vohn's Vittels: A traditional British cake is first to be added to the tea time table and Vohn shares and easy version of the classic Bara Brith, as seen recently on the Great British Bake Off.

2. Banana Raisin Tea BreadCake by Patricia of Pattern Patisserie: A tasty banana bread style cake with tea, nutmeg and raisins, this cake looks amazing & would be perfect with an afternoon cuppa!

3. The Best Flapjack Recipe in the Whole Wide World – Ever by Jane of The Hedgecombers: Wow! I believe you Jane, I believe you cos' these flapjacks have dates in them, which I love, and they look pretty damn good too!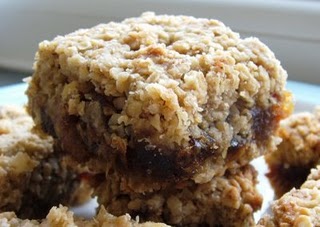 4. Traditional Soul-Cakes by Karen (Me!) of Lavender and Lovage:  These little cakes are a cross between a biscuit and a scone and are traditionally made for All Soul's Day. Packed with currants and mixed spice, they are delicious with an afternoon cuppa.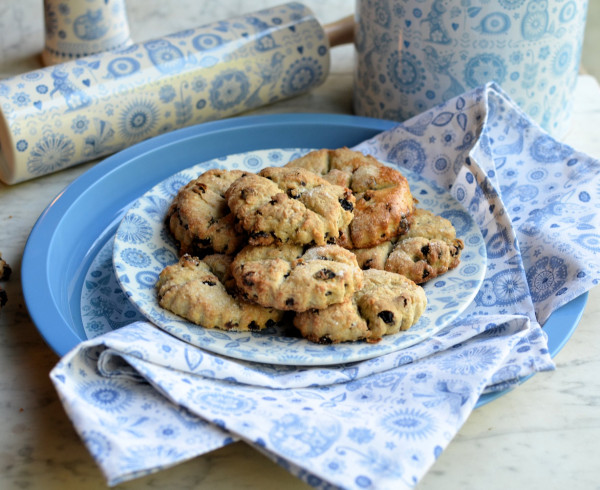 5. Orange and cranberry bread by Jenny of Mummy Makes Cakes: What a jewel studded loaf this is that Jenny baked and with such a pretty twisted finish too, I LOVE it!
6.  Pumpkin Fruit Cake by Camilla of Fab Food 4 All: A truly stunning birthday cake next, for Camilla's mother-in-law's 80th birthday and made with fruit and pumpkin!
7. Chocolate Orange and Cranberry Cookies by Michelle of Utterly Scrummy Food for Families:  These delectable biscuits are packed with sultanas as well as decadent chocolate orange chunks – perfect for any lunch box of afternoon tea treat.
8. Apricot and Walnut Loaf and rolls by Deon of Food Jam: A big fat tea time treats welcome to Deon and her entry for Tea Time Treats! She has made the most amazing rolls with fruit and nuts, and with handy step-by-step photos too!
9. Apricot and Walnut Shortbread Fingers by Laura of I'd Much Rather Bake Than: Laura says thank God for shortbread, and I agree with her 100% as I LOVE shortbread, and especially her fruit and nut version!
10. Pumpkin and Spice Dark Chocolate Bark by Kate of Veggie Desserts: What a FABULOUS entry this is from Kate! I love the her sophisticated and seasonally festive bark, and as she says, it is so easy to make too!
11. Super-Fruity Banana Loaf Cake by Louisa of Eat Your Veg: A SUPER fruity banana loaf cake is next to be served! And Louisa makes hers look so moist and tasty, a real classic but with added apricots and sultanas.
12. WAR CAKE by Jean of Baking in Franglais: I LOVE recipes like this and Jean explains how this cake came about, making it with shortening and no eggs, as fitted in with wartime rationing. It still looks amazing though and very moist too.
13. Beer Cake by Jibber Jabber UK: From war cake onto Beer Cake! And what a fabulous recipe this is too, with not just beer as part of the ingredients, but mixed spice and mixed dried fruit too.
14. Homemade Mincemeat by Debra of My Darlings  and Me: I LOVE home-made mincemeat and I ALWAYS make my own, as Debra has done for her LOVELY seasonal entry this month, and she added a bit of booze too!
15. Apple Cake with an 'Eccles' filling by Suelle of Mainly Baking: Two cakes in one here, as Suelle shares and apple cake recipe with an Eccles cake filling of plump currants and a lovely white icing drizzle – how clever to combine the two!
16. Updating Queen Cakes by Alexandra of The Lass in the Apron: Alexandra has made one of my MOST favourite of historical cake recipes, some little Queen Cakes, gorgeous little fruited buns with rosewater – and her post is so interesting too!
17. Rhubarb Meringue Tarte by Solange of Pebble Soup: This is a fabulous way to use up the last of the autumn rhubarb Solange says, and it is also topped with dried almonds for a nutty finish!
18. Prune and chocolate shortbread by Dom of Belleau Kitchen: Dashing Dom has come up with a lovely recipe this month, some lovely little shortbread biscuits with chocolate and prunes, what a GREAT combination!
19. Mulled Wine Christmas Cake by Helen of The Crazy Kitchen: Our FIRST Christmas cake entry and one that I have a recipe for myself, for a mulled wine cake, always our favourite recipe and Helen's looks fabulous!
20. Stewed Prunes with Orange and Cinnamon by Janet of The Taste Space: A FABULOUS tea time treat for prunes again, and a recipe that would make a great breakfast compote for Christmas day morning. Janet adds spices and orange to her prunes for that festive kick!
21. Sticky Toffee Pudding by Claire of Under The Blue Gum Tree: A DELECTABLE recipe by the amazing Tom Kerridge and made so well by Claire, these little sticky toffee puddings are just so delicious looking with their molten toffee sauce….Mmmmm!
22. White Chocolate & Raisin Fudge by Helen of Casa Costello: I was so pleased to see a "sweetie entry for Tea Time Treats, and Helen has made some delectable white chocolate fudge that is stuffed with fruit & would make a perfect Christmas gift!
23. Fruit pie a la "Julebakst" by Kirsten of Kitchen of Kiki: I LOVE Kirsten's entries as she often bakes some fabulous regional recipes from herhome country of Denmark! And this month she has made a glorious fruit pie from Norway – it looks fabulous!
24. Squash and Apple Strudel with Cranberries by Kate of Veggie Desserts: What a FABULOUS recipe from Kate – this strudel looks amazing and I am intrigued by the addition of squash, although I suspect it adds and earthy sweetness to the recipe.
25. Festive Baked Apples with Mincemeat and Honey by Me at Lavender and Lovage! Delectable baked apples filled with mincemeat and honey – these fruity baked apples would make a great alternative to Christmas pudding for pudding haters!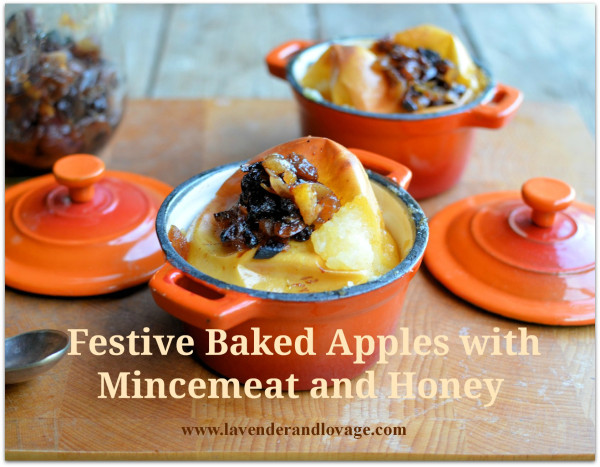 26. Amaretto Christmas cake for Stir Up Sunday by Vanesther of Bangers and Mash:  What a FABULOUS Christmas cake from Vanesther, and I was hoping to see a few cakes for the big day here! I LOVE Vanesther's cake as it looks lovely and light too, not heavy and dark.
27. Cheddar and Fig White Soda Bread by Lottie of Lotties Cakes and Bakes: What a FABULOUS recipe from Lottie and it ticks all the taste boxes for me, with all of that cheese and figs……it would be the perfect loaf for the tea time table in my house!
28.  Chewy Toffee Apple Cookies – gluten free by Kate over at Gluten Free Alchemist: This next entry is such a fabulous seasonal bake and I would love to try these even though I don't follow a gluten free diet – they look incredibly tasty and real tea time treats!
29. Chelsea Buns by Jen of Blue Kitchen Bakes: Jen says she loves a good sticky bun and I have to agree, and what better than a batch of classic Chelsea Buns to banish those winter blues, especially Jen's as they look incredible.
30. The best fruited buns, ever by Linzi of Lancashire Food: These really do look like the best buns ever, and as I said to Linzi over on her recipe blog post, they look like posh tea cakes stuffed with fruit and spices, just beautiful!
31. Quick and Easy Microwave Mincemeat Christmas Pudding by me at Lavender and Lovage! This is such an easy to make pudding, and one that I discovered about 30 years ago on a Stork margarine recipe leaflet! However, I always use butter, and although this does not need to be made weeks before Christmas, the taste and flavour is still rich with a lovely fruitiness.
32. Christmas Cake Tarts by Laura of How to Cook Good Food: These little tarts that Laura says are alternatives to mince pies look so pretty and seasonal and make good use of left over Christmas cake, which is a great way to use all of those fruity crumbs!
33. Almond, chocolate chip and berry mix oat cookies by Ros of The More than Occasional Baker: Looks at these tasty little cookies, just the ticket to enjoy with a cuppa – these biscuits are packed with nuts, dried fruit and chocolate chips – they look FAB thanks Ros!
34. Brown Butter Coffeecake with Oat Streusel and Dried Blueberry-Red Wine Filling by Alexandra at The Lass in the  Apron: Another LOVELY entry from Alexandra, and this time she has made a very sophisticated cake with a blueberry and wine filling, sounds like my kinda cake!
35. Cranberry and Marzipan tealoaf by Claire of Calirey Fairy's Cooking: This LOVELY festive tea loaf has been made by Claire and has a favourite ingredient of mine  inside it, marzipan, as well as dried cranberries and mixed spice, it would be perfect with a cup of tea.
36. simple rock cakes by Antonia at A Little Bit Greedy: I am a BIG lover of the humble rock cake and I was delighted therefore to see these being entered for Tea Time Treats. Antonia also quotes a little Proust in her post too…..why not pop over to see her rock cakes and read her interesting post.
37. Apricot and Ginger Flapjacks by Laura of Little Button Dairies: I LOVE Laura's blog and I love her Apricot and Ginger Flapjacks even more! Such a brilliant recipe and  any bake that has oats and ginger in it, has my TOTAL approval!
38. Guide to Baking a Christmas Cake by Kate of What Kate Baked: Kate shows us how to bake a Christmas Cake and what a lush cake she has made! I was VERY impressed with The Big Soak (in booze) in particular!
39. Chocolate Amaretto Biscuit Cake by Choclette of The Chocolate Log Blog: I LOVE this next entry, mainly because I LOVE all of the ingredients, chocolate, Amaretto and lush cherries!  This no-bake cake is a stunner.
40. Pick 'n' Mix Christmas Fruit and Spice Cake by Sarah over at Tales from the Kitchen Shed: WELCOME to Sarah who shared her wonderful pick'n'mix cake with us, as well as a fabulous festive post packed full of useful tips!
41. Brown Sugar Raisin Spelt Muffins by Sarah of Maison Cupcake: A very seasonal entry next and one that is relatively healthy too, I do love spelt flour and Sarah makes these look so amazingly lush and tasty, and perfect for a winter's tea time treat!
42. Boozy figs by Lucy of The Kitchen Maid:  These sumptuous boozy figs are so easy to make Lucy says, and yet they look so sophisticated and elegant, a perfect posh pud! Lucy also says that if you "put them in a lidded jar in the fridge and they'll be good for several weeks"
THANKS to all of November's Tea Time Treats entrants!