Round-Up:
Tea Time Treats February 2014 = CHOCOLATE!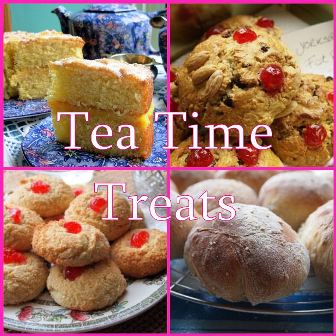 Well, you have all been VERY busy this month, and I am delighted to bring you a BULGING round-up of delectable and divine chocolate treats for February's Tea Time Treats challenge. We had SIXTY ONE entries, so it seems that chocolate was a very popular theme! And, I have managed to keep up with all of you this month, so NO burning the midnight oil this time as I gathered all of your entries together. I hope that this BIG FAT CHOCOLATE round-up will become an invaluable source of recipes now and in the future, so sit back and enjoy! Karen
NB: Jane is hosting MARCH'S Tea Time Treats, so don't forget to pop over to  The Hedgecombers tomorrow to see what the NEW theme is for March! 
1. Brookies by Sue of A Palatable Pastime: Brookies are delicious brownie-cookie hybrids super simple and easy to make! And Sue shows us JUST how easy hers are to make.
2. Milk Chocolate and Walnut Biscuits by Julie of  Julie's Family Kitchen:  These are a sophisticated biscuit, ideally enjoyed with your morning coffee. There's just enough chocolate to satisfy a chocolate craving and there's a lovely bit of crunch from the walnuts.
3. Strawberry & White Chocolate Hearts (gluten free biscuits for Valentine's Day) by Kate of Gluten Free Alchemist:  These are crisp, sweet (but not over-sugary) and are decadently dipped in white chocolate which makes them extra special and nicely off-sets the fruity-sharpness of the strawberry.
4. CARAMEL SHORTCAKE (MILLIONAIRE'S SHORTBREAD) by Christina of Christina's Cucina: Delicious Shortbread and Millionaire's Shortbreads and both from authentic Scottish cookbooks as made by Christina!
5. Chocolate Teapot Biscuits by Lucy of The Kitchen Maid:  Lucy likes to think of these biscuits as the Coco Chanel of cut-out cookies; thin, brown and quite elegant.
6. Eggless Churros with Chocolate Sauce by Shey of Not Just the Cakes:  This was the first time Shey has made Churros at home, and she really had fun making them.
7 to 12: SIX wonderful entries for some amazing chocolatey tea time treats by Shazia of Cutchi Kitchen: Here are her SIX fabulous recipes……
THANKS so much Shazia for all of your tasty and delectable entries! XXX
13. Cake with creme patisserie by Sylvia of Happiness is Home Made: I JUST love what Sylvia has made, this Polish cake is filled with a special custard and topped with chocolate frosting, almonds and raspberries.
14. Sachertorte by Chris of Cooking around the World: For Chris's second Blog Birthday, he has made a classic Viennese cake, it's one of the most famous Viennese culinary specialities, and therefore a worthy cake for his 2nd Blogiversary!
15. Seville orange marmalade cocoa ricotta cake by Galina of Chez Maximka: This delicious cake is made with orange marmalade as well as cocoa and ricotta, what a fabulous combo!
16. Chocolate Orange Drizzle Cake by Mummy Makes Cakes: This recipe is really more of a loaf than a cake and is adapted from the Lemon Drizzle Cake, both favourites of mine, and a lovely entry thanks!
17. Banana and Chocolate Chip Bars by Cornina of Searching for Spice: Corina based this recipe on a Mary Berry's recipe in the Baking Bible in the Baking for Children chapter, but used different quantities of ingredients and different types of sugar and flour.
18. Chocolate Black Bean Brownies by Elizabeth of Elizabeth's Kitchen Diary: These brownies are Intensely chocolatey, gluten & dairy free brownies with a healthy twist!
19. Ultimate chocolate cake with green ombre frosting by Johanna of Green Gourmet Giraffe: This was Johanna's perfect birthday cake.  Rich dense chocolate cake with lots of green icing and a sense of achievement thrown in!
20. Chocolate Cheesecake by Drizzling Delicacies: This recipe is a healthy to eat version of a typical cheesecake, as it has no cream. It contains high amount of protein coming from cottage cheese and looks LUSH!
21. Chocolate & Cacao Nib Heart Cookies with Lime Cheesecake by Laura of How to Cook Good Food: Laura's sweet offering includes the cacao nibs she was given for Christmas. They turn a simple chocolate cookie into something quite special.
22. Strawberry and Champagne Aphrodisiac Cheesecakes for Valentine's Day by Janice of Farmersgirl Kitchen: Duerr's sent Janice a jar of their limited edition Aphrodisiac Jam, as well as containing strawberries and champagne it has some Horny Goat Weed added which is, apparently, a natural viagra! WOO HOO!
23. Chocolate Chestnut Fondant Fancies by Patricia of Pattern Patisserie:  what Patricia thinks of as petit fours now appear to be called Fondant Fancies – and she is quite quite certain this is where her fascination with all things confectionery began.
24. Lychee Mousse Cake by Nazima of Franglais Kitchen: A light, floral slip of a cake. Ballerina pretty with its layers of soft pink jelly and a pale lychee mousse on chocolate almond joconde sponge.
25. Chocolate Melting Moments by Food Jam: Choclate Melting Moments with coffee buttercream filling, these would make a wonderful foodie gift for someone!
26. Viennese Fingers by Debra of  My Darlings and Me: These Viennese Fingers were the product of one of Debra's impromptu baking sessions and they look amazing.
27. Home Made Chocolate Digestives by Janie of The Hedgecombers: When a mug of tea is begging out for a dunkable biscuit, and there is nothing in the pantry, this is the recipe that Janie turns too!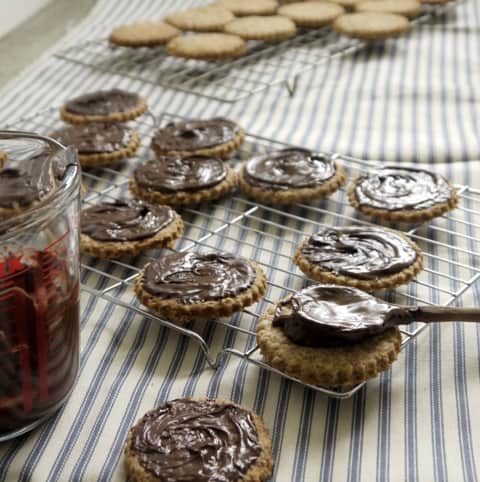 28. Valentine's Chocolate and Beetroot Cake Heart Shaped Bundt by Carline of Caroline Makes: A romantic chocolate cake with beetroot and baked in a heart shaped bundt tin makes a pretty tea time treat for Valentine's day.
29. Banana Chocolate Muffins by Bintu of Recipes from a Pantry:  These Banana Chocolate Muffins look so moist and tasty and would make a special treat for breakfast or brunch.
30. Double Choco-love Cookie with Sea Salt by Tina of The Worktop: This is a double chocolate cookie for a loved one.  It has a rich deep chocolate flavour that is complemented by a crispy edge and chewy centre, and a sprinkle of sea salt on top.
31. CHOCOLATE COCONUT CAKE WITH COCONUT FLAVOURED ICING by Manjiri of Slice of Me: Manjiri says that this cake is definitely gorgeous enough to be served as dessert and as a rather special tea time treat and with such a mega celebratory week for us I couldn't think of anything more apt.
32. SOUR CREAM CHOCOLATE LOAF by Life can be Simple: Wait till you see INSIDE this cake!! Aww, a little special heart surprise for Valentine's Day!! I LOVE it, such a lovely idea!
33. Chocolate Torte by Cutchi Kitchen: A beautiful chocolate torte made in individual ramekins purely because Shazia loves making individual desserts.
34. Red Velvet Beet Chocolate Mousse by Kate of Veggie Desserts: This decadent chocolate mousse has an earthy addition of puréed beetroot and is a perfect treat for Valentine's Day.
35. Chocolate and Raspberry Zebra Cake by Ros of The More than Occasional Baker: Ros says that is a special cake for a special someone that she baked before she went to Australia for a few weeks.  It's a chocolate and raspberry zebra cake from BBC Good Food.
36. HOT CHOCOLATE FONDANT by Baking Elements: Baking Elements says…"Once, I have been spoon fed this pudding in my deepest darkest hour and it has brought me the utmost comfort and joy, not only for the company I had at the time but also because of the richness, texture and warmth of this moreish dessert"….
37. Chocolate Drizzle Shortbread Hearts by Julie of Julie's Family Kitchen: Romantic buttery shortbread biscuits with a decadent chocolate drizzle – perfect tea time treats!
38. Birthday cakes, eggs and a trip to the zoo! By The Peachicks Bakery: This cake is 3 tiers high -Perfect for any birthday girl or birthday boy!
39. Mini Chocolate Valentine's Cakes by Choclette of Chocolate Log Blog: These Mini Chocolate Valentine's Hearts with Whipped Chocolate Ganache look absolutely amazing and celebrate FIVE years of the Chocolate Log Blog!
40. Hazelnut and Chocolate Shortbread Biscuits by Katharine of Leeks and Limoni: These pretty heart shaped biscuits are chocolatey, light and crisp, with a hint of hazelnut in the background.
41. Dark Chocolate, Sea Salt and Caraway Hearts by Sarah of Tales from the Kitchen Shed: Inspired by the delicious trio of caraway, dark chocolate and sea salt, Sarah set about making these biscuits.
42. White chocolate panna cotta with cherry sauce by Kirsten of Kitchen of Kiki: For Kirsten, Winter should have the colour of white, which is not the case at all living in Denmark, so she decided to use white chocolate in for her contribution for the romantic tea table.
43. Carrot & White Chocolate Cake Pops by Louisa of Eat your Veg: Lou made the cakey parts and threw a surprise Cake Pop party yesterday with a couple of her children's new school friends and let them loose with the decorating – SUCH fun, wish I had been invited!
44. Fudgy Brownies with Peanut Butter Frosting by Jenny of What Jenny Baked: Jenny says that this recipe featured a lot of new ingredients that she hadn't ever really thought about trying before, especially in baking – I think they work!
45 and 46. Gianduja Cupcakes  and Gluten Free Chocolate Brownies by Jenny of What Jenny Baked: Two lovely bakes with chocolate from Jenny again, and one of them is GF, so those GF readers and bakers can enjoy a sweet and indulgent chocolate treat! I LOVE her little Gianduja cakes with the nuts especially. Thanks Jenny!
47. Chocolate and Vanilla Zebra Cake by Jibber Jabber UK:  Such a FUN and indulgent cake and one that would make the children smile too! JJ has been making this traybake in various disguises for some time and find's it extremely versatile when adding flavours and toppings.
48. Pumpernickel Tuiles by Alexandra of The Lass in the Apron:  SUCH a fabulous idea – these delicate biscuits have chocolate AND caraways seeds in them as well as pumpkin.
49. Dark Chocolate Muffins by Laura of I'd Much Rather Bake Than…..: Laura says that if a muffin can have a split personality then this would be the one, as  the dark and brooding yet soft interior that hides chunks of white and milk creamy sweetness within – I LOVE it!
50. Chocolate Orange Bundt Cake with Chocolate Grand Marnier Ganache by Elle of Only Taste Matters: Elle has made this STUNNING bundt cake for our Tea Time Treats table and has also added a drop of Grand Marnier to the ganache too – now that's my kinda frosting!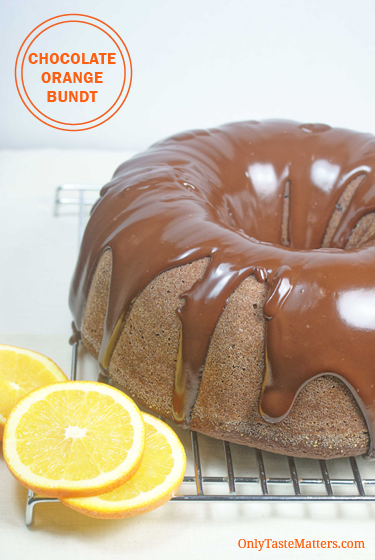 51. Cocoa nib cookies by Helen of Family- Friends – Food:  These lovely chocolate cookies were made by Helen for a small charity bake sale, and although the organisers brought some baked goodies, Helen thought she's make these too, to dunk in a cuppa!
52. Party time chocolate fridge cake by Charlene of Food, Glorious Food:  Charlene loves a good chocolate no-bake. For her, a chocolate based recipe which does not require the use of an oven, but yet is indulgent, rich and decadent will always become a blue-print recipe to go to when time is short!
53. Red Wine Chocolate Cake by Jenny of What Jenny Baked:  ANOTHER fab entry from Jenny! Jenny found this recipe by literally Googling "red wine chocolate cake" to see if it was even possible and Smitten Kitchen was the first link. She thought this might be like a red velvet cake, but the wine doesn't really change the colour.
54.  Mixed Berry and Chocolate Popovers Recipe by ME! Lavender and Lovage: Popovers are an American classic, similar to our own Yorkshire Puddings, these delectable, light and airy little batter cakes make a delicious and easily prepared dessert. You can also make "savoury" popovers to accompany stews and soups, just omit the sugar in the basic batter.
55. Apricot (and Chocolate) Linzer Torte by Suelle of Mainly Baking: Suelle's Linzer Torte recipe is based on a Mary Berry recipe from a book called 'Desserts and Confections' published in 1991, well before she became a TV celebrity and Suelle has managed to make the most AMAZING latticework on her tart!
56. Raw Brownie Cake with a Chocolate Avocado Frosting by Janet of The Taste Space:  Janet cobbled together a delicious dessert from a few places. The base is inspired by Emma's Raw Brownies but I topped it with a chocolate avocado frosting, based on my chocolate avocado mousse.
57. Marbled Raspberry Blondies and Hazelnut Brownies by Beckie of Bees Teas:  Beckie says that this recipe is a bit of a mouthful, but each part of this bake deserves full recognition. The idea came around whilst she was looking at mouth-watering images of brownies and blondies on Pinterest, and she thought 'why not combine the two?' GOOD idea!
58. Chocolate pithiviers by Hungry Hinny: This random recipe was picked from the Green & Black's Ultimate Chocolate Recipes, and the recipe was Simon Hopkinson's Chocolate Pithiviers, which look amazing I think you will all agree!
59. CHOCOLATE CHOUX BUNS by Rosemary of Rosemary and Pork Belly:  A short history of choux pastry accompanies this delectable recipe for Chocolate Choux Buns, one of my all time favourite treats and expertly baked by Rosemary!
60. Salted Chocolate Lime Mousse by Gary of Exploits of a Food Nut:  Gary says that this mousse, aesthetic qualities aside, was lovely, light and fluffy, very chocolaty combined with tangy lime. Rich but refreshing in a strange way – I must admit it looks divine!
61. chilled chocolate custard lincolnshire plum bread and butter pudding by Dom of Belleau Kitchen: And finally, an impressive and DELECTABLE bread and butter pudding from Dom made with tasty Lincolnshire Plum Bread and Chocolate Custard! That looks DIVINE Dom, now pass me the plate over!