Cooking with Herbs Challenge for April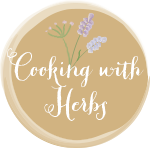 Welcome to a new Cooking with Herbs challenge for April! Not only is it a new challenge, but as some of you might have noticed, that in keeping with my new site "facelift" I also have a brand new shiny badge for Cooking with Herbs too! More about my new site design in another post, but for now, let's talk about SPRING and herbs. This month's suggested theme is for MINT. You can use ANY herbs at all in this challenge, but it would be nice to see some mint in any recipes that are submitted. Last month's challenge was with a suggested theme of Rosemary and if you want to see all of the lovely entries, just pop over to the round-up here: Cooking with Herbs March: Round up of Recipes. I hope to see lots of spring-like herb recipes this month, and if you are cooking lamb for Easter, don't forget the mint sauce!  
Mint:
(Mentha)
Close relatives of spearmint, peppermint, curly mint, ginger mint, apple mint, pineapple mint, eau de cologne mint, water mint, pennyroyal, Corsican mint
History:
Name derives from the nymph Menthe, who was turned into a plant by the goddess Perserpina when she found out that Pluto was in love with her.
Greeks used to clean their banqueting tables and added to their baths to stimulate their bodies
Romans used it in sauces, as an aid to digestion and as a mouth freshener.
Romans brought mint to Britain
Used by monks in medieval times for its culinary and medicinal properties
Most likely taken by the Pilgrim Fathers to America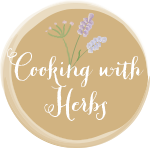 Guidelines how to enter:
1. Post your recipe url to the Linky at the bottom of the appropriate month's challenge, including your email and the title of your recipe or post.
2. Display the Cooking with Herbs badge (as shown above and below) to the relevant recipe post, with a link back to the monthly challenge post.
3. Add as many recipe links as you like, there is NO limit!
4. If you tweet your post, please mention #cookingwithherbs and @KarenBurnsBooth in your tweet – I will retweet all that I see. If a guest blogger is hosting, please add them into the tweet too! (They will add their name in the appropriate post)
5. The recipe can be one of your own or one you've seen elsewhere. You are welcome to republish old recipes/posts but please add the information about this challenge as listed above with the Cooking with Herbs badge.
6. If using a recipe from another person, book, website, chef or blog, you must link back to the original recipe and not reproduce the recipe in full in your post. You must also use your OWN images for the recipe and not the original images, unless you have permission to do so, with appropriate links and any other information requested by the photo's owner added to the image.
Grab a Badge: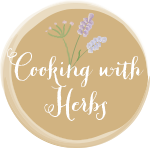 <div align="center"><a href="https://www.lavenderandlovage.com/herbs-on-saturday" title="Cooking with Herbs Lavender and Lovage"><img src="https://www.lavenderandlovage.com/wp-content/uploads/2012/01/lavenderandlovage_cooking2.png" alt="Cooking with Herbs Lavender and Lovage" style="border:none;" /></a></div>
Add this code to your blog to create a link to this code page: