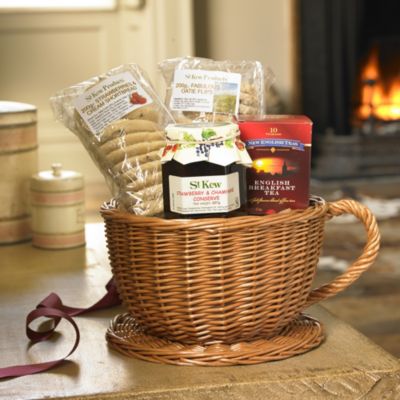 A Tea Time Treat Review:
St Kew Teacup Basket Hamper from Lakeland
and a Cake Recipe!
What a wonderful surprise I had a few weeks ago, a package arrived from Lakeland for me – a bog box, and when I opened it, there inside was my dream hamper, a tea time hamper in the shape of a teacup basket and filled with delicious items……I was the lucky recipient of a Lakeland St Kew Teacup Basket (hamper).  Now, I am a BIG Lakeland fan, so any box delivered bearing my name from this fabulous British company creates a bit a stir in our household, and my Christmas list is about 50% Lakeland items, you know, essential cake tins and macaron boxes etc……all very important additions to the Lavender and Lovage kitchen!  Inside my St Kew teacup basket were:
Strawberries & Cream Shortbread 
Fabulous Oatie Flips 
Strawberry & Champagne Conserve 
English Breakfast Tea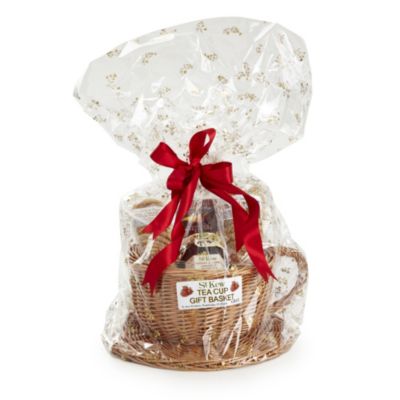 So, that was an afternoon tea for the two of us at least three or four times…….utter bliss! The basket was wrapped in cellophane and then the items were nestled inside the teacup, which sits on a basket saucer too…..I am going to have such fun with the basket once the items in it have been consumed, which, is very soon! The strawberry and champagne conserve was delicious and served with home-made scones, and I love English breakfast tea, and a pot accompanied my scones with jam; we tried the strawberry and cream shortbreads too and they were light and crumbly with a defined strawberry flavour, whilst the oatie flips were flipping lovely in an oaty biscuit kind of way! This hamper can be purchased on-line from Lakeland and is on offer at present at an amazing £16:99, which makes it a reasonable price to pay for the Secret Santa office party, for a foodie friend or even a Yorkshire auntie!
I DID make cakes to go with these tea time treats, and the recipe is below for Strawberry Iced Butterfly Fairy Cakes – it seemed right to continue the strawberry theme and I used some of the jam on the cakes too…..for a very decadent afternoon tea!
St Kew make their traditional biscuits, preserves and confectionery to old-fashioned recipes and have put together specially selected goodies, exclusively for Lakeland, that make wonderfully indulgent gifts for your loved ones.
The flavours of summer, captured by St Kew. A fitting gift for those with a penchant for afternoon tea, the quirky teacup and saucer willow basket can be used as a fruit basket, or perhaps lined and planted up with flowers or herbs.
Suitable for vegetarians
The review conclusion? A well priced and unique basket hamper with lovely tea time biscuits, jam and tea, and attractively presented, a great gift idea for Christmas, or any other special occasion.  Well worth the £16:99 (RRP)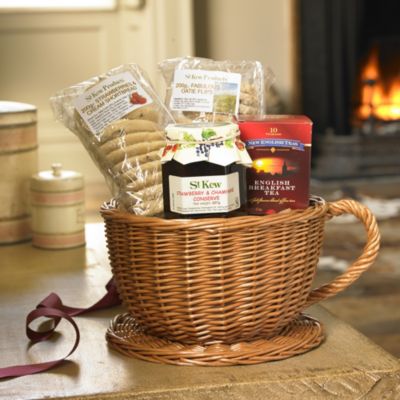 Disclaimer: I was sent the hamper to sample for review, with no request to promote it my blog; all opinions expressed are my own and this is not a sponsored post. Karen S Burns-Booth
Recipes: 
Butter Icing (Buttercream)
Print recipe
A simple standard recipe from the Be-Ro cookbook, for buttercream suitable for fairy cakes and butterfly cakes.
Ingredients
50 g (2oz) butter or margarine
100 g (4 oz) sieved icing sugar
flavouring and colouring as required
Note
A simple standard recipe from the Be-Ro cookbook, for buttercream suitable for fairy cakes and butterfly cakes.
Directions
Step 1
Cream fat, gradually add icing sugar and cream together.
Add flavouring and colouring. Double this quantity to sandwich and coat a 15-18 cm (6-7 inch) cake.
Step 2
Suggested flavourings:
Few drops vanilla essence.
Few drops almond essence.
Finely grated rind orange/lemon and 1 x 5 ml spoon (1 tsp.) orange/lemon juice.
2 x 5 ml spoon (2 tsp.) coffee essence.
25 g (1 oz) melted chocolate.
2 x 5 ml spoon (2 tsp.) cocoa and 1 x 2.5 ml spoon (½ tsp.) vanilla essence.
Chopped walnuts.
Strawberry or raspberry jam
Victoria Sandwich Cake
Print recipe
| | |
| --- | --- |
| Serves | 8 to 10 slices |
| Prep time | 5 minutes |
| Cook time | 25 minutes |
| Total time | 30 minutes |
| Allergy | Egg, Wheat |
| Dietary | Vegetarian |
| Meal type | Dessert, Side Dish, Snack |
| Misc | Child Friendly, Freezable, Pre-preparable, Serve Cold |
| Occasion | Birthday Party, Casual Party, Christmas, Easter, Formal Party, Thanksgiving, Valentines day |
| Region | British |
| By author | Karen S Burns-Booth |
A true Victoria Sandwich would only contain jam, usually raspberry, but as the cake became more popular and cooks became more affluent, cream was added as a delicious addition. I was always taught that caster sugar was sprinkled on top – again, icing sugar is often used nowadays.
Ingredients
4 large eggs, weighed in their shells
butter or soft margarine ~ same weight as the eggs
caster sugar/super fine sugar ~ same weight as the eggs
self-rising flour~ same weight as the eggs
raspberry jam ( or another jam, jelly or curd of your choice.)
whipped cream (optional) or double cream (optional)
caster sugar or icing sugar for sprinkling on top
Note
Cook's Notes:
If you use butter remove from the fridge to soften before using. This is not necessary with soft margarine.
If large eggs are used they may weigh 7 ½ ozs/210g. If so make sure you use this weight for the other ingredients.
A smaller sandwich cake can be made with 2 medium eggs. Weight about 4 oz/55g. If so, use 2 x 7" sandwich tins and the cakes and the cakes will need less time in the oven – probably 20 minutes instead of 25 minutes.
Alternative measurements:
4 eggs
8 ounces soft margarine or butter
8 ounces caster sugar
8 ounces SR flour
Proceed as above for method
Directions
Step 1
The measurements for this recipe are equal amounts of sugar, flour and fat to the weight of the eggs; therefore, weigh the eggs first – if the eggs weigh 8 ounces, you will use 8 ounces of sugar, 8 ounces of butter or margarine and 8 ounces of flour. If the eggs weigh 6 ounces, all the other ingredients will be 6 ounces – easy!
Step 2
Preheat oven Gas 4, 160C (fan oven), 180C or 360F: grease and base line the bottom of 2 x 8" sandwich tins – cake tins.
Step 3
Cream margarine or butter together with the sugar, until light and fluffy.
Beat the eggs, and then add them to the mixture, gradually and beating well after each addition.
Sieve the flour and fold into the mixture with a metal spoon.
Step 4
Divide equally between the 2 prepared tins and bake for 25 minutes in the middle of the oven.
Step 5
Remove and allow to cool for 1-2 minutes.
Remove from the tins and fill with raspberry jam (and cream if using) when cold, to avoid the cream melting or the jam seeping into the sponge.
Step 6
A light dusting of caster sugar or icing sugar on the top will finish it.
Place on an attractive cake stand or plate, and serve in dainty wedges with freshly brewed tea.
* There is a special offer on Lakeland right now: Online only offer – 2 hampers for only £29.98 – delivered FREE! *