Sausage, Cranberry, Red Onion & Walnut Stuffing – A quick and easy stiffing made in the Vitamix® Ascent™ for hassle free and tasty Christmas or Festive entertaining.
Upgrade your Christmas Flavours
with the Vitamix® Ascent™
I'm officially in love, I have a new toy and I haven't stopped playing with it since it arrived! I have a new piece of kitchen equipment, a VITAMIX® ASCENT™ SERIES BLENDER, which has joined the ranks of the Lavender and Lovage batterie de cuisine, and just in time for Christmas. I have hankered after a Vitamix Blender for some time, after seeing them in use at several cookery demonstrations and food writer's workshops, I love the idea of making quick and nutritious smoothies, soups, sauces, nut butters and puree with them, whilst sneaking in lots of your five-a-day, especially when making smoothies. They are one of the most trusted and reputable workhorses in the kitchen, as well as looking sleek and modern. Designed to last, Vitamix® Ascent™ Series blenders have been built with the future in mind, and are equipped with SELF-­DETECT technology and a lid interlock, which means that the machines will recognise the container size you're using and adjust the blend time accordingly.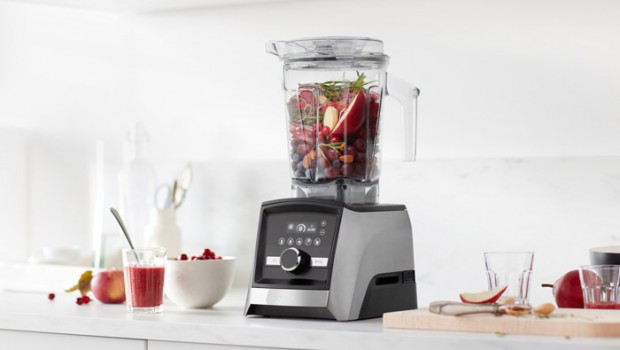 I set out to create and develop three recipes with the upcoming festive season in mind, using my new Vitamix® Ascent™ Series blender…….my three recipes cover Festive Entertaining, Festive Gift Giving and using Festive Leftovers, and today's recipe for Sausage, Cranberry, Red Onion & Walnut Stuffing is my festive entertaining recipe, either for "The Big Day", or for festive meals and grazing throughout the holiday period. It's all made in a trice using my new blender, and looks as delicious as it tastes too. Stuffing is an essential part of festive (and Sunday lunch) dining, and once you have made your own stuffing you will never go back to the commercial packets ever again, I promise you. Using some home-grown walnuts and fresh sage, along with Rudolph red onions, so festive, and seasonal cranberries, also very Rudolph too, the base of this stuffing recipe is made in under 2 minutes, thanks to the powerful pulsing action of the Vitamix® Ascent™ blender.
Once the walnuts, bread, sage and onions have been blended to the correct texture, you then just add some melted butter, some high quality sausage meat, as well as those all important little red baubles of cranberries, which can be fresh or frozen. What I loved about using the blender, was the ability to CONTROL just how fine, or coarse, you wanted the walnuts and breadcrumbs to be. And, after blending, the consistency was uniform, with no whole walnuts or sage leaves left lurking anywhere at the bottom of the blender jug! It was almost easier than opening a packet of commercial dried stuffing mix, and waiting for the kettle to boil to mix the stuffing mixture, and, YOU get to control exactly what goes into the stuffing – in this case, a fabulous crusty baguette with locally sourced (home-grown!) walnuts, fresh sage, British red onions, locally sourced organic and free-range pork sausages and plump, juicy cranberries.
You then just whack the mixture into a buttered baking tray or tin, and bake it for 40 minutes. The stuffing can be served at room temperature with the roast bird, and is also FABULOUS when added to festive leftovers in a sandwich. The bender has many other handy functions that include: built-in programmable timers for consistency and to achieve the perfect texture every time; that sleek new design I mentioned earlier; dishwasher-safe containers with clear interlock lids; a 10-year full warranty and compatibility with a family of container sizes that feature Self-Detect™ technology, again, as mentioned before. And, all Vitamix® machines are self-cleaning for those of you who do not have dishwashers, and I must admit, I prefer to use the self-cleaning programme on mine even though do have a dishwasher.
I hope you enjoy my first recipe for Sausage, Cranberry, Red Onion & Walnut Stuffing, my next two recipes are for a tasty CHEESE SPREAD and a CREAMY SOUP using leftovers! Do pop back soon to see the next recipe…..Karen
Sausage, Red Onion & Walnut Stuffing with Cranberries
Print recipe
A quick and easy stiffing made in the Vitamix Ascent for hassle free and tasty Christmas entertaining
Ingredients
1 small baguette, cut or broken into chunky pieces (about 150g)
2 red onions, peeled and cut into quarters
75g walnut halves
10 to 12 fresh sage leaves
340g high meat content pork sausages (skinned and crumbled)
150g fresh or frozen cranberries
50g melted butter (plus butter to grease the baking tin/tray)
salt and pepper to taste
Note
A quick and easy stiffing made in the Vitamix Ascent for hassle free and tasty Christmas entertaining
Directions
| | |
| --- | --- |
| Step 1 | Turn on the Vitamix Ascent, and place the baguette pieces, onions, walnuts and sage leaves in the blender jug. Using the pulse setting on speed setting 5 pulse for 30 seconds before increasing speed to number 10 and blend for 45 seconds to 1 minute until you have coarse crumbs and the walnuts and onions are finely chopped. |
| Step 2 | Tip the mixture out of the blender jug into a large bowl, and add the crumbled sausages. Mix well before adding the cranberries and melted butter. Season to tate with salt and pepper and mix to amalgamate. |
| Step 3 | Grease a baking tray or roasting tin with a little butter, and spoon the stuffing, it can be frozen at this stage, defrost overnight in the fridge. |
| Step 4 | When you are ready to bake the stuffing, pre-heat oven to 190C/375F/Gas mark 5. Cover the stuffing with a piece of buttered greaseproof paper and bake for 30 minutes, before taking the paper off for a further 10 minutes to crisp up and brown. |
| Step 5 | Allow to come to room temperature and cool slightly before serving in slices. |
There are currently two different Vitamix® Ascent™ blenders available, with a further product being added to the series in early 2018, all in a variety of colours and metallic finishes meaning there's one for every style and taste. The blenders are available for CHRISTMAS STOCKING wishlists at: Vitamix.com, Harrods, Selfridges, John Lewis, Lakeland, Steamer Trading, Brown Thomas (Ireland), and selected premium kitchen stores and at select Vitamix® retailers. Each machine comes with a technique book that offers recipes and insight into a range of culinary techniques, showing users how to put their Vitamix® to work for them for every meal.
More Christmas Recipes: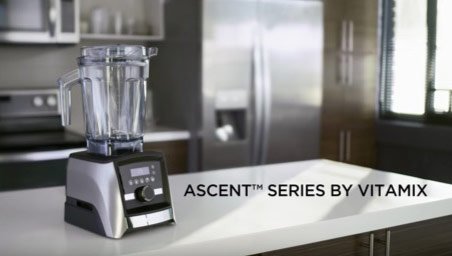 *Collaborative Paid Post*