Beer and Cheese Bread in a Crock – Delicious "no knead" artisan style bread made in a cast iron crock, using a fabulous unfiltered rye IPA & Vintage Cheddar; the recipe is based on my ever popular "Our Daily Bread in a Crock – Weekly Make and Bake Rustic Bread"
with
Longhorn Unfiltered Rye IPA
There is something very elemental about making and baking bread; the rhythmic kneading and energetic throwing down of the dough, wispy clouds of flour dancing in the air and the smell of fresh yeast…..the very few ingredients needed to make basic bread is in itself very reminiscent of a simpler lifestyle and of past times, and then there's the aroma that fills the kitchen and the soul, as the freshly baked yeasty fragrance permeates throughout the house, a fragrance that would probably outsell any high-end French perfume if bottled, marketed and sold…..bread, the staff of life, the vehicle of many a slice of ham or slab of cheese, the essential accompaniment to a bowl of broth or a thick, unctuous beefy stew, a necessity in my kitchen and something that I love to make. My latest bread offering is for Beer and Cheese Bread in a Crock, where two of my favourite ingredients are combined in selected alchemy, which yields a crusty, cheesy and beery cob with a dusting of nutty oatmeal.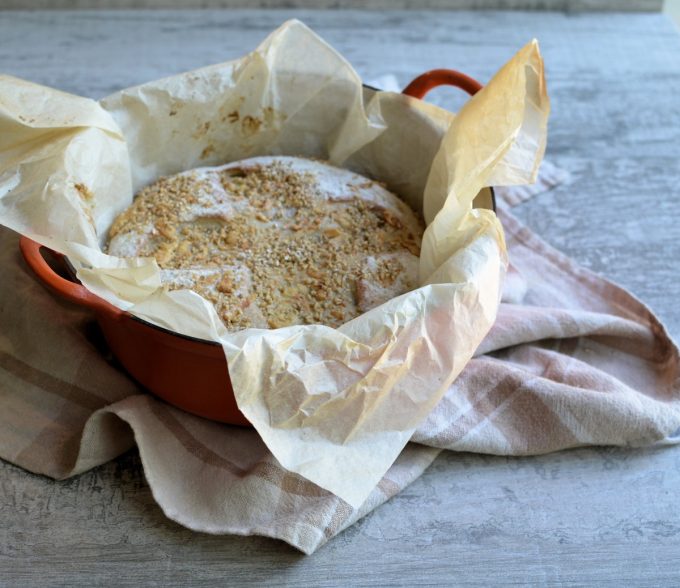 Today's recipe for Beer and Cheese Bread in a Crock is baked in a Le Creuset cast iron crock/casserole dish, which gives the bread a perfectly crusty derrière, with not a soggy or disappointing bottom in sight; furthermore, if the bread starts to brown too quickly, you can pop the lid on the casserole dish to stop it becoming overly tanned in the oven. This style of bread can also be cooked/baked over an open flame (as in a campfire) or on/in a BBQ. And, if you wish, you can add a bowl of boiling water as soon as you put the bread into the oven – this steams and bakes the loaf to give a good chewy texture and keeps the inside moist, almost like a "cheat's" sourdough. The beer I used in this recipe was the incredibly deep, intense and complex Purity Brewing Longhorn Unfiltered Rye IPA;  this expertly brewed craft ale is named after the herd of Longhorn Cattle that feed off Purity's used grains.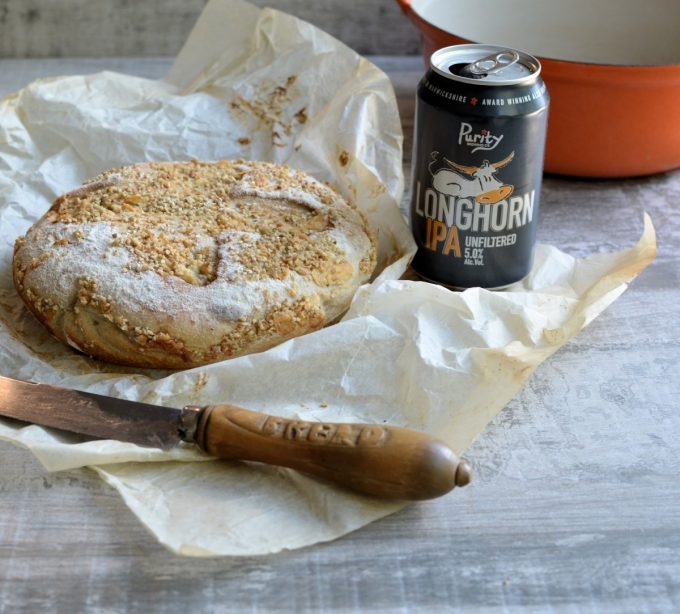 The full-bodied rye flavour adds to the complexity of this bread, and is a natural partner to the vintage Barbers 1833 Cheddar cheese that I used in this recipe; and, as well as being one of the two key ingredients in this tasty bread recipe, the beer comes alive when served with spicy foods such as curries, Mexican & East Asian food, Caribbean cuisine and is FAB when served with smoked cheeses. The beer and the brewery are also featured on Beer Sommelier Melissa Cole's map of The UK & Ireland's Best Regional Breweries, where Purity Brewing represents the county of Warwickshire. Brewed with Maris Otter, Rye, Crystal Rye and Caramalt to create a copper warming colour and hopped with Pilgrim, Chinook, Galaxy and Simcoe hops, Longhorn has both citrus and tropical fruit tones, and I thoroughly enjoyed a can of this whilst baking my bread!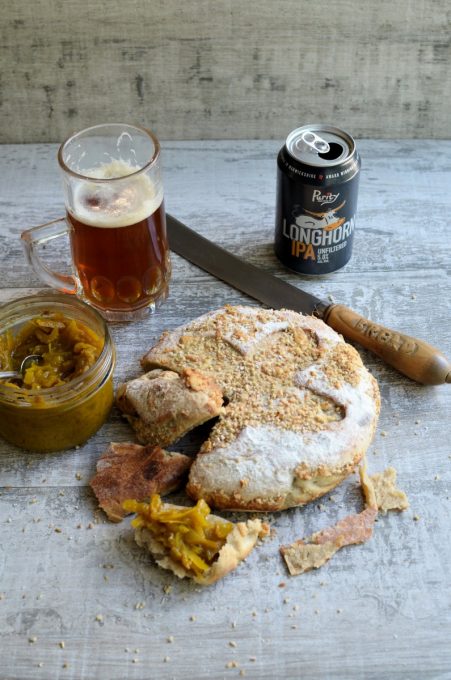 Melissa says of the brewery and beer on the map: "Paul Halsey started out in Big Beer, but today he and his partners have carved out a state-of-the-art eco-friendly brewery in the glorious Warwickshire countryside. Expect the occasional gun dog or pheasants for company" and she suggests that the "must try" ales from Purity are the Longhorn IPA that I used in this recipe, and Saddleback, which is a gnarly black beer using Pilgrim, Chinook and Cascade hops to help give a full smoky and citrus aroma. As an avid wine lover, it was a refreshing change to cook with and pair this beer with much-loved and new recipes that came out of my kitchen. The recipe for my delectable Beer and Cheese Bread in a Crock is shared below, and if you feel inspired to make it, then please do let me know by leaving a comment below! I am off to prepare Sunday tea now, so I'll see you next week with more new recipes, restaurant reviews and travel stories, have a relaxing Sunday afternoon, Karen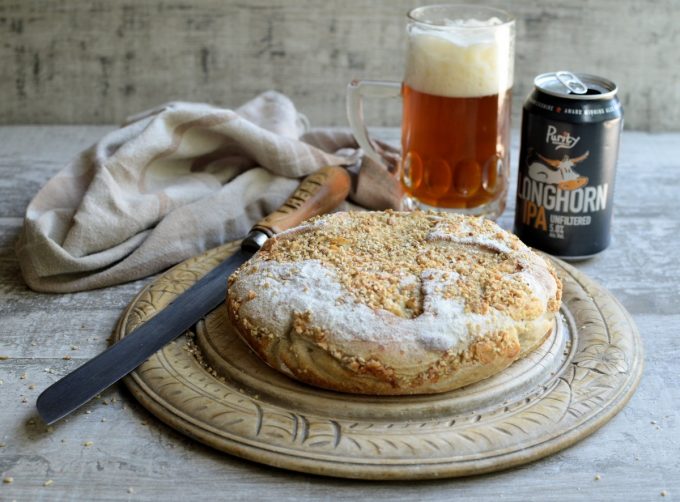 *Disclaimer: Collaborative paid work with Expedia*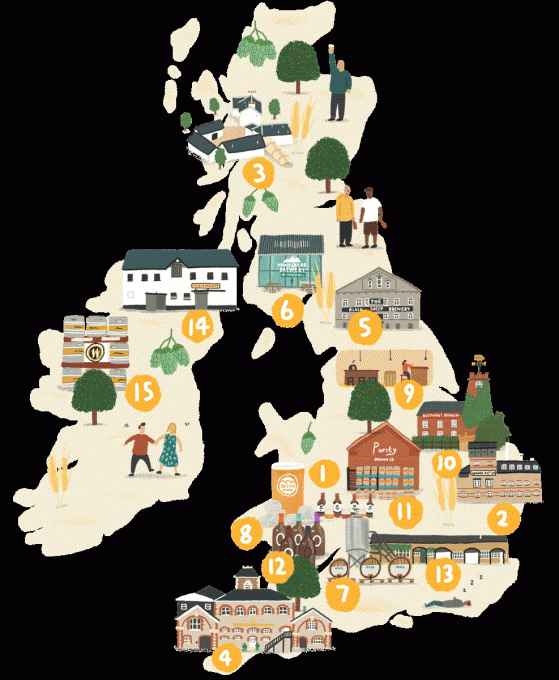 Beer and Cheese Bread in a Crock

Print recipe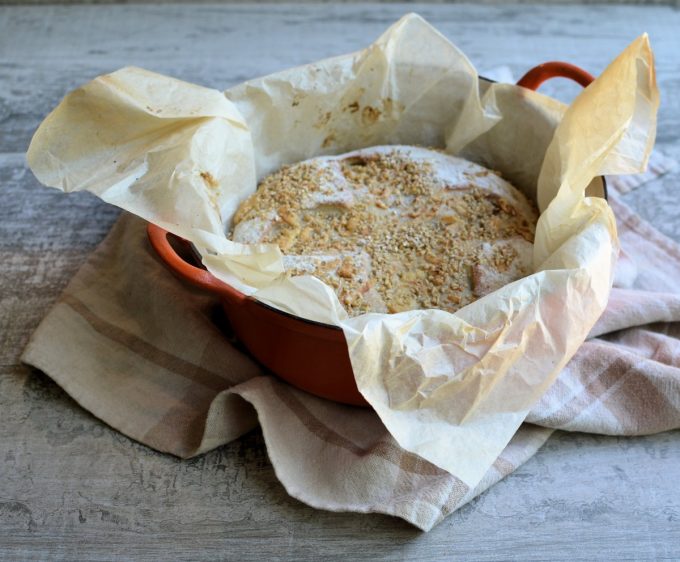 | | |
| --- | --- |
| Serves | 1 x large cob/boule style loaf of bread |
| Prep time | 2 hours, 30 minutes |
| Cook time | 30 minutes |
| Total time | 3 hours |
| Allergy | Wheat |
| Dietary | Vegetarian |
| Meal type | Bread, Breakfast, Side Dish, Snack |
| Misc | Child Friendly, Freezable, Serve Cold, Serve Hot |
| Occasion | Barbecue, Birthday Party, Casual Party, Christmas, Easter, Halloween, Thanksgiving |
| Region | British |
| By author | Karen Burns-Booth |
Beer and Cheese Bread in a Crock - Delicious "no knead" artisan style bread made in a cast iron crock, using a fabulous unfiltered rye IPA & Vintage Cheddar.
Ingredients
350mls tepid water
1 x 7g sachet dried fast action yeast (or 25g fresh yeast, added to a little warm water with 1 teaspoon honey or sugar)
1 teaspoon sea salt (such a Malden)
300mls Longhorn unfiltered rye IPA (or IPA or beer of your choice, NOT a dark beer)
500g strong white bread flour
150g grated vintage Cheddar cheese
1 tablespoon pinhead (coarse) oatmeal
Note
Beer and Cheese Bread in a Crock - Delicious "no knead" artisan style bread made in a cast iron crock, using a fabulous unfiltered rye IPA & Vintage Cheddar; the recipe is based on my ever popular "Our Daily Bread in a Crock – Weekly Make and Bake Rustic Bread".
Directions
| | |
| --- | --- |
| Step 1 | Pour the water into a large mixing bowl – the water should be tepid or hand warm – NOT too hot, as it will kill the yeast. Add the yeast to the water and then the salt, mix well. Then add the beer and mix well again. |
| Step 2 | Add the flour and grated cheese, and mix thoroughly with a wooden spoon or a dough hook until all the ingredients are amalgamated – NO need to over knead. |
| Step 3 | Leave the bread dough in the mixing bowl and cover loosely – I use a shower cap to cover my dough. (That is NOT used as a shower cap any more, I hasten to add!) Allow to prove for 2 hours, or until doubled in size. |
| Step 4 | Pre-heat the oven to 225C/450F/Gas mark 8 and place a baking sheet or pizza tray in the oven. Grease and line a 20cms/8" cast iron crock/casserole dish with butter and grease-proof paper. |
| Step 5 | Knead the dough for about 1 minute with floured hands on a floured board, Shape it into a large round cob/ball, and place it in the greased and lined cast iron crock. Allow to prove and rise for a further 20 to 30 minutes. Slash the surface with a sharp serrated knife in the shape of a cross, then sprinkle the pinhead oatmeal over the top of the dough. |
| Step 6 | Place the crock on the pre-heated baking/pizza tray and bake for 30 minutes or until well risen, brown and the loaf sounds hollow when it is tapped on the underside. (If you wish, you can add a bowl of boiling water as soon as you put the bread into the oven – this steams and bakes the loaf to give a good chewy texture and keeps the inside moist.) |
| Step 7 | Remove the bread when baked and cool slightly in the crock, before turning out on to a wire cooling rack. Serve warm with butter, cheese, pickles, chutney, ham and cold cuts, or slice when cool for sandwiches. Also wonderful when toasted the next day. |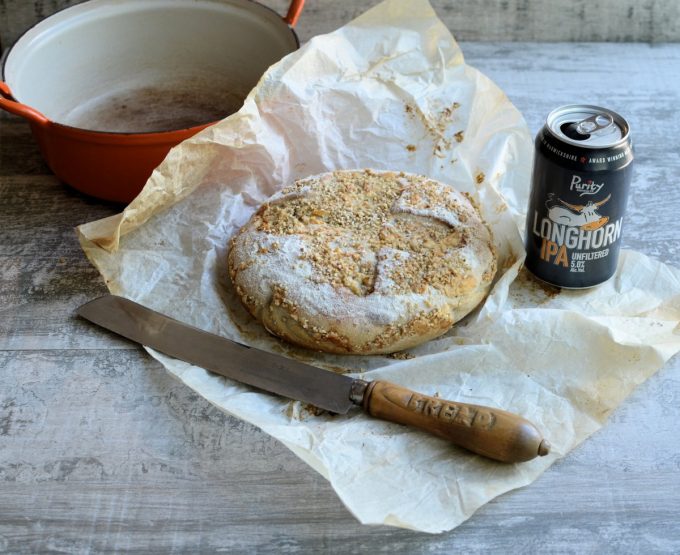 More Beer and Bread Recipes: